/ Source: TODAY Contributor
Editor's note: This story includes a frank discussion about Santa Claus. While we at TODAY.com know that Santa is absolutely real, we would not want to end up on the Naughty List by divulging any sensitive information to younger audiences. So please take care before reading this story.
Charity Hutchinson was stumped. Her then-8-year-old nephew Radek, who lives with her family along with his then-9-year-old brother, Fedor, came to her and told her that he did not believe in Santa Claus anymore. "At the time, I felt sad, because he seemed disappointed telling me his news," Hutchinson tells TODAY.com. "In that moment, I didn't know what to say to him."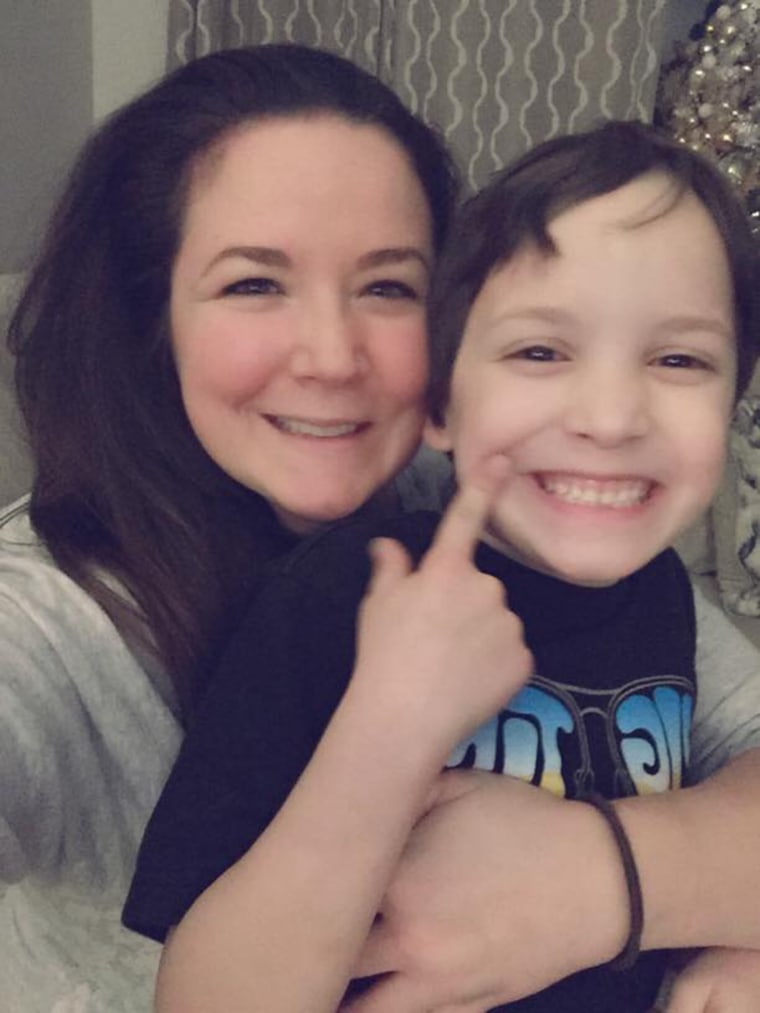 Luckily, a few days later, Hutchinson spotted something in a friend's Facebook feed that gave her an idea of how to approach Santa with both her nephews and her own sons. The Kelowna, British Columbia, mom said she got goosebumps and tears in her eyes after reading the story, so she posted it to her own Facebook page, explaining, "This is by far the best idea I've seen about telling your kids about Santa."
Whatever your approach, the decision about when and how to talk to your kids about Santa is a big one. Here are some other common strategies.
Leave it up to the kids to believe
We'll call this one the "Brad Pitt." The actor and father-of-six said once that he refuses to "lie" to his kids about St. Nick, and that he's not "real big on the whole Santa thing." Pitt said he remembers when he discovered the real deal about the North Pole, and it was a "huge act of betrayal" for him as a little boy.
So the famous dad leaves it up to his kids to figure it out: "What I tell them is some people believe in Santa, and some people believe it's parents, and you get to believe whatever you want," he told E! Online.
Psychotherapist and mother Andrea Nair tells TODAY.com she's heard too many clients in her line of work talk about how "duped" they felt by their parents and how "shocked" they were when they found out about Santa. So she strives to be "completely truthful" with her own kids, and says she always describes Santa as a "story book character."
Call it magic
Devon Corneal, a New Jersey lawyer and parenting blogger, doesn't consider Santa a lie. "When my (then) 4-and-a-half year old son, Cooper, asks, 'how does Santa get around the world?' I answer: 'Because it's magic,'" she says.
Corneal said there's so little magic in our everyday lives, and soon enough our little ones will be all grown-up, paying their bills, gassing up their cars, and going to work every day. So Santa is a very real and special part of the holidays in her home. Corneal's husband puts on his Santa suit every Christmas so their son can have a "real Santa sighting." One year, she sat on the steps with their son in his PJs, peeking through the banister, as "Santa" put toys under their tree.
For parents Jennifer and Ben Whitfield, who celebrate both Christmas and Hanukkah with their son, Andrew, the story of Santa is as much a part of their holiday folklore as the miracle of the menorah, and how a small amount of oil that was only enough for a day somehow burned for eight nights.
"In our house, Santa is no more a 'lie' than the magic of those flames lasting for so long," Whitfield explains.
Make Santa about giving
All of the Santa hoopla isn't really about a Christian holiday or a religious symbol anyway, says Rebecca Munsterer, author of "Mrs. Claus and The School of Christmas Spirit."
After all, she says, look at all the holiday coat, food, and toy drives this time of year, and the picture of the New York police officer giving a barefoot man shoes that went viral. Regardless of the aftermath, she doesn't think the photo would have captured so many hearts and become such an internet sensation, during the early fall or the dead of winter.
"Whatever your religion, that officer, in that moment, could have been Santa," Munsterer says. "That's what he's about, the spirit of giving and good will, that you try to pass on to kids through all of this."
It is working for the Hutchinson family, and Charity Hutchinson hopes it helps others tackle the topic too. "I think the best thing about being a Santa is knowing that you're a part of someone else's happiness," she says.
"I think that what people should take from this amazing story isn't just a way not to break your kids' hearts, but that giving is at the heart of Christmas, and that it also isn't just a one-time-a-year thing. The lesson isn't to just be generous and kind once a year, but to find ways to be a Santa all throughout the year."
Editor's note: This story was first published on December 8, 2016, and has been updated.