Nelba Marquez-Greene is weary of hearing the same heartbreaking story. She's tired of reliving the panic she felt while waiting to be notified of her loss. But more than anything, the Newtown, Connecticut, mother is incredibly sad that her personal tragedy and those of too many others like her weren't enough to prevent the mass shooting in Orlando.
"I am so, so sorry. I am sorry that our tragedy here in Sandy Hook wasn't enough to save your loved ones," Marquez-Greene said in a post to individuals affected by Sunday's early morning shooting at a Florida nightclub. She posted the note on the Facebook memorial page of her 6-year-old daughter, Ana, one of 20 children and six adults gunned down at their elementary school in 2012.
At least 49 people and the shooting suspect have been killed in the Orlando attack, the deadliest mass shooting in American history, but Marquez-Greene said she didn't hear about it until she came back from a morning walk Sunday and saw her phone blowing up with messages from friends checking on her well-being.
MORE: Read the latest news on the Orlando nightclub shooting at NBC News
"My first reaction was visceral. I know the horror of waiting to hear. A helicopter flew overhead. It made everything too real. Too familiar," she wrote. "I panicked. I called my friend. I cried. Fifty people. I am reliving being one of the family members in wait."
In her letter, Marquez-Greene reached out to the Florida survivors and the families of victims to offer compassion, sympathy and advice based on personal experience.
RELATED: Mother of missing man holding 'sliver of hope' he survived Orlando massacre
"Don't you dare even listen to even ONE person who may insinuate that somehow this is your loved ones fault because they were gay or any other reason. Nor is it God's wrath," she wrote.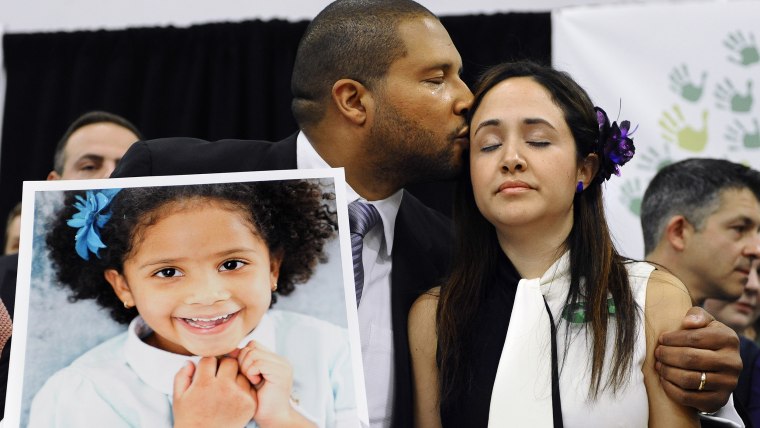 "They did that to us on Sandy Hook, too. And it broke my heart. You will receive love from a million places. Embrace it. Take good care of yourself. This will be a forever journey. Some ugly will come your way too. Delete. Ignore. Let it go."
RELATED: How to talk to children about shootings: An age-by-age guide
She also expressed patience "for the church to be as outraged about gun violence as much as we seem to be about who pees where in a Target bathroom."
Marquez-Greene also encouraged "dear friends with generous hearts" to wait on donating money to victim funds until they could be certain the money will definitely help the victims.
RELATED: How to help Orlando shooting victims and their families
"America's mass shootings should not be the United Way's pay day or a specific town's funding source to build a senior center. Millions were poured in to Sandy Hook. Very little actually reached us. And victims of gun violence will have a lifetime of need," she said. "Before you give — ask where your dollars will go. Specify that you want it to go to victim families."
Marquez-Greene's full letter can be read here.