Catherine Violet Hubbard adored dogs and cats, bunnies and horses, sheep and goats — but she wasn't partial to furry creatures. She studied baby birds in their nests. She gasped with joy when butterflies landed on her hand. On beach getaways with her family, she kissed the crabs and fish she caught before setting them free.
The 6-year-old loved animals so much that she had her dad order business cards proclaiming her "Care Taker" of "Catherine's Animal Shelter."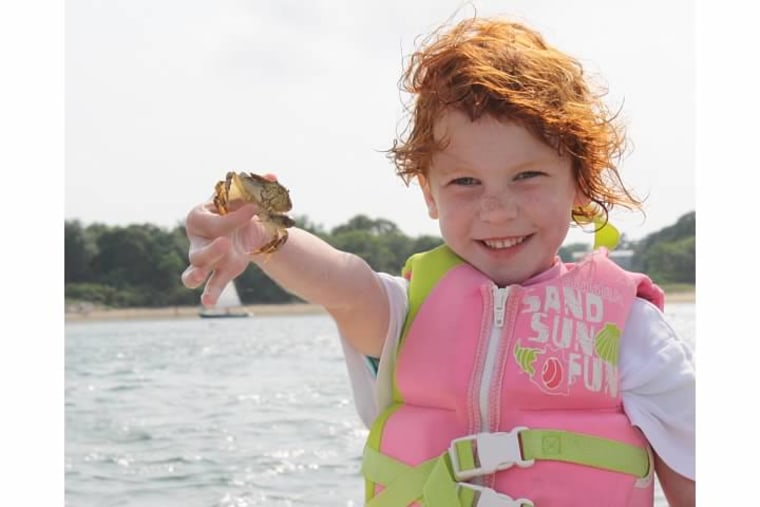 And then, in a moment, Catherine — and her quiet, kindhearted passions — were gone. She was among the 20 first-graders killed in the Sandy Hook Elementary School shootings on Dec. 14, 2012.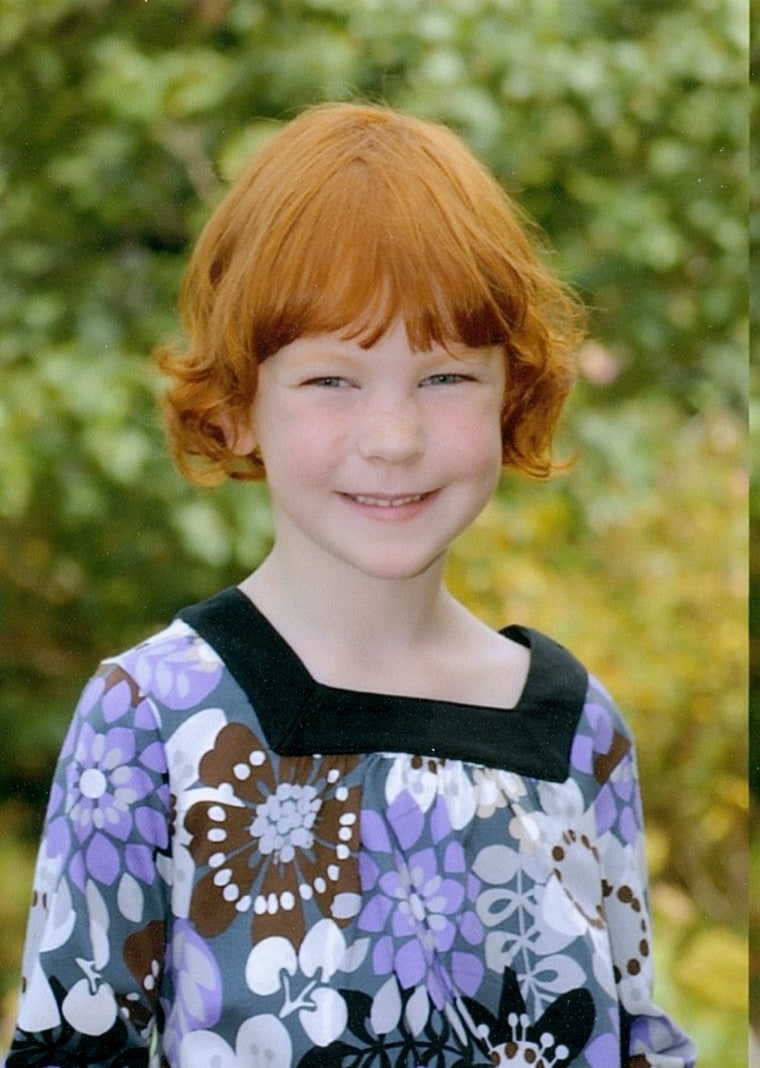 The loss was so great, so unthinkable, that Catherine's parents and older brother Freddy initially couldn't fathom how to do normal things together, like eat a meal. They faced another challenge in January: the prospect of having Freddy, then age 9, return to school.
"To put your kid on the bus and say, 'Everything's going to be fine, you're going to be OK' — there's some sort of oxymoron to that," Catherine's mother Jenny Hubbard, 43, told TODAY. "Really? Is he really going to be OK? But one of the blessings that came to us was that the dogs were there."
After the shootings, Lutheran Church Charities deployed specially trained therapy dogs to Newtown, Connecticut to provide wordless comfort and affection to traumatized children and adults. The dogs spent months helping Freddy and other Sandy Hook Elementary pupils get through each day. One of those comfort dogs, an intuitive golden retriever named Ruthie, was so effective at her job there — and at the sites of more than 20 tragedies since then — that she's been named ASPCA Dog of the Year for 2016.
Fittingly, Catherine's parents and brother presented the award to Ruthie and Ruthie's handlers at the ASPCA's annual Humane Awards Luncheon in New York City on Nov. 17.
"Animals like Ruthie go into all these situations where the pain is so great — people just stand over these dogs and pour out their sadness — and they take it all in and carry it with such grace," Jenny Hubbard said. "They take it and take it and take it, and they give back love."
"They made me feel better when I was sad," added Freddy Hubbard, now 12.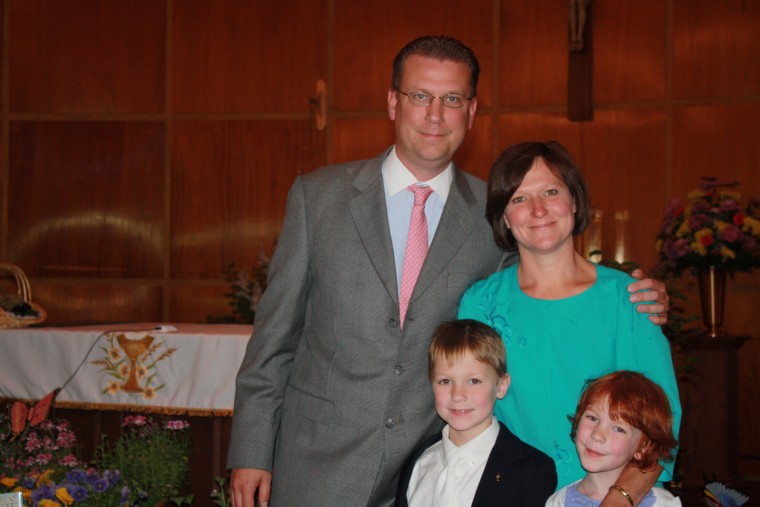 Knowing that Freddy could spend as much time as he needed during the school day with Ruthie and the other comfort dogs gave Jenny and her husband, Matt Hubbard, 44, a sense of reassurance. It also gave them an unspoken, yet clear, form of communication with their son. Whenever Freddy would visit with a comfort dog, that dog's handler would give him a card bearing the dog's photograph, attributes and an encouraging message.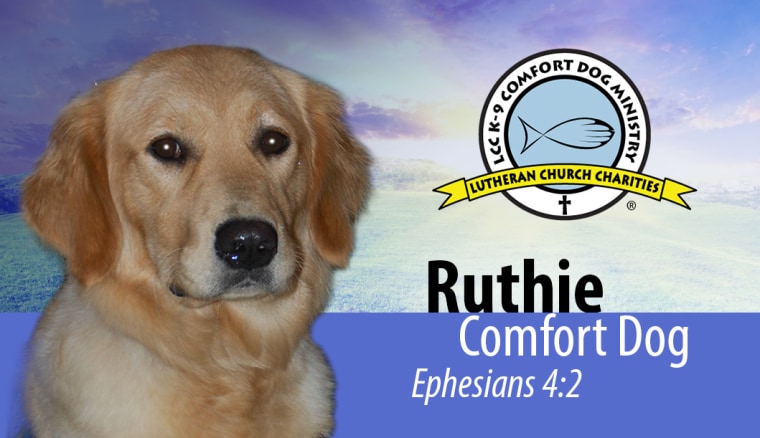 "If he came home and pulled six business cards out of his pocket, I knew he was dealing with some heavy stuff that day," Jenny Hubbard said. "But if he pulled out only a couple of business cards, I knew that we were OK, we were on a good track that day.
"Because of those cards, we didn't have to say to him, 'How was your day?' It was such a crappy question to ask. His day was awful. My day was awful. My husband's day was awful. We were all having to learn a new normal. But thanks to the dogs, he could come home and tell me how he was doing without having to put it into words."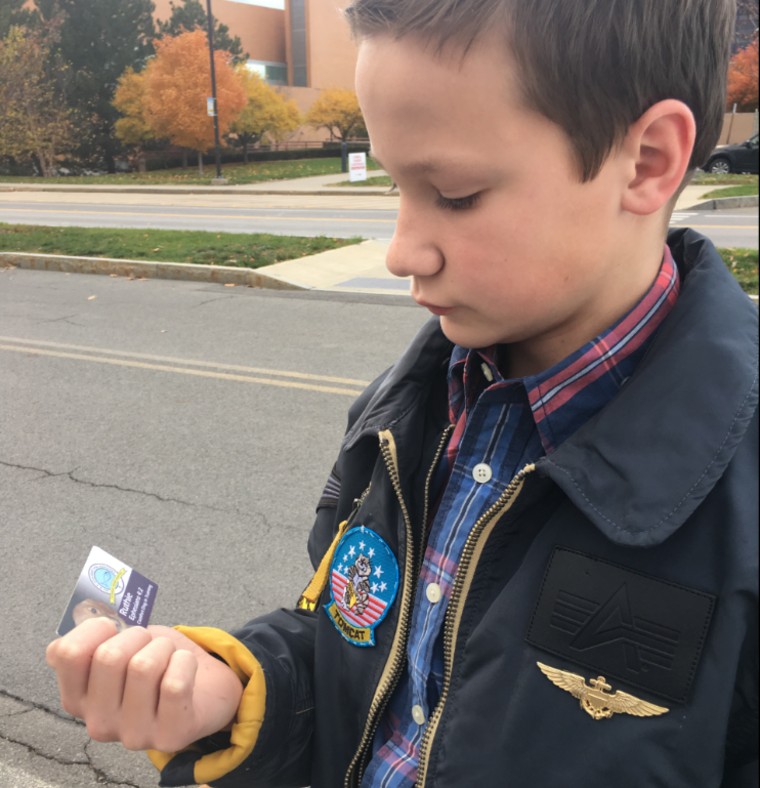 RELATED: Sandy Hook mom hopes 'Say Something' program will prevent school violence
ASPCA President and CEO Matt Bershadker described this year's Dog of the Year designation as particularly emotional since it's coming full circle; in 2013, the ASPCA posthumously named Catherine Hubbard Kid of the Year because of her devotion to animals. After Catherine's death, her parents launched the Catherine Violet Hubbard Foundation in order to make good on their daughter's dream of opening an animal sanctuary.
"The Hubbards are special friends of our organization, and Ruthie distinguished herself when she provided support to the Hubbards when they really needed it," Bershadker told TODAY. "And when you look at the rest of Ruthie's resume — it's incredible."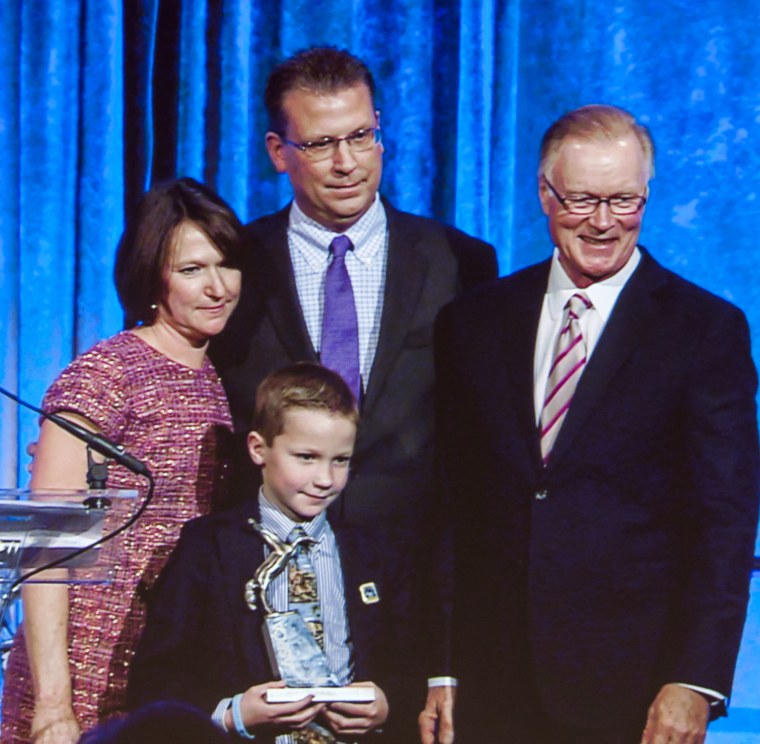 Sandy Hook was Ruthie's very first assignment. Even though she was new in her job, she showed an uncanny ability to help young children open up.
"There were some children who just could not speak at first," recalled Dona Martin, 64, co-director of Lutheran Church Charities' K-9 Comfort Dog ministry and one of Ruthie's handlers. "But after three or four days of just sitting and petting the dog, they could start expressing what they had gone through. There's something about having the trust and the unconditional love of a dog."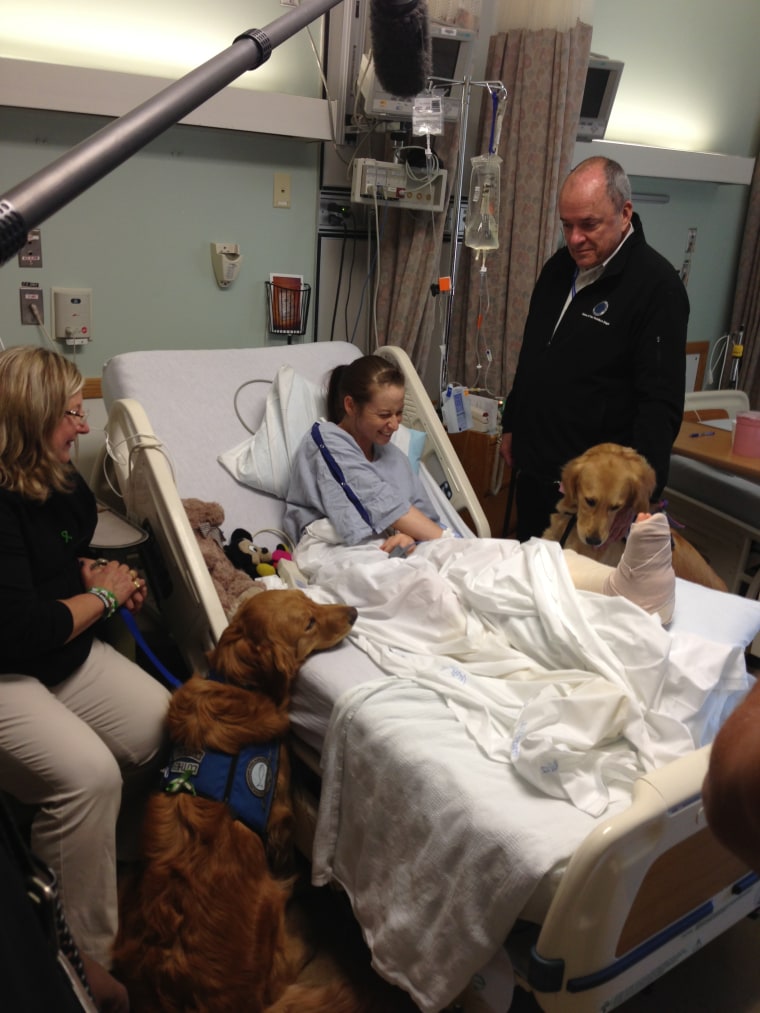 Ruthie's second deployment in April 2013 brought her to the site of the Boston Marathon bombing, where she comforted hospitalized victims and dazed first responders.
RELATED: 'A distraction from reality': Comfort dogs bring peace to Boston victims
Since then she's helped families affected by tornadoes in Oklahoma and Illinois, wildfires in Arizona and California, and flooding in Texas. This past summer, people hugged Ruthie and wept after the Orlando nightclub shooting and the Dallas police shootings.
RELATED: Sandy Hook mom pens letter to Orlando nightclub shooting victims
"Ruthie's sweet spot is her intuitiveness and her ability to zero in on people's anxiousness," said Dona's husband Richard Martin, 64, co-director of the K-9 Comfort Dog ministry. "She can relax, lay her head on people and snuggle with them. She just senses when someone has a special need that needs to be met."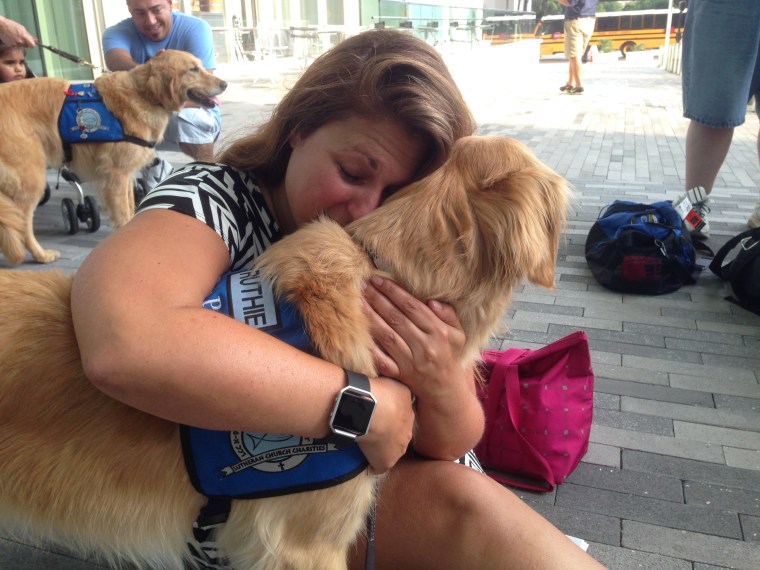 Jenny Hubbard said dogs like Ruthie, and humans who care enough to respond to disasters so willingly, "remind you that there really is more good in the world than bad."
"In those moments of our culture where evilness is great and powerful and dark, you have those people who shine through," she said. "We've been surrounded by such wonderful people who have lifted us up and helped us get back on our feet. Now I want to be that same light for other people."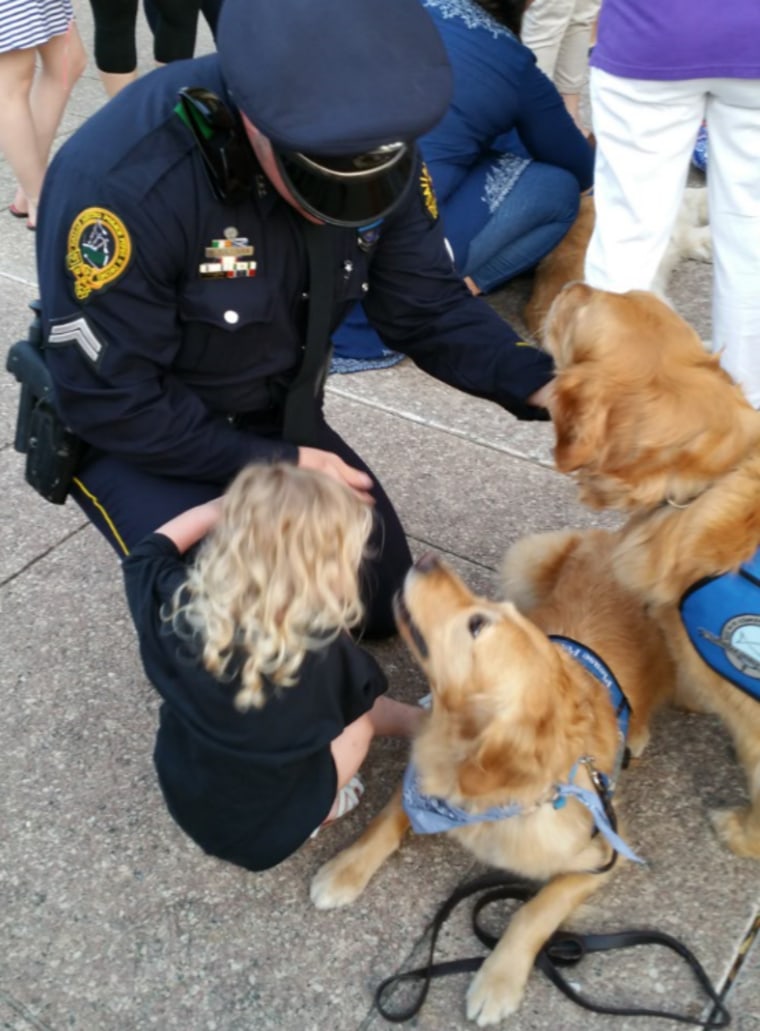 RELATED: 'Stopping two hearts from breaking': ASPCA 'safety net' keeps pets out of shelters
In addition to Ruthie, several other animals and humans were honored at the Nov. 17 ASPCA Humane Awards Luncheon, including:
Blake, Cat of the Year: This rescued black cat detects and warns his owner about oncoming seizures.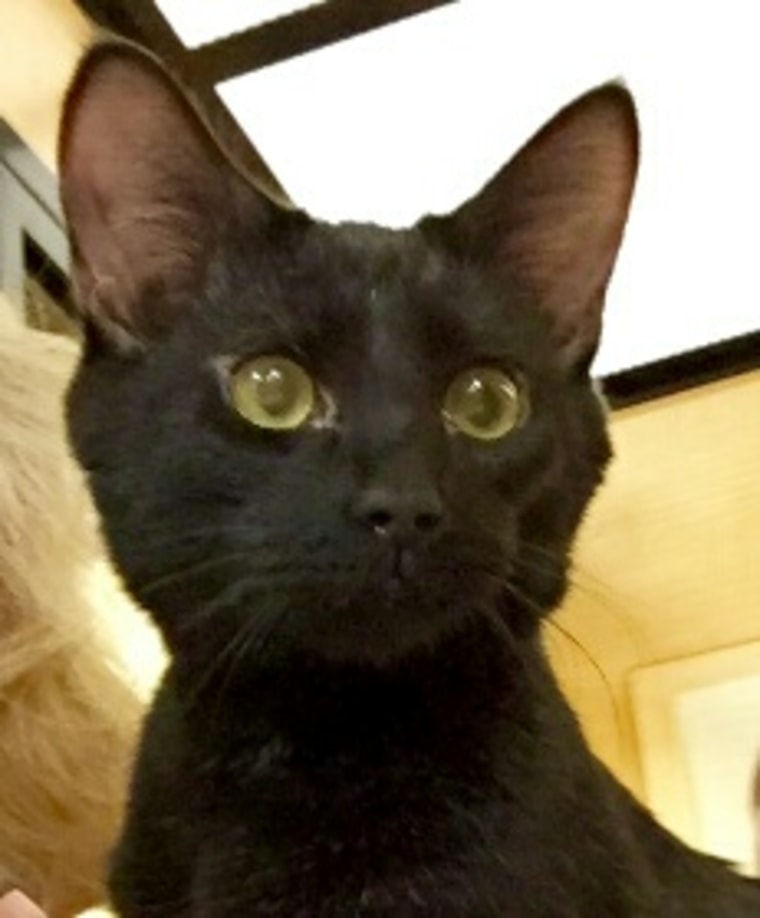 K9 Kiah, Public Service Award: Despite past mistreatment, this resilient pit bull is thriving in her job as a narcotics-detection and missing-persons-tracking dog for the Poughkeepsie Police Department.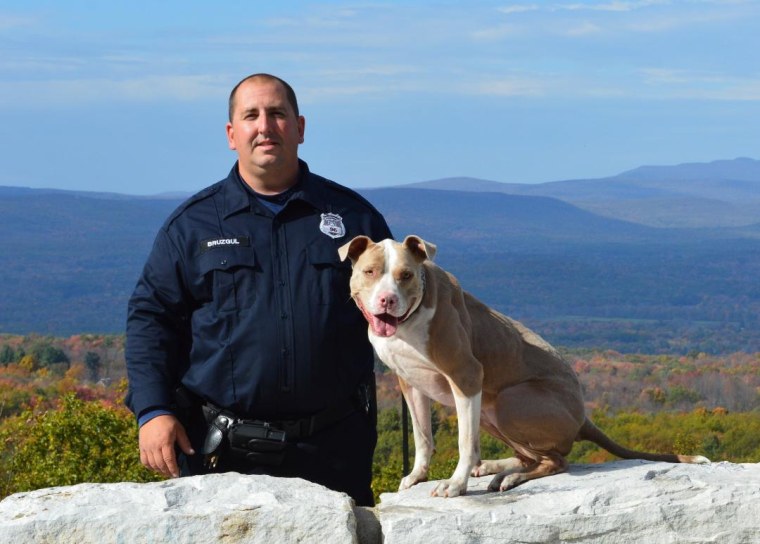 Sen. Bob Dole, Presidential Service Award: Since his retirement from politics in 1996, the now-93-year-old Dole has been advocating for the protection of the pets of domestic violence victims and other animal-welfare causes.
Norberto "Rob" Rosa and New Leash on Life USA, Henry Bergh Award: This prison-dog training program focuses on improving the lives of inmates and saving the lives of shelter dogs.
Sutter, Horse of the Year: This palomino stallion has learned to trust and connect with humans despite enduring mistreatment.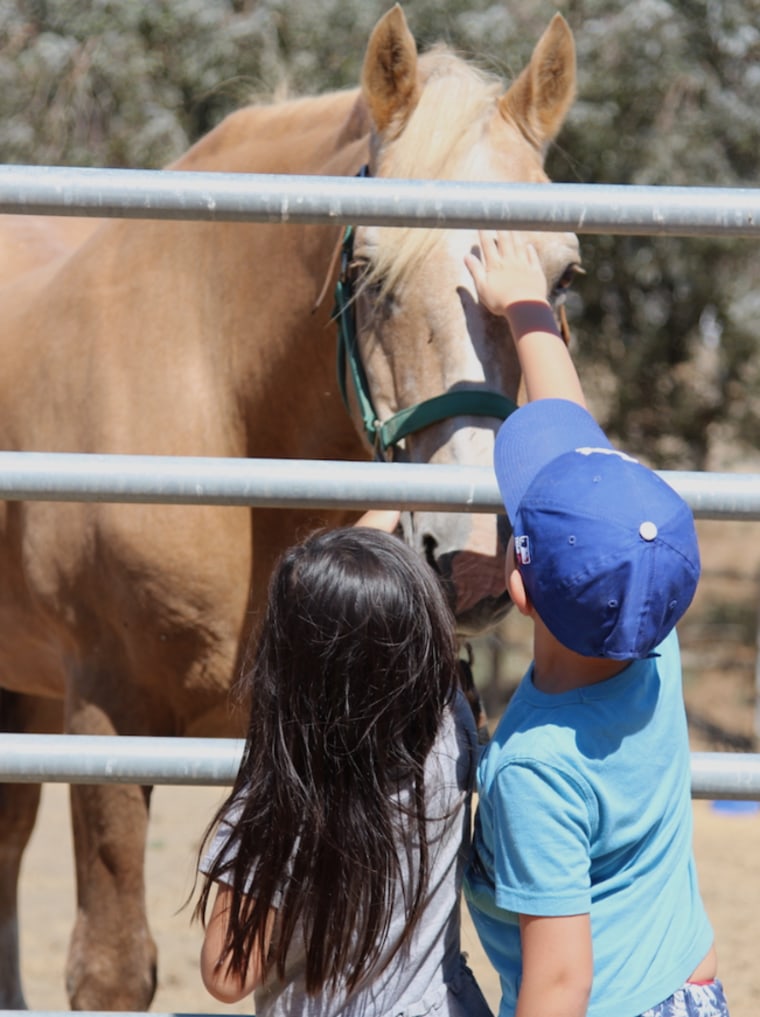 Jim Keen, Farm Animal Welfare Award: This veterinarian and scientist exposed mistreatment of farm animals at the federal research facility where he worked.
Willow Phelps, Tommy P. Monahan Kid of the Year Award: This fourth-grader stopped the use of live goldfish as prizes at her school carnival. To offset lost revenue for the school, she raised $500 in a charity run.
Follow TODAY writer Laura T. Coffey on Facebook, Twitter @ltcoff and Google+, and learn about her bestselling book "My Old Dog: Rescued Pets with Remarkable Second Acts" at MyOldDogBook.com.
This story has been updated since it was first published on Nov. 14, 2016.