With a 5-year-old daughter and an elderly father with dementia, TODAY show editor Sara Pines often feels stuck in the middle. Here, the Sandwich Mom reflects on heartbreak and happiness on Valentine's Day.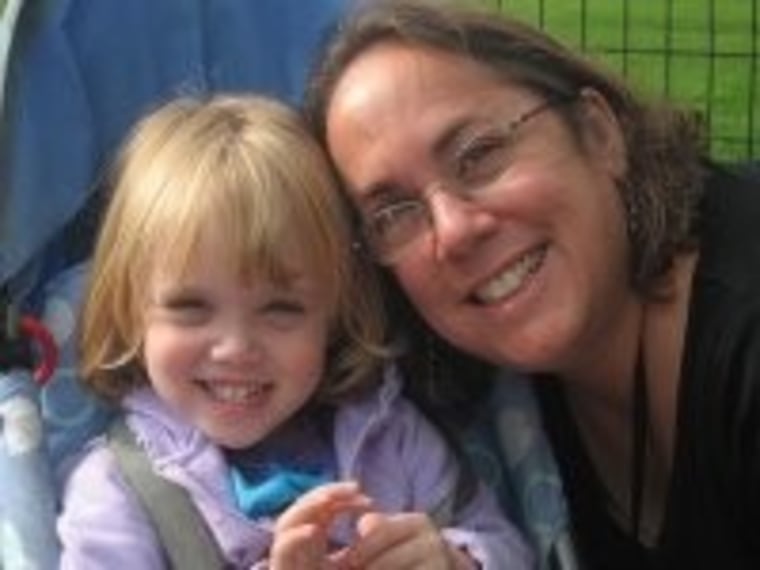 By TODAY show editor Sara Pines, a.k.a. Sandwich Mom
How did you spend your Valentine's Day? I spent it with people I love... sounds perfect, right? Not 100 percent. It was a day of emotional whiplash.
I had two important events on the calendar. My mom and I met with my father's hospice team at the nursing home. He's now officially in the final stages of dementia. It's the kind of disease where there are no clear milestones, just a steady, agonizingly slow descent into oblivion. Before this, I had no idea a death could go on so long. So, while the doctor says we're in the last stages and the hospice workers seem to concur -- is he close to the end?
I don't know. 
We had to confirm, once again, that we wanted an easy exit for him. No tubes, no assistance with breathing or fighting for his life: After all, what kind of life does he have? Is there anything left of his personality? The questions still linger; most days I'm no longer trying to answer them.
I do know that somehow this external confirmation that the end is around the corner (even if we've got a long block to walk until we reach that corner) has given me and my mom permission to mourn a little more openly. I have always been a crier, as has my dad; in fact, it's now the only emotion that he can display, a heartbreak that has formed a sort of callus on my heart. His tears don't automatically make me weep anymore. Only sometimes.  
And yet, there is something empowering about this new stage in the process. For the first time since dealing with this illness for at least four years now, probably longer, we are exerting some control over the long process of dying. There is something satisfying, even a little liberating, about it.
After the nursing home, my mom and I had lunch, then went on to the second big event on the calendar: my 5-year-old's ballet class. It was an open house for the parents and grandparents. This time I was moved to tears, but in a good way. The serious faces, the pink leotards with skirts attached, the joy when they catch themselves in the mirror, the attempt to follow direction -- often falling endearingly short -- but with such joy, who cares? There were hugs and excitement, and then we parted ways with the little one for a little while.
It was the perfect antidote to the toxic sadness of the trip to see my father.  Now, with a little bit of a lighter mood, in fact, a warm nostalgic mood, mom and I were able to reminisce a little -- especially about all the trips my mom and dad took together. From Russia to China, London to Istanbul. But his particular favorite was always Italy. We remembered trips to the hills of Tuscany, nailbiting drives taken, or avoided by paying someone else to take them down the Amalfi coast. We talked about my father's favorites and foibles and for the first time in a long time, it was just nice to revel in the memories. For me, anyway, it wasn't achingly sad -- it was just a sweet walk in the Tuscan sun.  
TODAY Moms contributor Sara Pines is an editor at TODAY and has been working with the show in various capacities for 17 years. She is a single mom of a beautiful 5-year-old daughter and a native New Yorker.