In a candid interview for Glamour magazine, Sandra Bullock worried about her African-American son's future and safety in America's racial climate.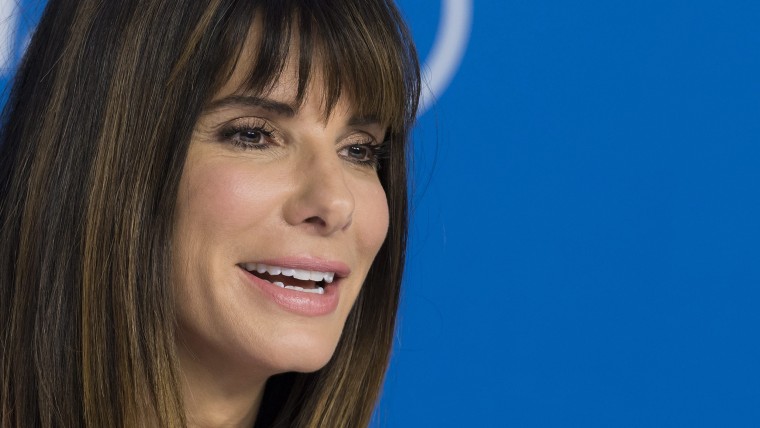 Bullock's "Our Brand is Crisis" co-star, Zoe Kazan, conducted the interview for the magazine's November cover story, which asked about the Academy Award winner's 5-year-old son, Louis, in the context of "peril that African-American men face in this country."
After Bullock expanded that demographic to "men and women," she said she thinks about the issue daily.
"You see how far we've come in civil rights — and where we've gotten back to now," she added. "I want my son to be safe. I want my son to be judged for the man he is. We are at a point now where if we don't do something, we will have destroyed what so many amazing people have done. You look at women's rights; it's turning into a mad, mad world out there. But sometimes it needs to get really loud for people to say, 'I can't unsee this.' If I could ride in a bubble with him for the rest of his life, I would. But I can't."
Maternal instincts may have kicked in for the 51-year-old actress more recently than fans might suspect.
"I don't feel like I was an adult till about five years ago," she told Kazan. "I literally went, 'I know who I am.' Not completely. But about two years ago all the puzzle pieces came together. I went, 'This is who I like. This is who I am.' … Motherhood and divorce [were factors], and not just divorce but the onslaught. Again, I let it affect me. I heard it all. And I had to step back and go, 'I have the greatest gift in little Louis, and I'm gonna let him see the woman I want him to know.' So a child forces you to get your [act] together. In the best way."
Here are other interview highlights from the cover story, whose full version arrives on newsstands Oct. 13:
On her introduction to George Clooney: "[He] and the person I dated were all friends. I met George at a party where he was doing Buddy Hackett imitations! George was the reason the guy that I ended up dating dated me. He was like, 'If you don't get with her, I'm gonna get with her.' He was kidding, but sort of pushing."
On pursuing roles written for men: "I did as my mother did: I put my blinders on and blazed forward. Sometimes you get a no. But I expect the no. I don't expect the yes. With ['Our Brand is Crisis'] I got very nervous. I didn't know if George had made this for himself. But the response was 'We're cool with it.' And then the role—I mean, it was so beautifully written for a man. It wasn't one of those things where you go, 'Hmm, how do we change it to a woman?' You just change the sex; that was pretty much it. She's human. She deals with addiction; she deals with mental illness. She's brilliant at what she does, and she gets lost in the fact that all she cares about is a win."
On remaining sensitive while becoming famous: "I don't think your core changes. If you were [a jerk] before you got in this business, you're just a bigger [jerk]. I think you are who you are. I didn't get into [this business] till later in life. Who I am as a person hasn't changed."
On her undergraduate days at East Carolina University: "I did some stupid things in college. Fact that I didn't wind up in jail: miracle. Miracle! So I'm grateful for that."
Follow TODAY.com writer Chris Serico on Twitter.