Sandra Bullock had long established herself as a successful big-screen star when she took on the role of a lifetime — off-screen.
In 2010, the actress became a mother for the first time.
Now, in an emotional interview with TODAY's Hoda Kotb, Bullock opened up about how having kids changed her life, and she's learned how her decision to create a family via adoption has changed other lives, too.
Bullock is mom to son Louis, 8, and daughter Laila, 5, and when asked about her priorities in life, she didn't even pause to think about it.
"It's my kids," she said. "Everything is about them being ok, being in school, having what they need, their moments. I need to be there for every single moment that they have. It's harder for me to leave them than I think it is for them when I leave. I don't leave that much, and I don't work that much anymore either. ... So my priorities are my kids, my kids, my kids. My family. My family. That's it."
And that's more than enough for her. In fact, it's more than she ever expected. There was a time she thought that maybe the chance for motherhood had passed her by.
"And then (Hurricane) Katrina happened," she said as her eyes welled up. "Katrina happened in New Orleans, and I knew. Like, just something told me that my child was there. It was weird. It was very, very weird."
But it felt very right to her, even though it didn't happen right away.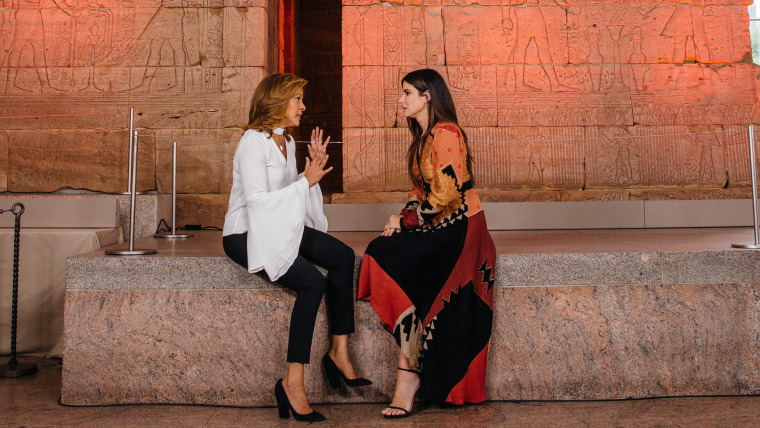 "Three or four years later," Bullock said of the timing. "But then I looked at (Louis), and I just said, 'Oh, there you are.' It's like he had always been there. It's like he fit in the crook of my arm. He looked me in the eyes, and he was just — he was wise. My child was wise. The beautiful thing that I was constantly told was, 'The perfect child will find you. You will find your child.'"
She couldn't hold back the tears with that reflection — and neither could Hoda, and there's a good reason for that. In February of 2017, the TODAY anchor welcomed daughter Haley Joy, 1, into her life via adoption, too.
"It's so funny, because without knowing it when you adopted Louis, a lot of people were looking at you," Hoda explained. "I remember, 'cause I was in Rio for the (Olympics) — I'm gonna cry ... But I was in Rio, and I was trying to figure out, like, did I miss my window? Am I too late? Should I have ... a bunch of woulda-coulda's. And all the sudden, I Googled you."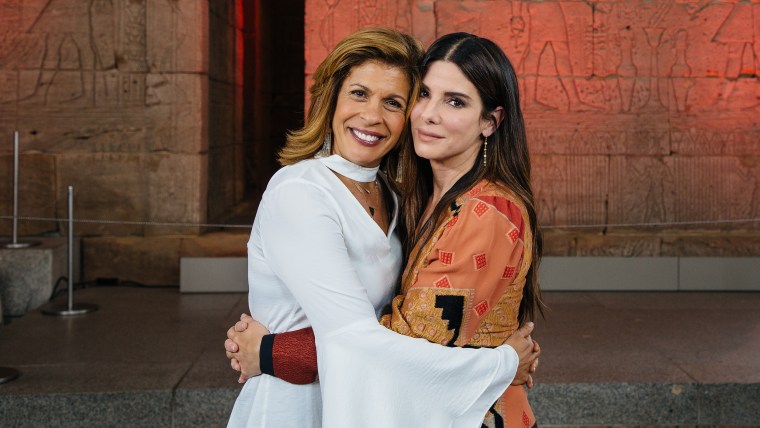 Bullock's story inspired her, and she even reached out to the star about it.
"You gave me some good advice," she continued. "But I thought, you don't even know who you inspired. You know because I told you, but how many other people looked up and saw you?"
It's Bullock's hope that she led others to know that "there's no end game." There's always reason to keep an open heart.
"There are hundreds of thousands of children that are ready to be your child," she said through tears. "You're a forever parent the minute you accept the love of that child. And it's amazing to me how we can take away people's happiness by telling them that this is the box that you have to stay in. There is no box."
There wasn't one for her even after Louis entered her life. He's the one who tipped her off that another baby was on the way when a friend mentioned her own daughters.
"He goes, 'Yeah, I don't have daughters,'" the 53-year-old laughed. "He goes, 'No, I don't have a daughter, but I'm gonna have a baby soon.' ... And I realized at that time maybe he knew something. And when I think about it, it would've been around the time that Laila was born."
Bullock doesn't think of that as a coincidence. It's just another clear sign that she was on the path she was always meant to be on.
"It's just like being a mom, I finally realize, 'Oh, this is what I was supposed to do when I grew up," she said. "Not be an actress; to be a mom. ... This is my purpose."