Sandra Bullock has become a mother for a second time, this time to a daughter.
People magazine reports the Oscar-winning actress has adopted a spirited 3-year-old girl, Laila, who had been under foster care in Louisiana.
"When I look at Laila, there's no doubt in my mind that she was supposed to be here," said Bullock, who also adopted her first child, Louis, in 2010. "I can tell you absolutely, the exact right children came to me at the exact right time."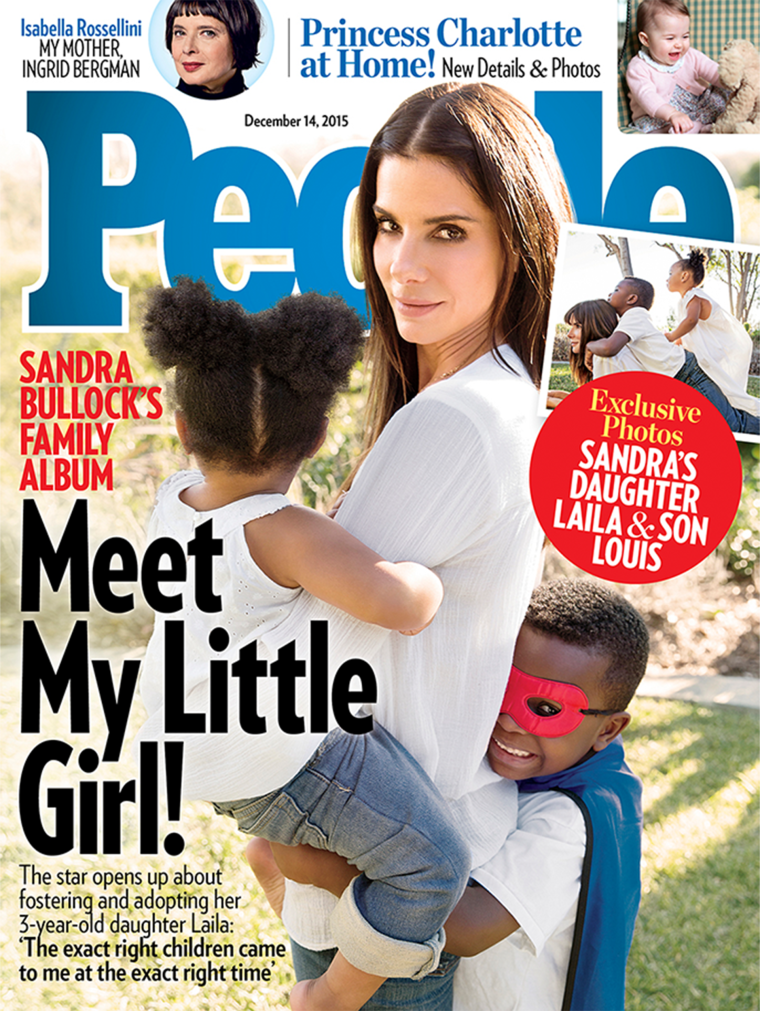 Bullock, 51, said the process of expanding her family began three years ago.
RELATED: Sandra Bullock: Having a son has been a 'game changer'
"Louis spearheaded this whole journey," she said. The two siblings have since formed an inseparable bond, but Bullock said the initial stages of bringing Laila (pronounced LYE-la) home required patience and plenty of reassurance.
"I knew she was scared, and all I wanted was for her to know Louis and I weren't going anywhere," she said of her daughter, who has brought "pink and glitter in the house mixed with Legos and Batmans."
People's Dec. 14 issue also features several new family photos, all taken by her photographer boyfriend, Bryan Randall.
"My family is blended and diverse, nutty, and loving and understanding," she said. "That's a family."
Bullock said she hopes her daughter's adoption will help shine a light on the hundreds of thousands of children currently in foster care.
Jess Cagle, People's editorial director, told TODAY that Bullock knew she wanted to adopt a foster child this time, but did not care whether she brought another boy or a girl to her family.
"The only thing that Louis said was, 'I want a baby who's brown. I want a sibling who's brown like me,'" he said.
Follow TODAY.com writer Eun Kyung Kim on Twitter.