In response to the ongoing discussion about gender identity, a San Francisco elementary school has changed the signs differentiating the boys and girls bathrooms, declaring them gender-neutral restrooms.
Miraloma Elementary says it has received support from its local community after making the change to acknowledge a group of about eight students who are either transgender or do not identify with traditional gender norms.
"You want to make sure every kid feels safe and secure and happy,'' Miraloma Elementary PTA president Ellen Shatz told Joe Fryer on TODAY Friday. "So I would hope this is the wave of the future."
The change has only been made for bathrooms used by students in kindergarten and first grade, where the bathroom has a single stall that can only be used by one kid at a time.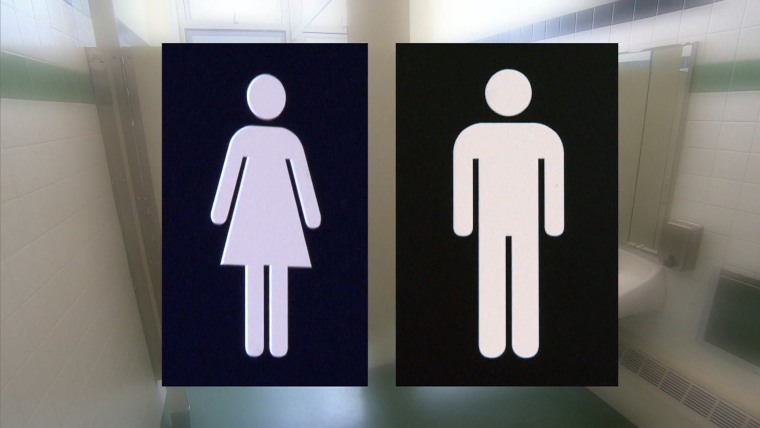 "There's an impression that we will have all types of students in the restrooms using the bathroom at the same time, and that's just simply not the case,'' Miraloma principal Sam Bass told Fryer.
Gedalia Braverman, the mother of twin first-graders Ari and Ella, is grateful for the change. Ari is considered "gender non-conforming," which means he prefers male pronouns and usually dresses like a boy, but not always.
RELATED: Teens protest over transgender student's use of girls' bathroom, locker room
"I think it invites the child, it invites the person into the space, as opposed to putting them into a moment of confusion or anxiety,'' Braverman told Fryer.
While Miraloma Elementary's decision has been supported locally, the issue has divided parents and officials at many schools across the country. Earlier this week, students walked out in protest at a high school in Hillsboro, Missouri, when a transgender female was allowed to use the girls bathrooms and locker rooms. Other students walked out in support of transgender student Lila Perry. The school district in Troy, Ohio, also drew a divided reaction from parents after declaring that every school will feature one gender-neutral bathroom.
Many colleges have added gender-neutral bathrooms, and the White House opened a gender-neutral bathroom in April.