/ Source: TODAY Contributor
We want to be invited to your birthday parties. Many parents have weighed in on the TODAY Parenting Team's request for great birthday celebration ideas.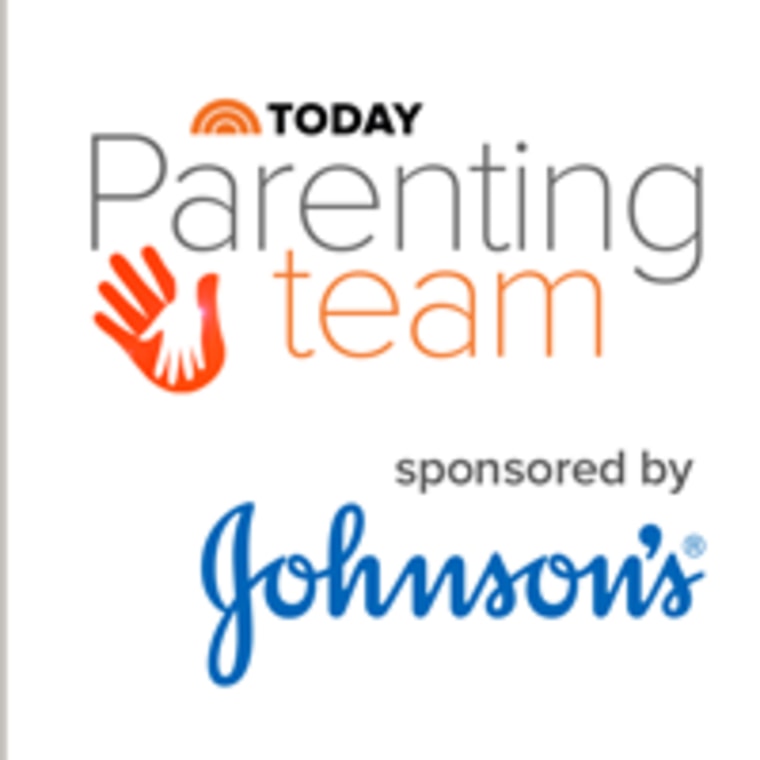 Some shared party ideas, from the elaborate to the simple. Some told us about birthday family traditions, from posing the birthday child in the same garment each year to turning a party into an opportunity for giving.
Here, we share a variety of ideas as offered up by seven TODAY Parenting Team contributors.
Please feel free to join in this ongoing conversation by becoming a member of our team and stay connected to TODAY Parents updates on our Facebook page. If you have other insights to share about happiness in parenting, we'd love to hear them!
1. Take a photo of the birthday child in the same item of clothing every year. (Brandy Yearous, "Super Mom")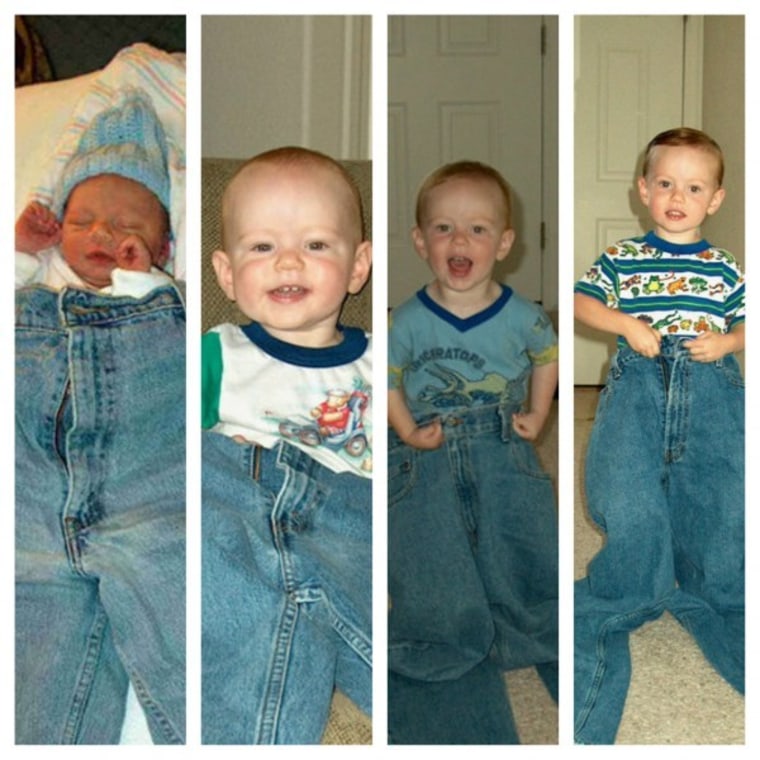 "Long before Pinterest and those cute little signs that tell you how many months old your child is, I read about a cute idea where you take a picture of your child every year on their birthday in the same piece of their parents' clothing so you can 'watch them grown into an adult.' ... With my daughter, I didn't want to use my jeans because...well, let's face it, women don't wear the same size their entire lives. I thought since we were watching our son grow up into a man, why not watch our little girl grow up into a lady?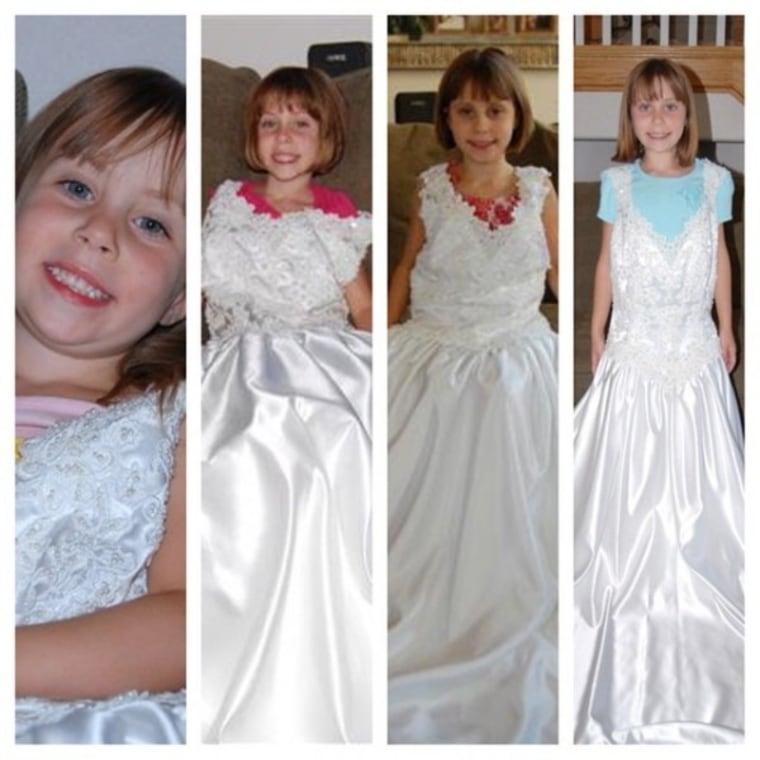 "I chose my wedding dress for a lot reasons. One, because I want to get more than one day's use out of it! Two, I really think she's going to want her own dress when she gets married, so what a wonderful way to celebrate my own marriage than to pass a tradition down to my only daughter. Three, I think it will be a great memento to show at her wedding someday."
2. Opt for non-traditional party themes that express your child's personality. (Yvette Manes)
"When my daughter turned 11 she was a HUGE fan of mustaches. I wanted the party theme to reflect her at that exact moment in time, so I designed a Mustache & Burlap Birthday Party incorporating some of her favorite trends. ...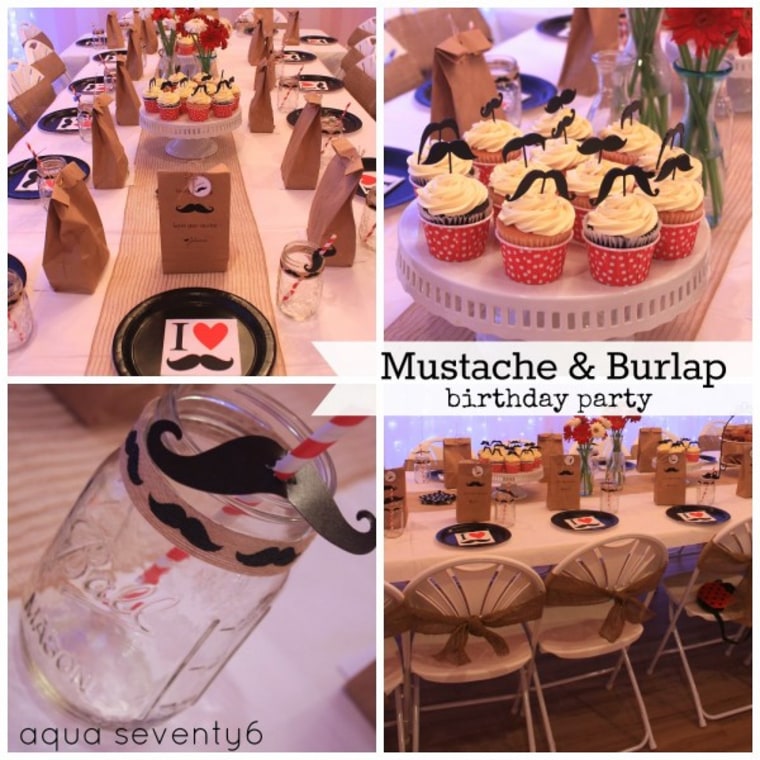 "I used burlap colored Deco Mesh as a table runner. At the time, I couldn't find matching plates, but I did come across the perfect napkins and laid them on top of a plain black paper plate. I printed a thank you note on brown paper lunch bags and used those as goody bags. They were tied with twine and each had a personalized mustache tag.
"I found burlap and mustache ribbon and attached it to the lid of a mason jar to use as a cool drinking glass. I replaced the basic plastic straws that came with these mustaches with nicer vintage-inspired striped paper straws. I found these plastic mustache picks by chance at a home store, and dropped my store bought cupcakes into these cute red polka dot cups for a little color."
3. Take the party outdoors (Rebecca P. Cohen)
"(In spring), a planting party is a great activity that becomes a party favor too. With help from an adult, even a toddler can hold a hand shovel and dig with you. Plant seeds (sugar snap peas are a favorite and fun to watch grow) or plant a flower such as a pansy in a small container to take home. Adults and kids can use their hands (have hand wipes ready!) or ask families to bring hand shovels and gloves of all sizes, and there will be plenty of tools to go around. ...
"(In winter), sled or ice skate alongside hot cocoa and cake, meet up with families at a playground, or involve your children in what they'd like to do. When my older son turned 9, he chose to have a capture the flag birthday party outside, and even drew the layout of the party and plan for the game on a whiteboard. I ordered blue and red bandanas (half in each color). I think I ended up with 30 9-year-olds in the backyard who had a wonderful time running around for two hours! Shoes were left at the door to come inside briefly for cake."
4. Get creative with party ideas, from derby days to princess parties. (Angie Goff)
"Dapper Derby Party: My kids helped paint these plastic jockeys and we planted them on fake grass we got at Michael's. Cake pops are cool, but in the summer pie pops were a nice twist. ...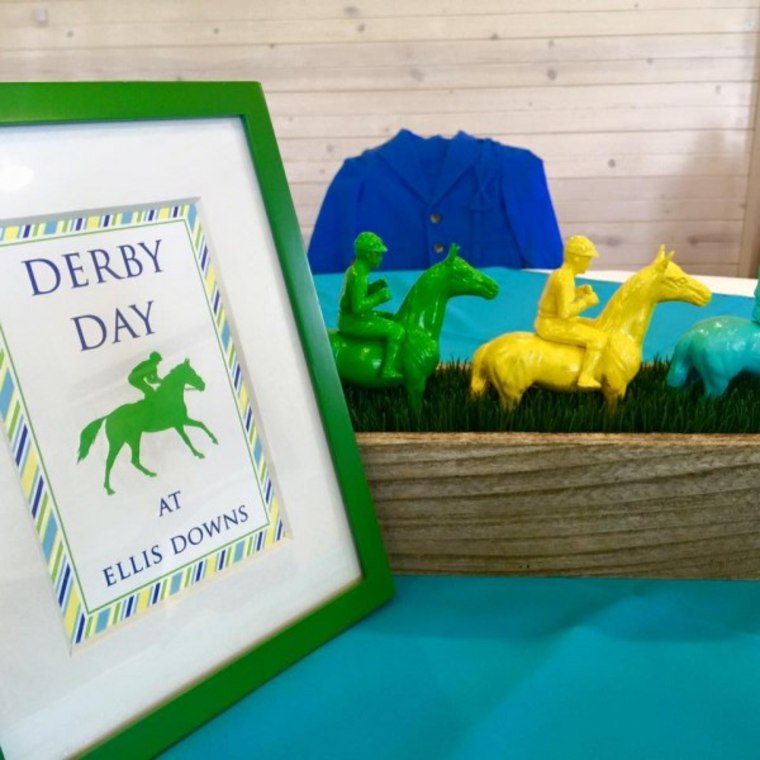 "Princess Party: We bought plastic frames and let the kids decorate them with stickers and sticky rhinestones. The entertainment was a caricature artist who did a 'royal portrait' for each princess that she could frame and take home. You could always have them do a self-portrait too. I ripped the idea to have 'Princess Parade' from our last trip to Disney World. All you have to do is play 'Happy Birthday, Princess' (from iTunes) and let all the guests line up and enter the room and make the rounds led by the birthday girl.They wave and feel so special. Big fan of photo toppers on cupcakes and do them for every party. I got these through Etsy."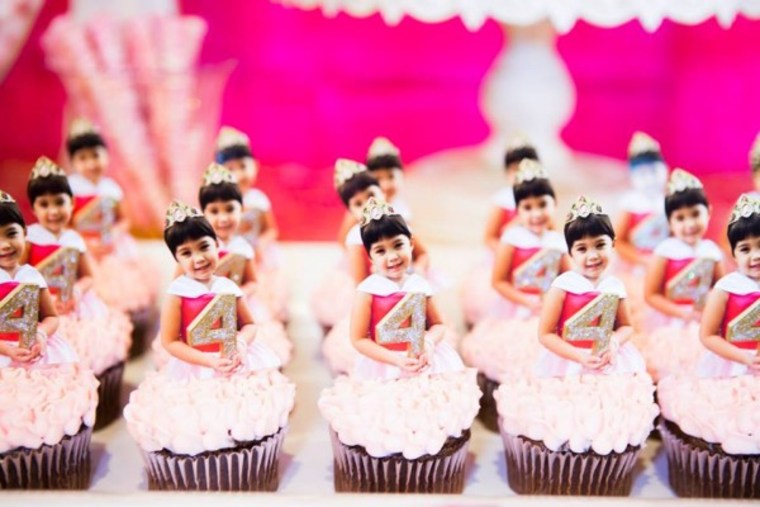 5. Make DIY cupcake stands. (Jillian Darlington, MomCo App)
"Cupcake stands are super cute and make a fun focal point for the dessert or food table at your party. It is a great DIY project that is inexpensive and simple to do. Your kids can help too! It just takes some boxes, wrapping paper, and a little imagination. ...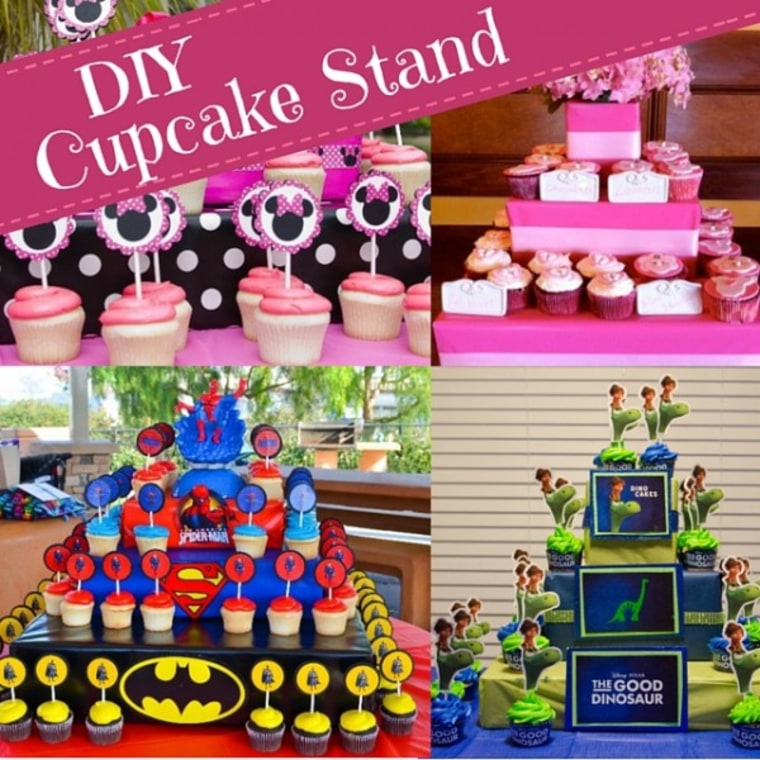 "They can be used for birthday parties, but they are also great for other events such as bridal showers, baby showers, play dates, and other celebrations!"
6. Turn your child's birthday party into a giving opportunity. (Rachel Garlinghouse)
"About four years ago, we partnered with a local foster care support agency to find a birthday buddy, a child in foster care with an upcoming birthday. Once we had a child's name, age, and wish list, we sent this along with party invitations to our guests. We were reluctant at first, wondering if it was Miss Manners-approved to ask guests to forgo buying our children a toy and instead providing a gift for a stranger-child. And really, was it fair to our kids to ask them to give up receiving gifts for themselves and instead collect donated gifts for children they had never met and would never meet?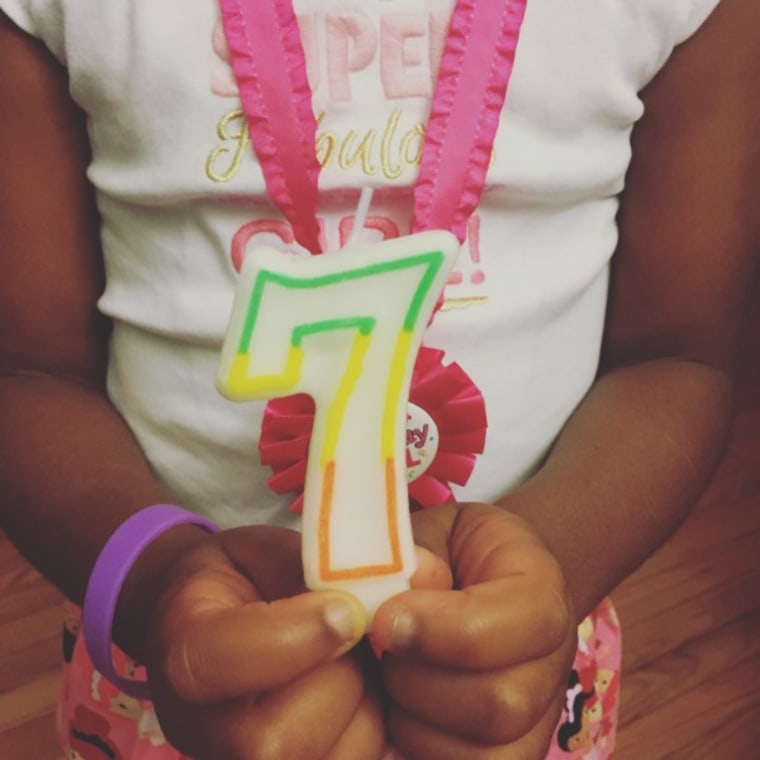 "It turns out, choosing to collect gifts for children in foster care was an excellent decision. The first year, our birthday buddy received four large bags full of gifts: every item on her wish list purchased. The following year, we signed up for two birthday buddies, and again, our guests bought every item on the list. The next year, we took on three birthday buddies, all of whom were young women in their late teens who were preparing to age out of the foster care system and needed items for their first apartments and for their own young children."
7. Host a 'Jawsome' birthday party. (Krystal Butherus)
"My son's second birthday coincided with a special event: my husband appeared on 'Shark Week' wrangling hammerheads. To celebrate both the success of my husband and shower my son with birthday bliss, I started planning a 'jawsome' party. I found inspiration with Oriental Trading's shark collection, but I also created a few ideas to make this children's party better than the rest. From a kid's activity station to a simple juice bar, these small touches make this party memorable.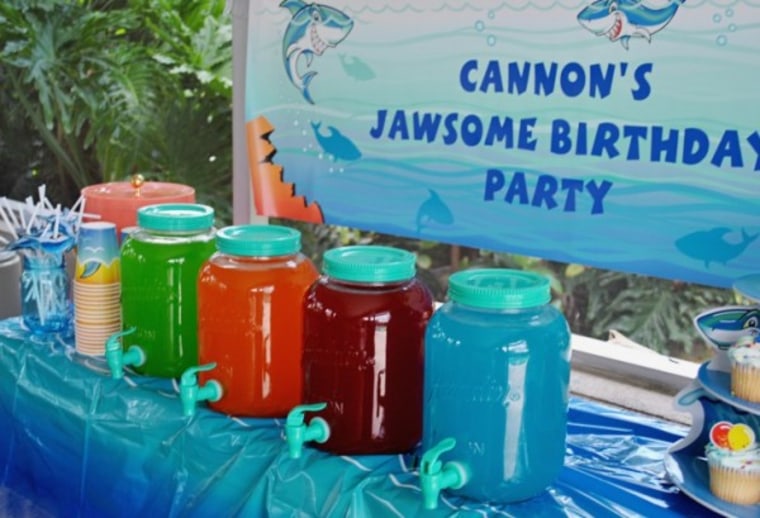 "There were a few key ideas that made this birthday spread memorable and quite 'sharky.' I used colorful juices to decorate, and it became an easy to use serving station for kids and adults alike. I also surprised everyone with special push pops that I made on my own with funfetti cake and frosting. The personalized birthday banner was a fun extra from Oriental Trading, and the shark straws are a nice touch."