/ Source: TODAY Contributor
When TODAY Parents asked our readers about how they selected their baby names, more than 12,000 of you responded. And the results were fascinating. TODAY Parents readers prefer classic names, and don't think their children have popular names — although they admit it would bother them if those names started shooting up the popularity charts.
But one of the most intriguing questions concerned a topic that some don't even believe is real: baby-name stealing.
Name stealing was the topic of a classic "Seinfeld" episode, where George tells fiancee Susan he wants to name their future child "Seven," after the jersey number of famed New York Yankee Mickey Mantle. Susan and George aren't even expecting, but when another couple hear the name and decide to use it, George is furious. "Please! I have so little!" George shouts into the delivery room.
More than half of those answering our survey sided with George. They say that baby-name stealing is a real phenomenon, and that if parents-to-be know another couple has plans for a name, they shouldn't use it.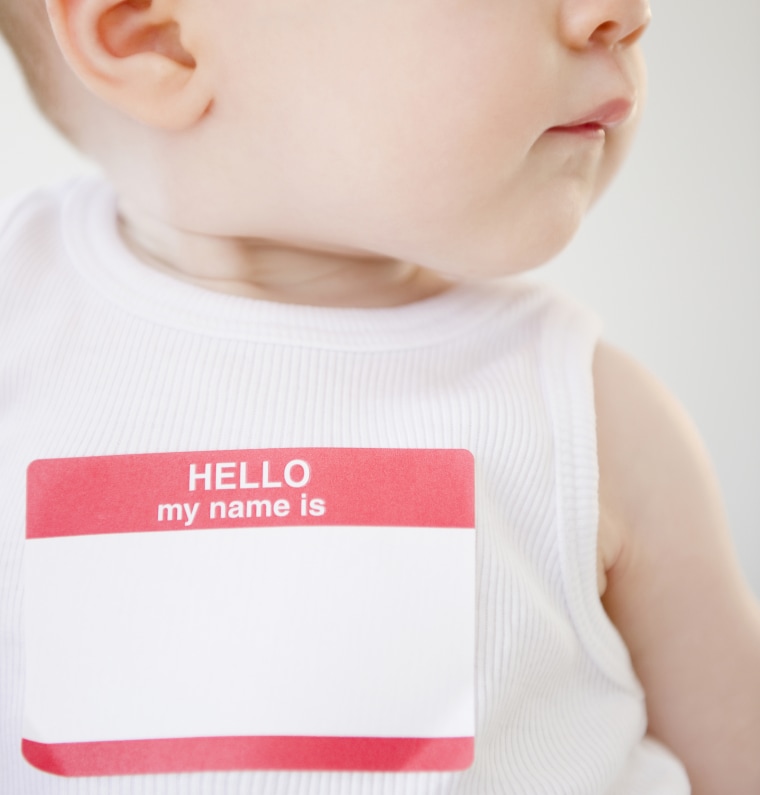 "It's a tricky thing since many of us like the same names, or can't remember all the favorite names of family and friends," Linda Murray, global editor-in-chief of BabyCenter, told TODAY Parents.
Murray understands why names can cause such emotional situations. "Parents spend a lot of time thinking and dreaming about their child's name, and it's one way they become attached to their child before they even meet him or her," she said. "It's an emotional process, so when you share your favorite baby name with someone and they 'take' your name, it feels like theft."
If the name "stolen" is especially unusual, it can make the situation worse, because it's probably clear the stealing parents didn't just come across the name independently.
"I told my BFF my daughter's name (Aubrianna) and she told her (pregnant) friend ... and that girl ended up using it," one mom wrote on the BabyCenter Community. "I wouldn't have been offended if she had happened upon it on her own, but she knew me and used my name. Honestly, it's the whole reason I won't share my baby names now."
Even more traditional names can cause hurt feelings. "My brother's ex-girlfriend stole my name after I told her I was using it for my son because I had been in love with it since 6th grade," a BabyCenter reader said. "She said she didn't really like the name... Imagine my surprise when he was born and they announced his name is Christopher. I was fuming."
Family names can cause debate too, even in families where a name tradition is followed. "My sister-in-law tried to steal our unborn son's name when her son was born last year," a BabyCenter mom wrote. "Their boy name runs in the family so the oldest son names his son after himself. So my fiancé is a junior and this baby (we found out it's a boy) will be the third. She tried to name her son the third... My father-in-law got so mad at her and told her off because that's not her name to take."
In such cases, communication is key, Murray says. "When it comes to family names, it's a good idea to have a clear discussion as soon as you know what name you might be considering. If you've picked a name that another relative might want, at least you can talk openly about it."
Parents can also try to compromise, Murray says. If both like Elizabeth in honor of a grandmother, perhaps one can use Eliza, and one Beth.
And always remember, there are worse things than sharing a name.
"There's no law that says you can't both give your child the same name," Murray told TODAY Parents. "I have a brother and a cousin named Richard. It worked out fine in our family and they're quite close. Maybe sharing a name helped bond them. And remember that in the long run, your child's own personality and character will make the name uniquely his or her own."