Ryan Gosling was quick to reveal what fans thought would be a picture of his and Eva Mendes' newborn daughter Amada Lee while chatting on Ellen DeGeneres' daytime show Friday.
But viewers got a good laugh when Gosling queued the photo and it was, instead, an image of DeGeneres' head photoshopped on a baby's body.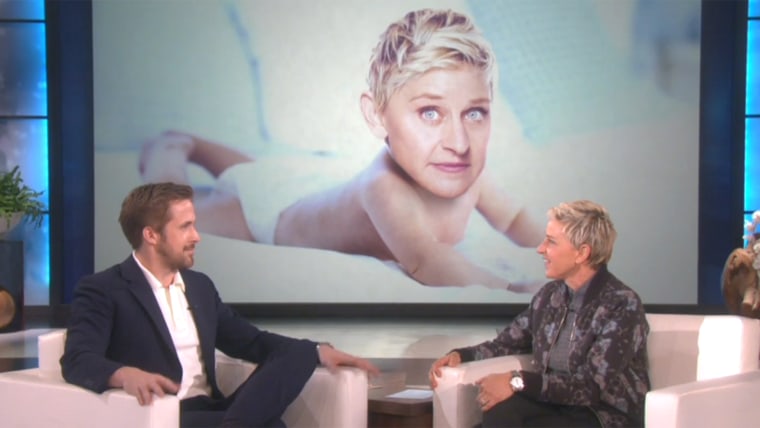 Gosling and Mendes recently welcomed Amada after successfully keeping the pregnancy under wraps. She joins 1-year-old sister Esmeralda.
Though DeGeneres' audience may have been disappointed at the silly baby photo, the "Nice Guys" actor shared an adorable story about visiting the park with his Esmeralda that likely canceled out any negative feelings.
Gosling, 35, explained how in younger days, he tried to get into the world of graffiti. He'd frequently tag over other artist's creations in hopes of starting a battle.
RELATED: Chrissy Teigen, John Legend share first photo of baby — and reveal her nickname!
As he explained to Ellen, the father wasn't exactly great at tagging, and "no one ever bothered to battle with [him] because [he] was so bad at it."
However, he and Esmeralda have been experiencing a similar situation, except this time, another artist (carrying chalk instead of paint) is out for the attack.
"Some kid has been erasing her name and writing their name over it. So now I'm in a proper tagging battle. And this kid has access to an unfair amount of chalk," Gosling told DeGeneres. "I'm trying to explain to my little girl that this is [unacceptable]. She doesn't care. She's like, 'Well let's just chalk anywhere else,' and I'm like, 'No, no. They're disrespecting your mother. Because she gave you this name and they're erasing it.'"
RELATED: Pinched for time, one mom gets a workout in an unlikely spot: the playground
While Gosling is trying to instill upon the toddler good values, he's also using the situation to teach an important lesson.
"So the only way to really get back at them is to erase their name. And not disrespect their mother, but definitely put her on notice. Because I think she's the chalk supplier," he said. "You've got to be careful when you're trying to teach your kid what a reasonable amount of vengeance is."