Romeo and Juliet, the two newborns who were born hours apart in the same hospital last week, celebrated their birth in the absolute best way — a Shakespearean photo shoot!
Cassie Clayshulte, a photographer at the South Carolina hospital, snapped the beautiful photos of the newborns in Elizabethan-era attire.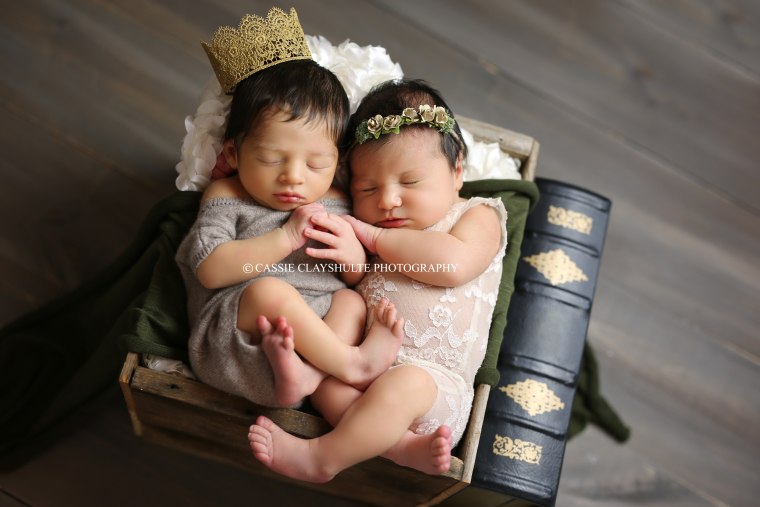 In case you missed it, the incredible story emerged out of Coastal Carolina Hospital in Hardeeville, near Hilton Head, last week.
Parents Morgan and Edwin Hernandez welcomed their baby boy, whom they named Romeo, on March 19.
Eighteen hours later, Christiana and Allen Shifflett welcomed a baby girl, Juliet — right down the hall at the same hospital.
The parents initially had no idea about the funny coincidence.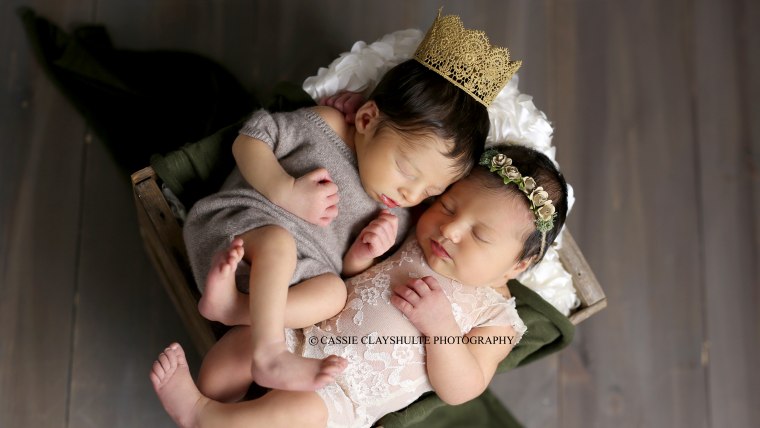 Morgan Hernandez, Romeo's mother, told TODAY they actually choose the name Romeo before they knew they were expecting.
RELATED: Love at first breath? Babies named Romeo and Juliet born hours apart at same hospital
"My husband and I have listened to an artist named Romeo Santos for years," she told TODAY in an email. "We love his music and the name 'Romeo' was the only name we both 100 percent agreed upon."
With the parents permission, Clayshulte posted photos of Romeo and Juliet on her Facebook page last week, leading to an overflow of positive comments and media attention.
Days later, the families reunited at her studio for an interview, where they decided to the babies together for another round of photos — but this time, with an appropriate tribute to the Bard.
RELATED: Dad's amazing Rube Goldberg machine gender reveal wins the internet
Morgan said the Shakespeare theme — a crown for Romeo and a garland headdress for Juliet — was Cassie's idea.
Typically "it's really hard to do a shoot like this with newborns that are not twins," Clayshulte said. "Twins are used to being close to each other in the womb, so when they're not twins, it's harder for them to be comfortable with each other."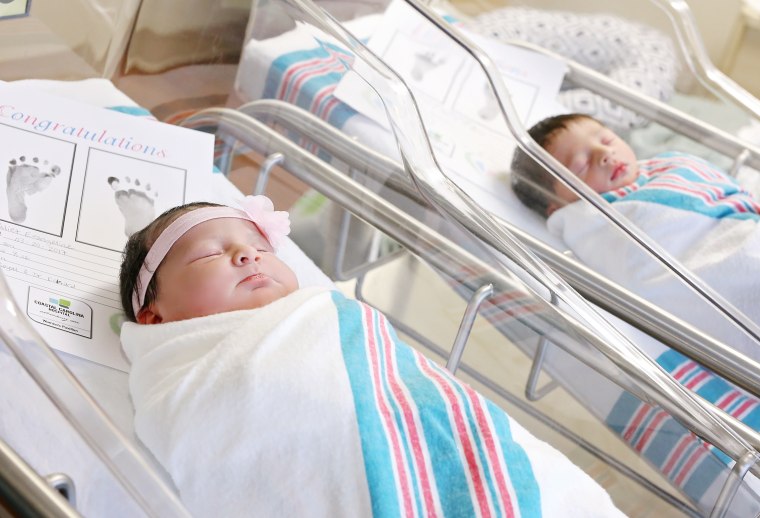 Romeo and Juliet, though, appeared to share a close bond.
"(They) loved being snuggled up and they even held hands," Clayshulte said.
But the real love story may be between the babies' parents.
Over the whirlwind past week, the four have become great friends.
"We have already talked about getting together for one year photos for the kids' birthday as well as senior year photos," Hernandez said. "We have found an amazing friendship within Juliet's family."