Robert Irwin is revisiting a sweet moment he shared with his late father, Steve Irwin.
The 19-year-old conservationist posted a throwback photo on Instagram of himself as a toddler sitting on his dad's lap and holding the wheel of his father's "ute," or utility vehicle.
"My dad's ute … it's a special car," Robert Irwin captioned the post, adding that when he was little, his dad "would park and pretend to let me drive."
Bringing things full circle, Robert Irwin then shared a recent photo of himself holding the wheel of his dad's car, sitting where his father once did.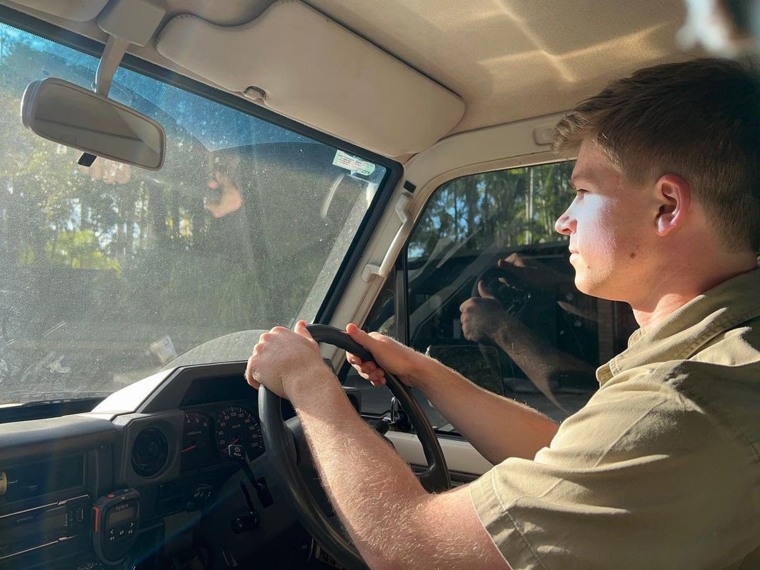 Steve Irwin's "ute" holds a special place in the late TV personality's family.
Both Robert Irwin and his sister, Bindi Irwin, 24, took their driver's tests in the car and the vehicle "still comes on road trips to this day," the younger Irwin revealed on Instagram.
Their mother, Terri Irwin, shared an emotional Twitter post about watching her son learn to drive in her late husband's vehicle.
"Remembering how much Robert loved being with Steve, parked at home pretending to drive," she said in her 2020 tweet. "I know Steve would be incredibly proud."
Just after passing his driving test, Robert Irwin used the car for a very special journey.
"I remember my first solo drive in this car after I got my license — it was to the hospital to meet my niece for the first time, right after she was born," he wrote in his recent Instagram post.
Bindi Irwin welcomed her first child, Grace Warrior Irwin Powell, with husband Chandler Powell in March 2021. 
The same "ute" was also used in the memorial service for Steve Irwin. 
Staff from the Australia Zoo surrounded the vehicle during the service, and Australian singer John Williamson performed a song while standing on the truck bed.
Steve Irwin died in 2006 age 44 after being stung in the chest by a stingray when his son was 2 and his daughter was 7.