Given the choice between going on a long drive with mom or dad, who would you choose? Clark Griswold of "National Lampoon's Vacation" fame may want to cover his ears and lock himself in his metallic pea green Wagon Queen Family Truckster.
As family road trip season heats up around the Fourth of July weekend, a new survey shows that people think dad is the better driver, but they'd rather road trip with mom behind the wheel. 
The majority of adult children — 54 percent — said they'd rather go on a road trip with mom, according to a new survey. They think she keeps the car neater, chooses better music and will actually stop the car to eat when they get hungry.
Meanwhile, they complained dad is much more likely to pass gas, drive too fast, nod off while driving, take control of the radio and be stubborn about how much air conditioning is used in the car. Almost three quarters — 74 percent — also said dad is more likely than mom to experience road rage and do things like race other drivers, cut them off, tailgate and honk on the way to Walley World.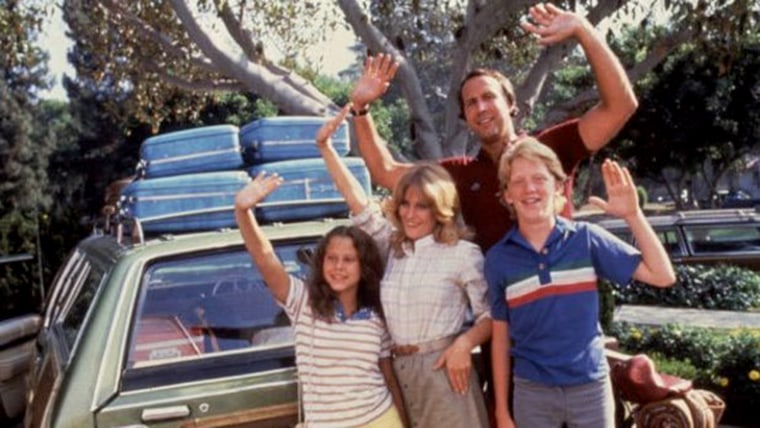 Still, almost two-thirds, or 63 percent, of respondents think dad is a better driver than mom. They also said mom is a worse "back seat driver" and asks for directions too often. Other complaints against mom? She talks too much and attempts to have "deep conversations" you can't escape from. She also takes too many bathroom breaks and drives too slowly.
The results are based on an online survey of 400 randomly selected adults across the country whose parents are 65 or older and currently driving. The survey was commissioned by Visiting Angels, an in-home senior care company.
So there you have it. Some 41 million Americans will travel 50 miles or more from home during the Independence Day holiday weekend, with more than 80 percent choosing to go by car, according to AAA.

Brace yourselves, Rusty, Audrey and other kids.

In the immortal words of Clark Griswold: "This is no longer a vacation. It's a quest, a quest for fun. I'm gonna have fun and you're gonna have fun." 

In honor of Throwback Thursday and summer vacation season, enjoy these historic photos from road trips of yesteryear.
Follow A. Pawlowski on Google+ and Twitter.