Sitting on a 9:00 am train, en route to some out-of-town meetings, it hit me. For the next 14 hours, I would have uninterrupted, child-free work time. And boy did it feel nice — for a second. Because as soon as I leaned back, there it was: the familiar pang of guilt. Or rather, the familiar pang of "reverse guilt," for relishing my adult day and not feeling so bad about it.

Good mothers, it seems, are supposed to feel guilt about almost everything, from what we feed our kids to how much TV they're allowed to watch. The biggest culprit? Leaving your children to do something on your own — whether it's work, exercise, or even spending a long weekend with the spouse — appears to take top honors in the mommy guilt-trip hall of shame.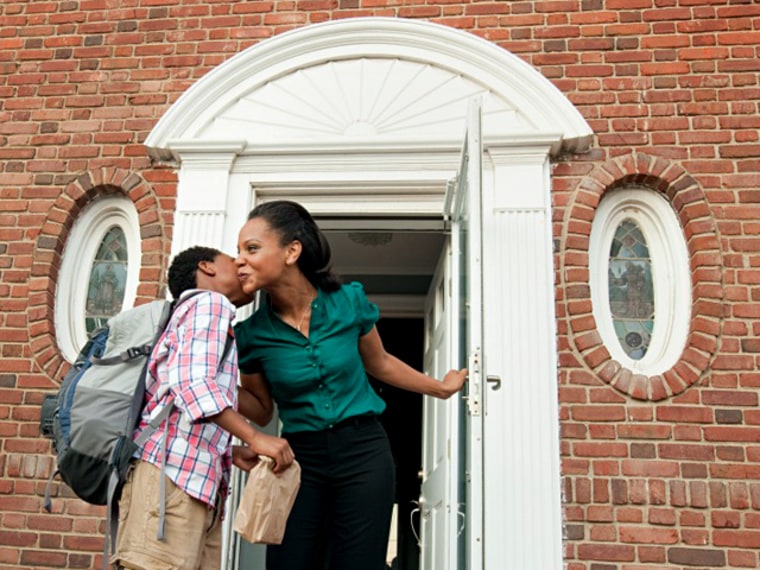 But what if you adore your children and you just don't feel guilty? Some moms pursue their careers and enjoy much-deserved down time with a happy heart and a clear conscience… until they start to wonder, shouldn't I be feeling that infamous mom guilt?

Take Debbie Solomon of Highland Park, Ill., who juggles two jobs as a pediatric occupational therapist and an independent consultant with a personal shopping website. Her two girls are 14 and 10. She went back to work when her oldest was 8 weeks old. Over a decade later, she says she still sometimes feels like she should have guilt when she's working. But, like many moms who suffer twinges of reverse guilt every now and then, Solomon firmly believes that her adult time makes her a better mom.
"I have to travel twice a year for one [of my] jobs," says Solomon. "And I enjoy the time away. It's rejuvenating so I can be a better parent."
While they may hesitate to talk about it in mommy social circles, many women agree.
Karen Benjamin Guzzo, an assistant professor of sociology at Bowling Green State University in Ohio, says she loves her kids without question, but she also loves her time at the office. "It's stimulating, rewarding, and exciting," she says about being a sociologist. "And I worked really hard to get to this point in my career."
Even though some of Guzzo's research examines parenting attitudes and behaviors, she admits that she's felt a dose of reverse guilt for not missing or thinking about her kids that much during her work day.
"I can focus on the things I want to do that are most interesting to me, without interruption," Guzzo explains, describing why she values her professional time so much. "No one yells at me, insults me, or makes me do things for them that they can do for themselves. I don't have to hear whining or act as a referee."
Reverse guilt isn't confined to the office. Moms say it can rear its head when they spend time doing anything demanding and rewarding away from home, like hobbies or exercise.
"Sometimes when I wake up at 6 am and go to the gym, I think, should I be making my kids pancakes before school? Would that make me a better mom?" asks Andee Harris, Chicago mom and co-founder of Bedroom Chemist, a subscription-based website that sells kits to couples looking to recharge their sex lives.
Harris has moments of reverse guilt when she's flying for business, enjoying a stack of magazines at 30,000 feet. Even when she's spending quality time alone with her husband, so they can work on being a couple and not "just mom and dad." But she says she makes her career, her exercise regime, and her relationship with her spouse top priorities, in part to be a good role model for her children. If she starts to hear that little nagging voice saying she shouldn't be enjoying her personal time, she does her best to block it out.
Lindsay Heller, mom to two little girls, ages 18 months and almost 3, a clinical psychologist and a nanny consultant in Los Angeles, describes the pinch of reverse guilt she recently had at jury duty.
"I was in this quiet waiting place for jurors," Heller says, "and there was WiFi and I had my Kindle." She admits that when she was dismissed early, she was "kind of bummed" to leave the bubble of that room and go back to her hectic life of career and toddlers.
Heller says reverse guilt is a common phenomenon that she sees in both of her practice areas. Turns out, she gives the same advice to moms who feel guilty about being away from their families and those who feel bad because they don't actually feel guilt about their alone time.
First identify that it's OK to feel the emotion, Heller tells clients. Then, let the guilt go so you can really be in the moment and enjoy your workday, or your spin class, or your quiet cup of coffee. Every mom needs to take care of herself to be a better parent, believes Heller. After all, a happy mom is, well, happy.
Do you ever have reverse guilt? Share your #reverseguilt confessions with TODAY Moms on Twitter!