/ Source: TODAY Contributor
Little boys and trains go together like farmers and tractors. And, in a video that has gone viral recently, all of these elements come together to preserve a touching memory for one Frankfort, Kentucky family.
The video shows Alvin Bogie, 92, a retired farmer and government official, taking his three great-grandsons for a ride on a homemade train he has owned for more than 30 years. The train had been borrowed to be used at a church picnic and when it was returned, Bogie's great-grandsons were there to see it. Bogie's grandson, Webster Fannin, said it was a special moment for his sons, Leonard, 5, Michael, 2, and William, 1.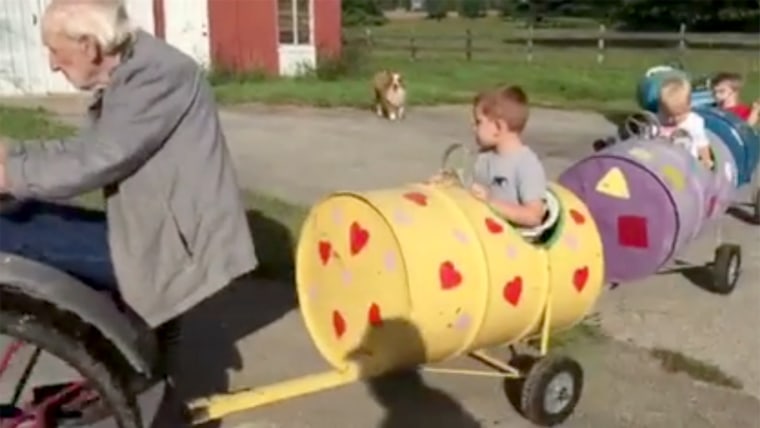 "My grandfather suffers from Alzheimer's and his short-term memory is all but gone," Fannin told TODAY Parents. "When he saw the tractor and train, he remembered it from his past and wanted to give the kids a ride. It made him very happy for a moment. He was able to live in the present, and we got a glimpse of our old grandfather again."
Family friend Lambert Moore filmed the train ride and posted it to Facebook, not expecting the response that it brought — to date, the video has received more than 5.2 million views.
"We never guessed that there would be so much interest," Fannin said. "It was just by accident."
Fannin said his grandfather has 18 great-grandchildren, seven grandchildren and two daughters. Bogie was married to his late wife, Esther, for 58 years before she passed away in 2000.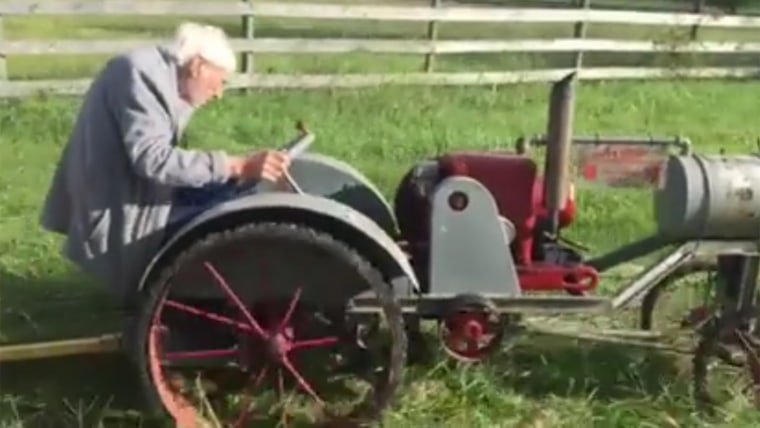 "Alvin's driver's license says he was born in 1922 and is 93," Fannin said. "He says that is wrong — he was born in 1923 and is 92. We don't know for sure — there is no birth certificate."
Fannin said the train has been a part of his family for years; Bogie built it himself out of scrap metal and his wife put the chairs in the cars. The tractor, however, was purchased after Esther Bogie's death at an auction in Evansville, Indiana. Before the arrival of the 1919 IH Titan tractor, Fannin remembers his grandfather pulling the train with his riding lawn mower, giving not only his grandchildren rides, but also kids at community festivals.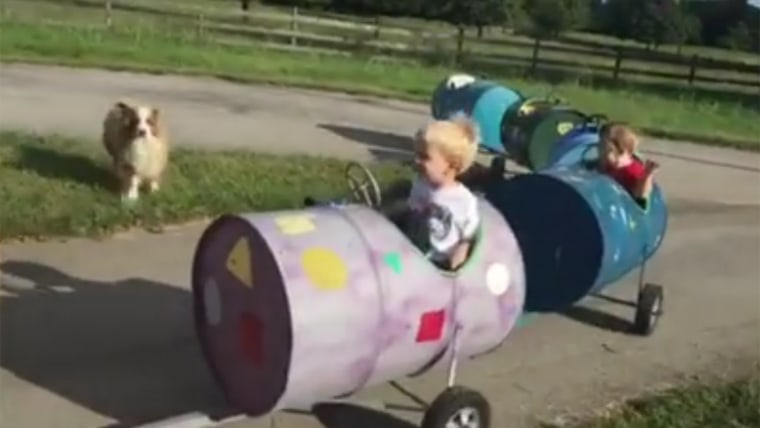 RELATED: Son captures dad's battle with Alzheimer's in heart-wrenching video
"His health no longer allows him to do this," Fannin said. "That is why we tried to capture this moment — both he and the children having fun and interacting — it doesn't happen as often as it once did."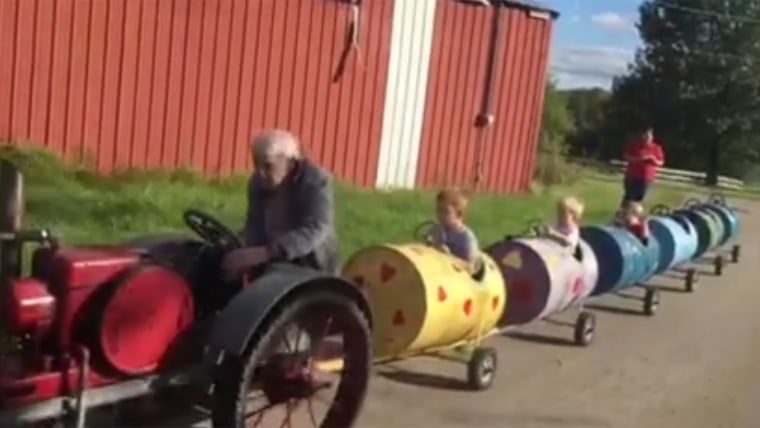 Fannin said seeing the video reminds him of his grandfather in his younger years, before Alzheimer's took away so much of his memory.
"He was oftentimes a quiet and serious man, but my grandmother noted how his eyes would light up and he would smile when he saw the children smiling and laughing and having fun," Fannin said. "On his birthdays, he always wanted to have the train out so grandkids and eventually great-grandkids could enjoy it. I've never seen a kid who didn't enjoy riding."