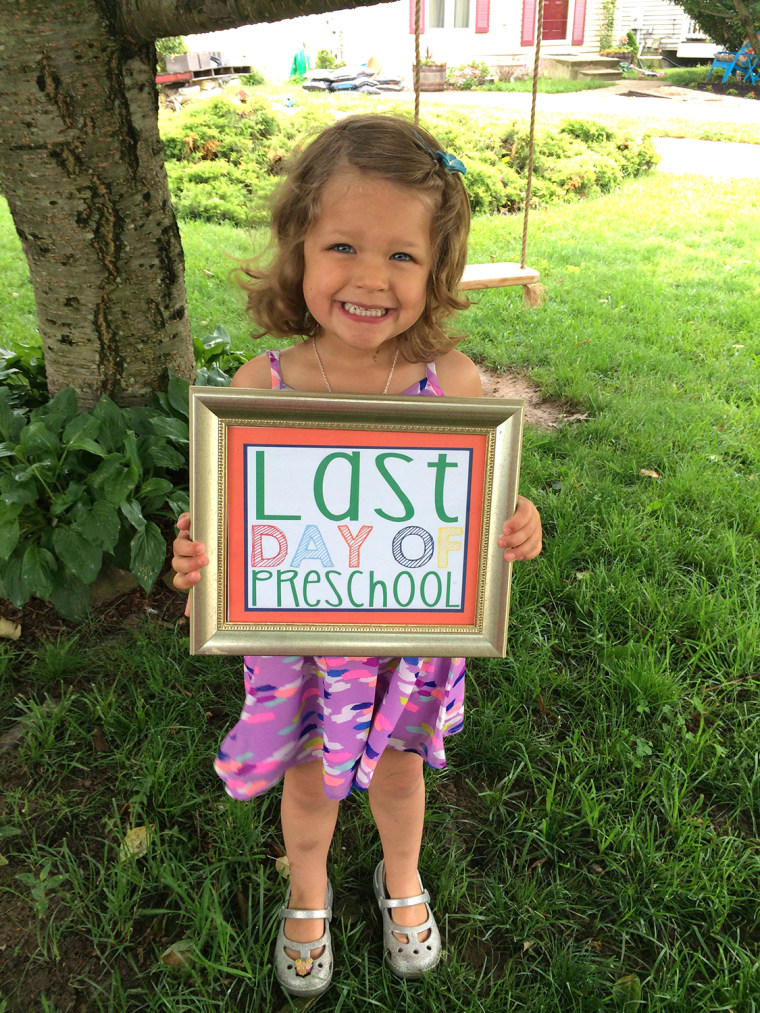 No more pencils, no more books — you know the drill. Whether summer means lazy days at home or fun times at camp, the sunny season is upon us.
And shouldn't that be celebrated? In addition to last-day-of-school parties in the classroom, there are plenty of lively ways for families to mark the end of another grade. Some are simple, others require some advance planning, but you may want to add some of these traditions to your repertoire.
Bookend your first-day photo with a last-day version
"We always find a cute 'last day' printable on Pinterest, and get a photo of (our children) holding it," Maryland mom Terri Peters told TODAY. "We do the same thing for the first day of school, so it's really neat to have a picture each year of their first day and their last day to see how they've changed." 
Kids choose the meal
Peters says her family also celebrates with a special breakfast and lets children Kennedy, 3, and Bennet, 6, choose a restaurant for an after-class meal. That's a tradition Stephanie Cullen of Redmond, Washington, also upholds for twins Derek and Olivia.
"I started the tradition of taking them out to lunch on the last day of school when they were in kindergarten," Cullen told TODAY. Her tradition is now going into its sixth year, and she keeps the eatery simple and kid-friendly. "With having only twins as your offspring, you only get one chance to create family memories and traditions. We already have it on the calendar for this year on June 18 — our last day."
Renting a bus for baseball
For a bigger to-do, enlist your neighbors and your child's classmates for a group activity that screams summer. 
"We used to have a 'Schools Out, Summer's In!' event in our neighborhood," Mary Mason Ahmann of Woodbury, Minnesota, told TODAY. "We rented a school bus, and the kids and parents would go to a minor league baseball game together. The little kids thought it was funny to see parents on the school bus." Ahmann organized the event two different years, with dozens of kids and parents participating.

Throw a neighborhood party
A last-day tradition that began five years ago with a few families gathering to make s'mores has blossomed into a giant bash in her Woodinville, Washington, neighborhood, Laurie Klein tells TODAY.
"The kids start congregating as soon as school gets out, and by evening there is a big ring of chairs circling the fire pit with a few dozen kids and parents," Klein says. Neighbor Laura Templeton is the quintessential host, and the kids take it from there, organizing relay races and obstacle courses and sprinkler runs, if the mercurial Washington state weather allows. But s'mores are an essential part of the menu.
"We never realized that s'mores were purely an American tradition until the Chinese, French, Korean, Bulgarian, Taiwanese, and British neighbors joined the bonfire and we had to teach them how to stack their graham crackers, chocolate and marshmallows," Klein relates. "Now that we've all perfected s'mores, we've added spider dogs to the party — sliced hot dogs that curl up when you roast them. "
Write on!
Traditions can yield written memories that can be read for years to come. Some parents write an end-of-the-school year letter for their child to read later in life, collecting a grade's worth of memories, from playground challenges conquered to new friends made. Or if your child is old enough, have them write the letter, this time, to their teacher, thanking him or her — and be sure to keep a copy.
In 2012, dad Bryan Martin gave daughter Brenna a special high-school graduation gift: A copy of Dr. Seuss' "Oh, The Places You'll Go!" But it wasn't just any copy. Ever since Brenna was 5, her dad had been sneaking the book to her teachers, coaches and principals, asking them to use it as an autograph book and write her a message on its pages. Even if your child has already started school, it's never too late to start this oh-so-personalized tradition, and the end of the school year is the perfect time to sneak the book to your first round of educators. They've got a whole year of fresh-on-the-mind memories to write about.

Just do it
End-of-school-year traditions don't have to be expensive and complex, parents say. Just marking the milestone makes for unforgettable memories.

"While we certainly don't do anything over the top, we do think it's important to celebrate the kids' accomplishments for that year and to let them know how super-proud we are of them for everything they've learned and succeeded in that year," says Maryland mom Peters.

Have an end-of-school tradition in your family? Share it on the TODAY Moms Facebook page. 
Follow Gael Fashingbauer Cooper on Google+.