Though our son was born 8 years after the Sept. 11 attacks, the Freedom Tower and the events of 9/11 loom large in his life.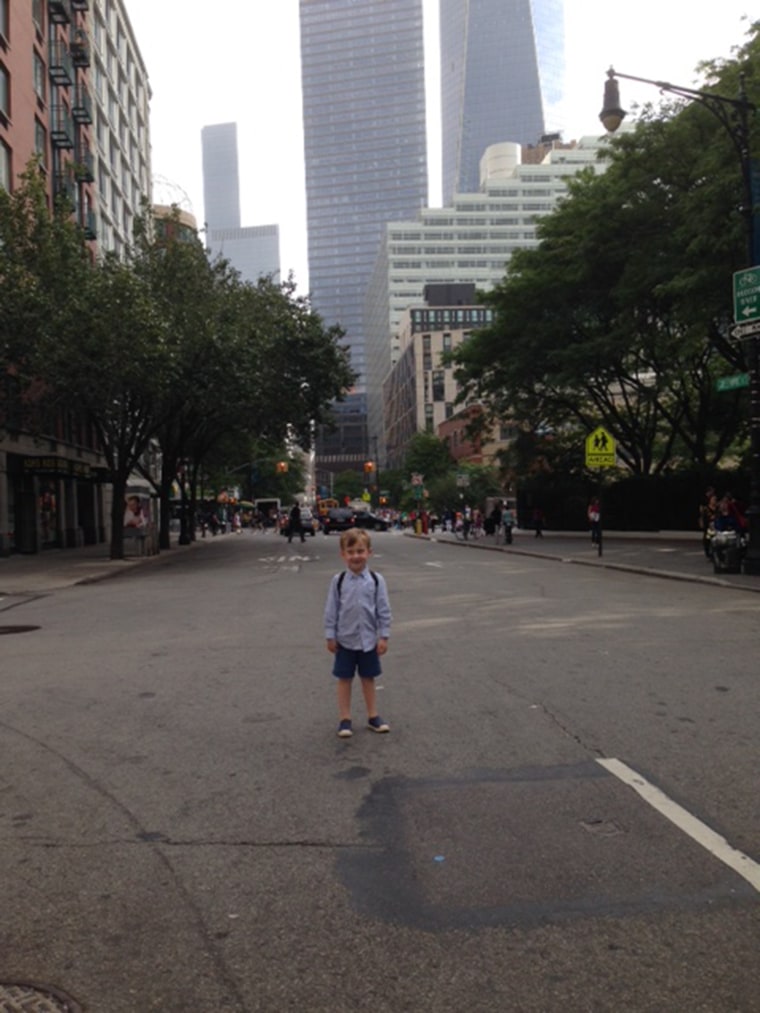 Wilson first asked about 9/11 when he was 2, on the 10th anniversary of the attacks, when we had to pass through a checkpoint to get to our weekly swim lesson in our lower Manhattan neighborhood. Since then, he has asked about the photos in our favorite diner of first responders covered in ash, the part of the chief's car framed in the local firehouse, the enormous cranes towering above his playground. We have always tried to answer his questions truthfully, but in a way that makes him feel safe in his daily life. 
Now that he is 5, the conversations have become more detailed and nuanced, and harder for us to answer. He wants to know: Why were we attacked? Why didn't they warn us? Should we forgive the people who hurt so many men and women that day? And he asks where his mother and father were that morning, and how we felt as we watched the towers crumble. 
He has also made some conceptual leaps — linking security measures before boarding a plane to the tragic loss of life in his neighborhood. Were the passengers afraid? Did they feel brave? Were there parents on board? Were there parents in the buildings, too? How old are their children today and do they still miss their moms and dads? 

For children like Wilson growing up in lower Manhattan, 9/11 is a daily reality, not just a solemn anniversary date. 
While the rest of the country marks September 11th in remembrances and tribute, children living here grapple with the events of that morning on many other days too. 
Last spring, we moved to an apartment two blocks from what was once Ground Zero. Wilson's room overlooks the northern side of the memorial complex and we can see the Silverstein Park fountain in front of 7 World Trade Center, one of the buildings destroyed on 9/11 and the first to be rebuilt. The fountain is dedicated to those who survived the attacks. The Freedom Tower rises above our home.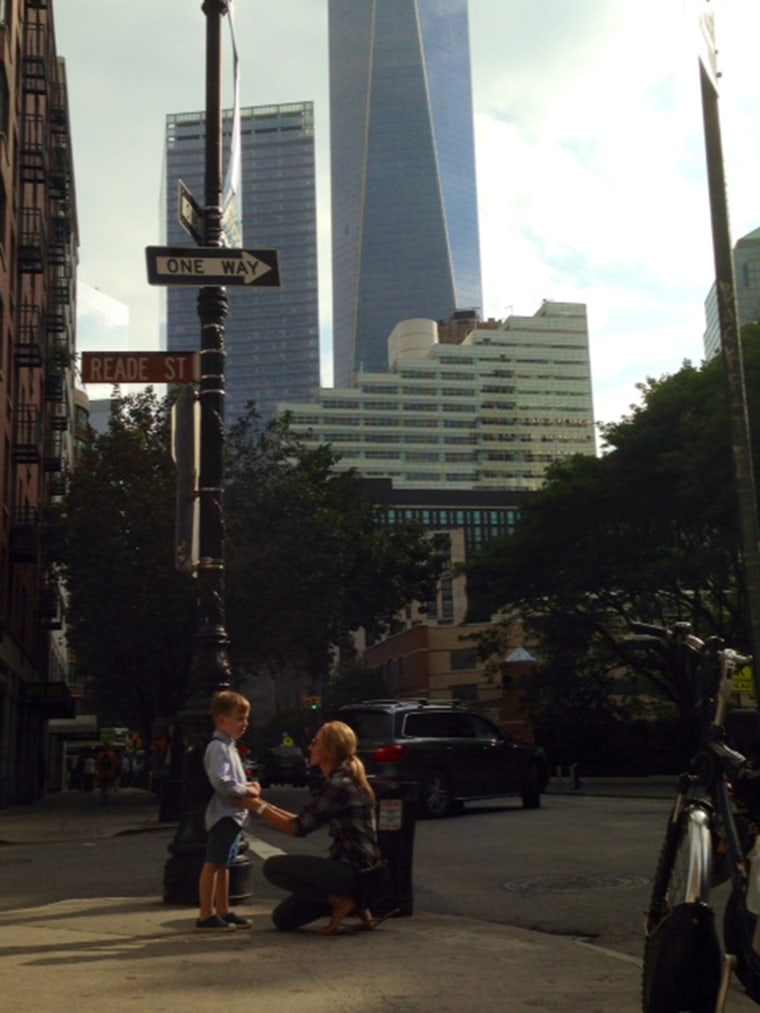 Increasingly, my husband and I tell our son we need to think about his questions and we will get back to him as soon as we have a good answer. I explain what the Freedom Tower represents to me — the great respect we have in America for people who are different from us, who may have a different skin color or a different accent, or who dress differently, eat different foods, and practice different religions.
"It's important to remember that with any difficult conversations like these, you want them to occur in the right time and space," says Elissa Brown, PhD, a professor of psychology at St. Johns University who provided therapy at schools after the terrorist attacks. 
"When a child asks 'why did 9/11 happen?' or 'why did somebody fly planes into the towers?' you don't have to jump right in with a packaged answer," Brown says. Take a step back and ask: What do you think? Responding with an open-ended question not only buys more time to formulate a reply, but also allows parents to hear what a child is really worried about or feeling in that moment. 
And it's always valid, she says, to admit that you don't know the answer and that you're not sure why something happened. 
As a family, on the anniversary of September 11, we try to highlight the other side of the tragedy, too — the extraordinary flood of support and generosity after the attacks. 

Inspired by 9/11 Day of Service, a non-profit movement to observe September 11 as a day of charitable work and doing good deeds, Wilson and I have an annual tradition of bringing cupcakes to as many fire stations as we can in our neighborhood before bedtime. We make cards the night before, thanking the fire fighters for their bravery, and also — Wilson's idea — saying how sorry we are for the friends that they lost.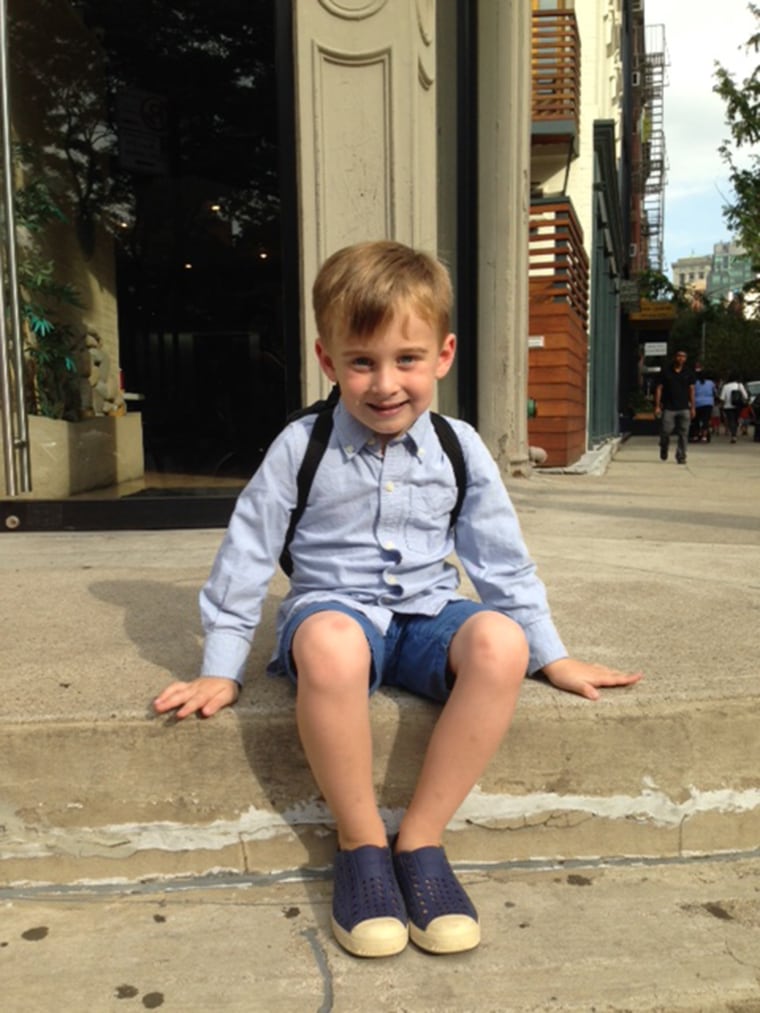 "We have to show kids how people respond when the chips are down, too, the incredibly unity that exists after a disaster happens," said Jay Winuk, who co-founded 9/11 Day Of Service after losing his younger brother Glenn Winuk, a law partner and volunteer fire fighter who ran back into burning buildings after evacuating his firm.  
When we are feeling overwhelmed about 9/11, I suggest to Wilson that we read the children's book "The Man Who Walked Between The Towers," about the French aerialist, Philippe Petit, who in 1974 strode a tightrope for hours between the World Trade Center towers. 

The book opens like a fairy tale: "Once there were two towers side by side. They were each a quarter mile high…The tallest buildings in New York City." The story reminds us both that the Towers had a special history before 9/11 and calls up that beautiful, magical morning — before either of us was born — when New Yorkers looked into the sky and saw a man, high above the city, balancing on a wire.  
Jacoba Urist is a journalist in NYC, who covers health, education and gender issues. Follow her on twitter: @JacobaUrist