/ Source: TODAY Contributor
It's a sweet success story: a refugee family finds a safe place and a supportive community in the U.S. and a Syrian woman uses a family recipe to start her own business in a new country.
Ruwaida G, who asked that her last name and face be withheld due to concerns for the safety of family members who remain in Syria, fled the country in 2012 with her husband, Khaled, and her two children, daughter, Zainab, 12, and son, Mohamad, 9.
After applying for asylum in Jordan, the family arrived in the U.S. in 2016, settling in Georgia with the assistance of New American Pathways, an organization that helps refugees get settled in the Atlanta area, and Holy Trinity Parish, a church that co-sponsored the family.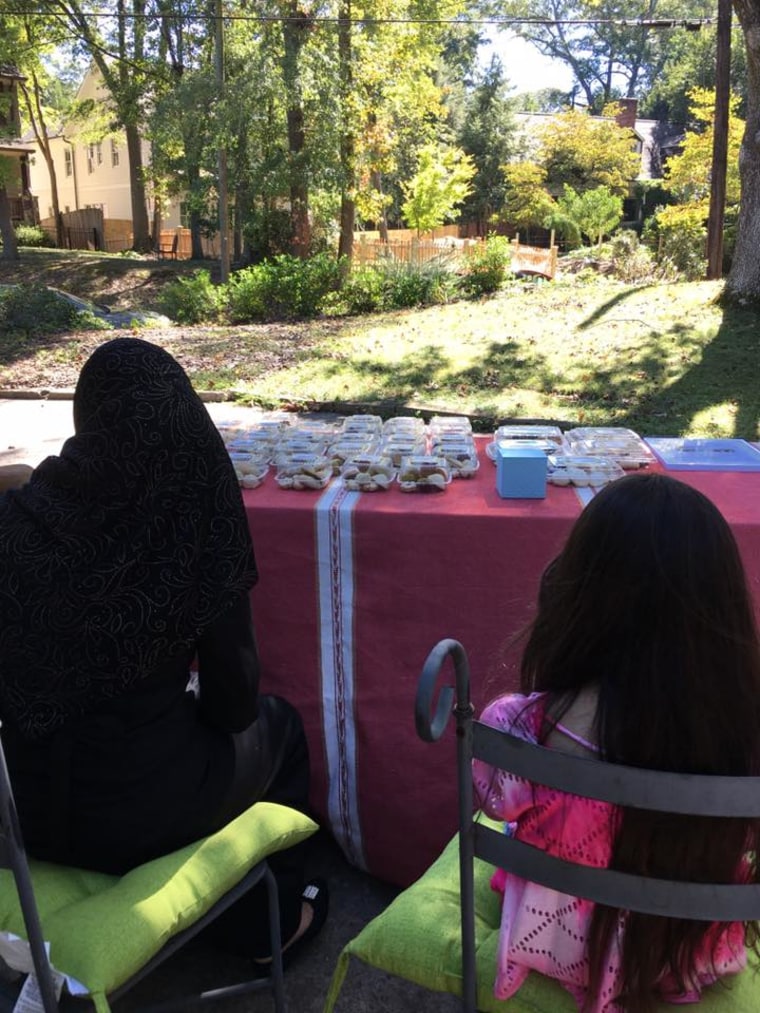 "We decided to leave Syria because we feared for our lives and for our children's lives," Ruwaida told TODAY Parents with the help of an Arabic-speaking translator. In Syria, Khaled was a small business owner with a few electronics stores. Ruwaida was a homemaker. "There was no safety in Syria wherever we went, and we needed to leave if we wanted to survive," Ruwaida said.
Brian Bollinger is executive director of Friends of Refugees and says Ruwadia and her family have official refugee status in the U.S., describing their situation as "a type of indefinite residency" that allows them to work, apply for a social security card and state identification card or driver's license, and, after a full year, apply for a green card for permanent residency.
"Refugees come to the United States at the specific invitation of the U.S. government, after passing the most rigorous vetting processes in existence for immigrants," explained Bollinger.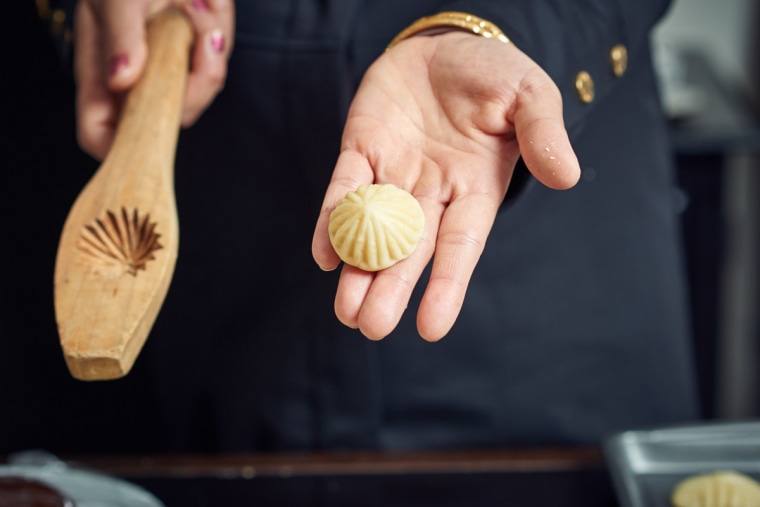 One of the limited items Ruwaida carried with her on her journey was a wooden mold that her mother used to teach her to make traditional, Syrian cookies. Ruwaida had no idea as she packed the family heirlooms that the cookie mold would hold the key to her earning a living in the U.S.
RELATED: How one high school is welcoming refugee students
Amanda Avutu met Ruwaida and her family shortly after their arrival in Georgia, after seeing a Facebook post soliciting volunteers to help set up the family's new apartment.
"As I started visiting with the family and getting to know them more," said Avutu. "we would go to their house and they would make us coffee and she started serving us cookies. We were going there focused on helping her husband find a job, but then found that she was literally serving us up an opportunity."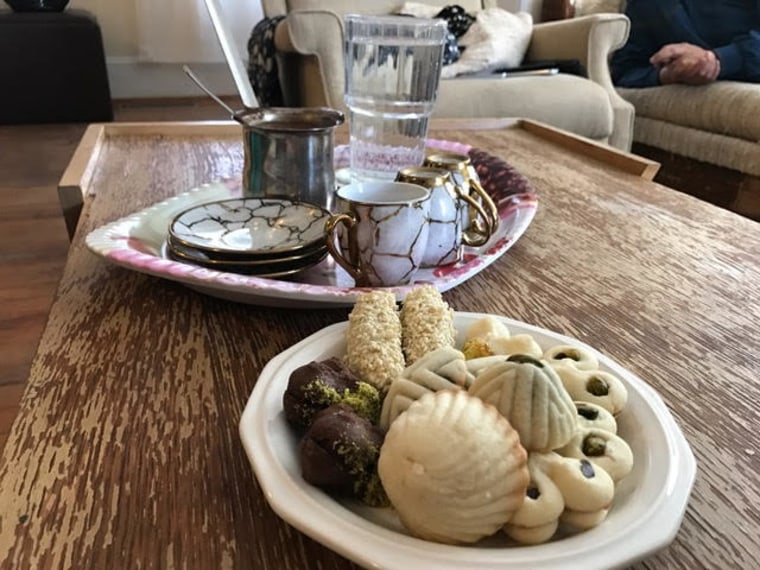 Ruwadia's cookies are hand-molded, and made with a 10-step process.
"They're amazing," said Avutu. "We joke about how a human needs eight loving touches a day to feel loved, and each one of Ruwaida's cookies gets 10."
Avutu says she and her friends approached Ruwaida about selling her cookies for profit. Although the mom-of-two was surprised by the suggestion, she was willing to give it a try, and baked 45 dozen cookies to sell at a table at a local music festival.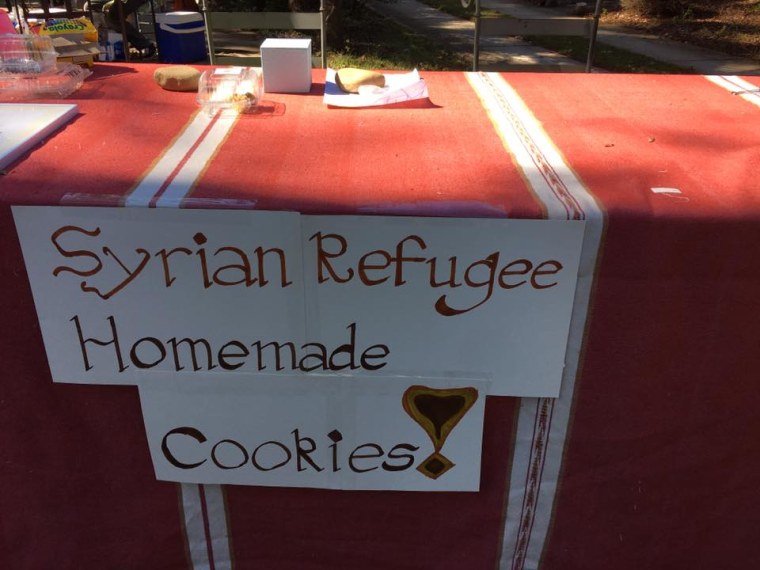 "She sold out before the first band played," said Avutu.
Soon after, Ruwaida and her husband, with the help of five friends who call themselves "the advisers," created Sweet, Sweet Syria — a cookie business that Ruwaida hopes will grow into a successful family endeavor.
RELATED: 'Don't give up. You are loved': Americans write letters to refugee children
"I learned how to make these traditional, Syrian cookies from my mother, who learned it from her mother, and so on," said Ruwaida. "It is a family recipe. I learned how to make them when I was 14 years old when my mother taught me to perfect them, and I have been making them ever since."
Avutu, who serves as one of Ruwaida's advisers, says she served as co-applicant with the family to a business accelerator course, moving through a 14-week program with Ruwaida that taught the woman about business ownership. Ruwaida then signed a lease on a commercial kitchen space, where she will soon begin making cookies to be sold at local coffee shops, restaurants and specialty grocery stores. Sweet, Sweet Syria will soon also expand to accept online orders.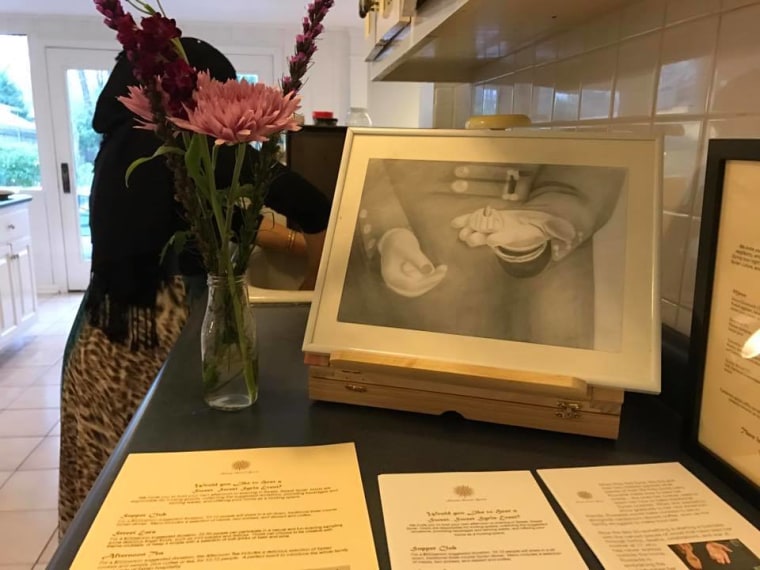 Avutu says Ruwaida's husband, Khaled, who works as an assistant chef, is her fiercest supporter.
"They are very much partners in this business," said Avutu. "She was a homemaker previously...and he's been immensely supportive of her having this opportunity to work. Previously, they hadn't really thought about that."
Avutu describes the emotion and pride she witnessed when accompanying the couple to sign the lease for their commercial kitchen.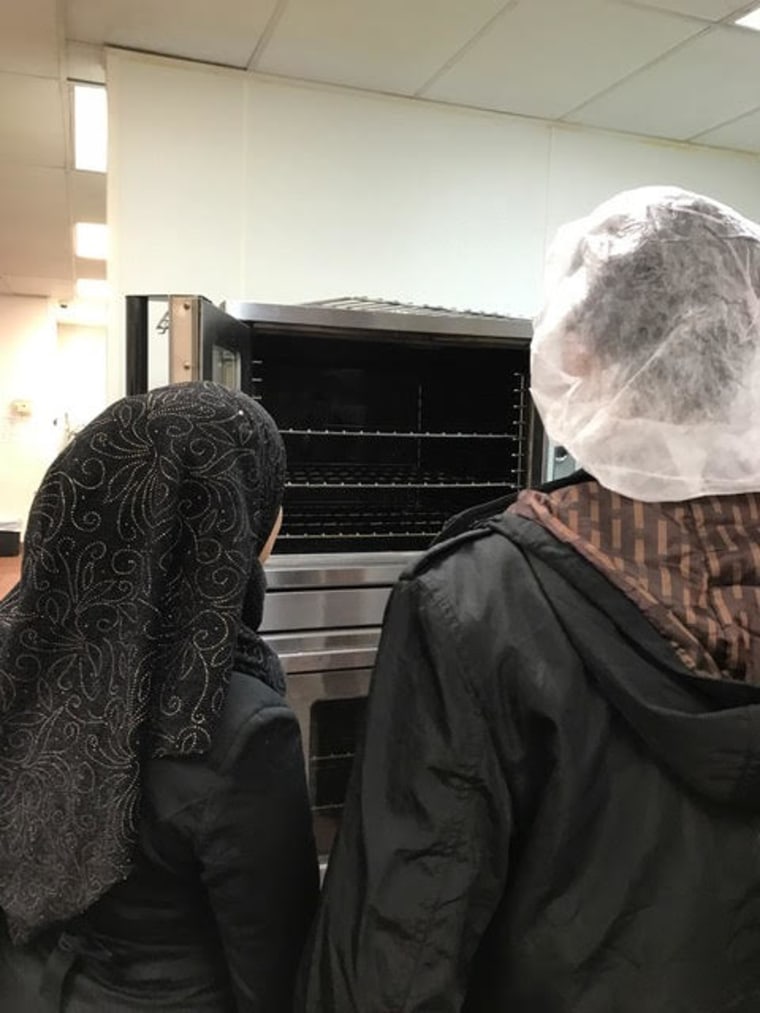 "Only one of them could sign the papers, and Khaled said, 'You sign it, of course,'" Avutu recalled. "You could tell she was thinking, 'Why me? I'm just a woman.' And he said, 'Just a woman? You're stronger than three men...and you're in America now.'"
Ruwaida says her husband shares her vision for Sweet, Sweet Syria, and hopes to see the cookie business expand into a restaurant that features traditional, Syrian food.
RELATED: After 2 years of struggle, Syrian-born dad finally reunites with American family
"He believes our success will help our children succeed in their life," said Ruwaida, adding that her daughter hopes to become a pediatrician and her son has aspirations of serving in the U.S. Army and pursuing a career in law enforcement.
"On the day signing the papers, Khaled said signing the papers is our first step to success." Ruwaida recalled. "He encouraged me saying, 'You're doing a good job. You are making the whole family succeed.' He encouraged me and said that I am a strong woman and that is a great thing for our family."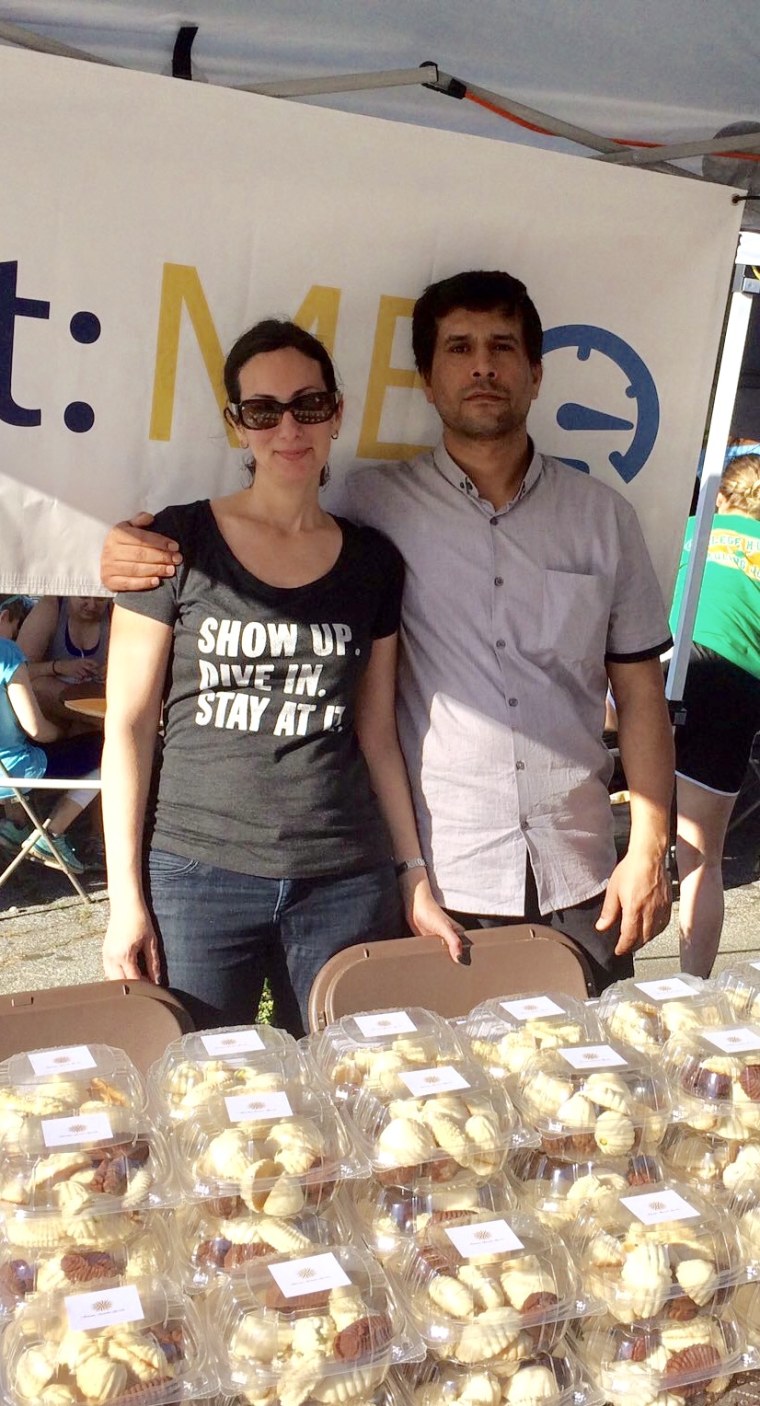 To ensure Ruwaida's success, her advisers have started a GoFundMe to raise money to cover her first year of rent in the commercial kitchen, and to eventually help the couple achieve their dream of opening their own brick and mortar store, where people new to the U.S. and long-time U.S. citizens can gather to share their commonalities.
As the granddaughter of Holocaust survivors, Avutu says the refugee crisis is close to her heart.
Never miss a parenting story on TODAY.com! Sign up for our newsletter here.
"I couldn't imagine not doing anything and everything in my power to make sure that they're not only surviving, but thriving here," said Avutu.
To date, the GoFundMe has raised more than $18,000 of the $30,000 goal.
Bobby Whithorne is the director of strategic communications for GoFundMe, and says the platform has seen more and more campaigns in recent months started by people who want to help refugee families in need.
"It's touching to see the kindness and generosity of everyday people who want to make things better for these families, and we hope others are inspired to help refugees around the world," said Whithorne.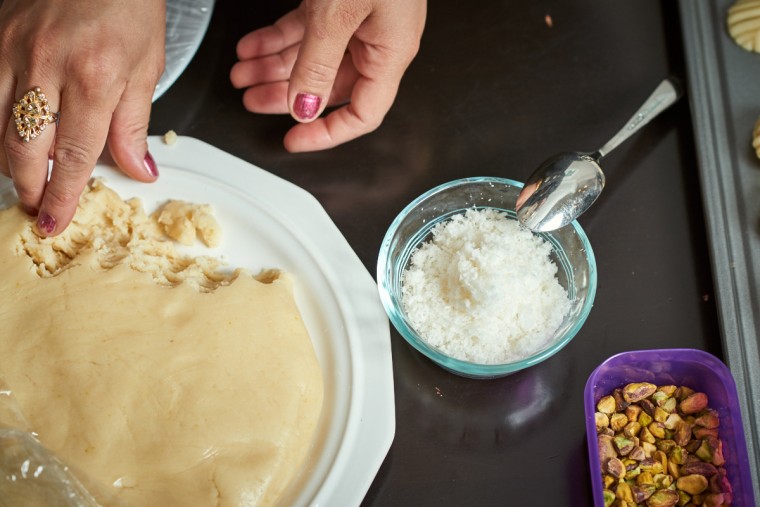 Ruwaida says she feels happy every time someone takes a bite of her cookies and enjoys her family recipe that has been handed down for generations.
"I am lucky to have a group of dear friends...I couldn't have made it without them," said Ruwaida. "I hope that people who read (my story) see that we had a life before, and because of war we were forced to leave and rebuild our lives in a new country."
"I want them to know that we are thankful for the generosity of people and their willingness to see us and treat us as fellow human beings."