Another haunting image of a dead child is reminding the world of the plight of refugees desperate to leave the Middle East.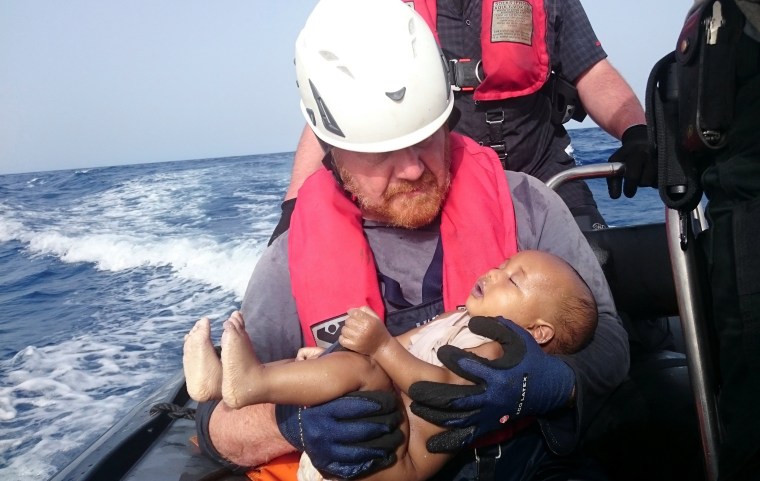 The new photo shows a humanitarian worker gently holding a drowned baby in his arms after pulling the small body out of the water off the Libyan coast on Friday. Other victims were found after a boat capsized in the area.
"I took hold of the forearm of the baby and pulled the light body protectively into my arms at once, as if it were still alive," the German rescuer told Reuters.
"I began to sing to comfort myself and to give some kind of expression to this incomprehensible, heart-rending moment. Just six hours ago this child was alive."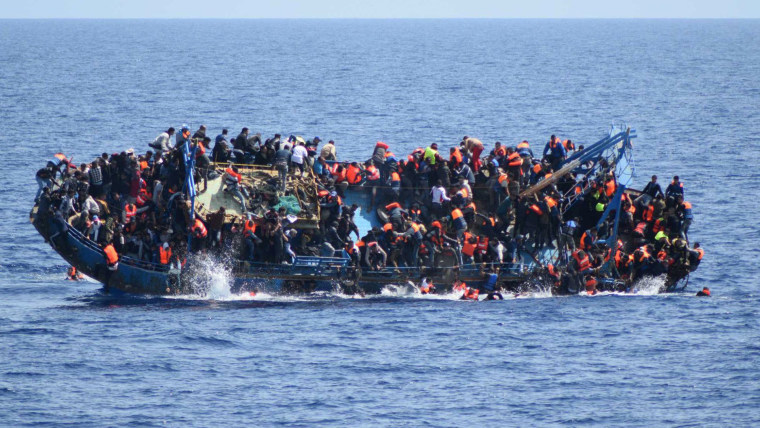 It's not known whether the child was a boy or a girl, or whether the parents survived.
Sea-Watch, a German humanitarian organization that rescues refugees at sea, released the image to draw attention to the plight of refugees and to advocate for changes to European immigration policies and practices. Europe is in the midst of the worst refugee crisis since World War II. This heartbreaking photo comes less than a year after the photo of Aylan Kurdi, the toddler whose body washed up on a beach after his family's risky crossing from Turkey to Greece, shocked the world.
More than 1 million people fled to Europe by sea last year, 36 percent of them children, the UN refugee agency estimates. More than 200,000 have taken the chance so far this year. Most are coming from Syria and Afghanistan.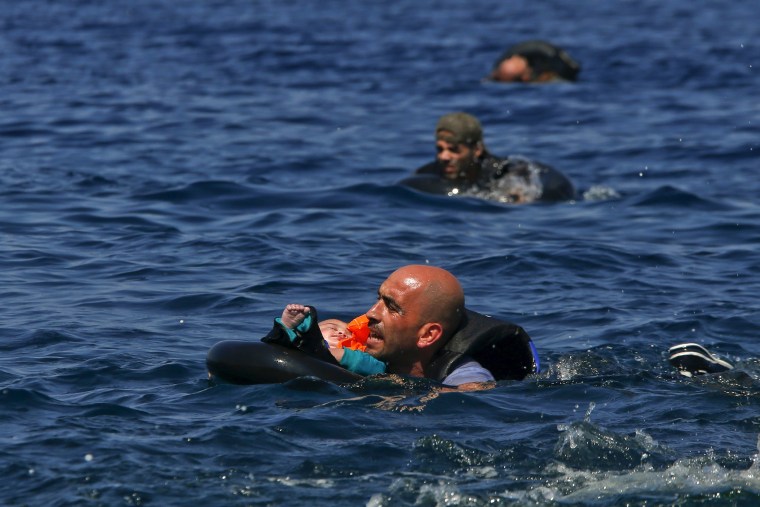 Some 3,735 people went missing during the journey in 2015 and are presumed drowned. That number already stands at more than 2,500 so far this year. Those who make it are often stuck in camps with miserable conditions.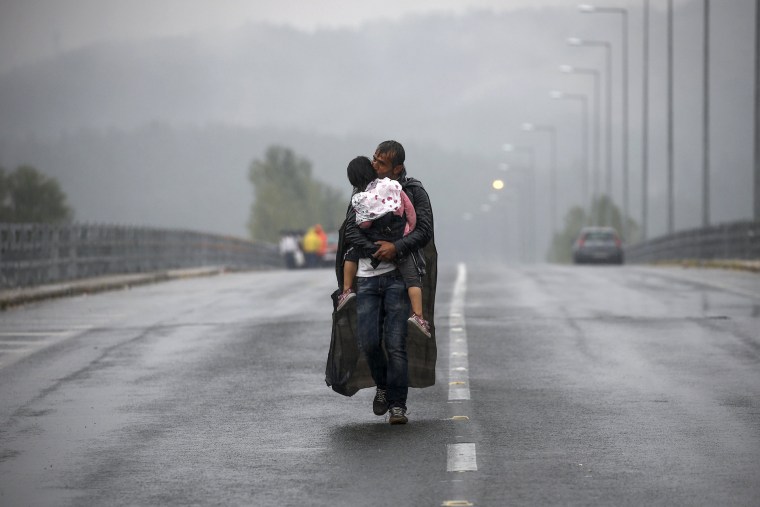 The image of Aylan prompted Gader Ibrahim, a stay-at-home-mom in Orange County, California, to travel to Greece to help refugees and migrants seeking asylum in Europe. She founded Operation Refugee Child, an aid group that distributes 2-pound backpacks filled with basic necessities and toys.
Click here for full coverage of moms Making a Difference in the Syrian refugee crisis
"Seeing the camps in Greece, the people coming off the boats, getting their stories of how they got there has changed me forever," Ibrahim told TODAY.
"I'm not going to change the refugee crisis, but at least I can provide a little comfort for the kids."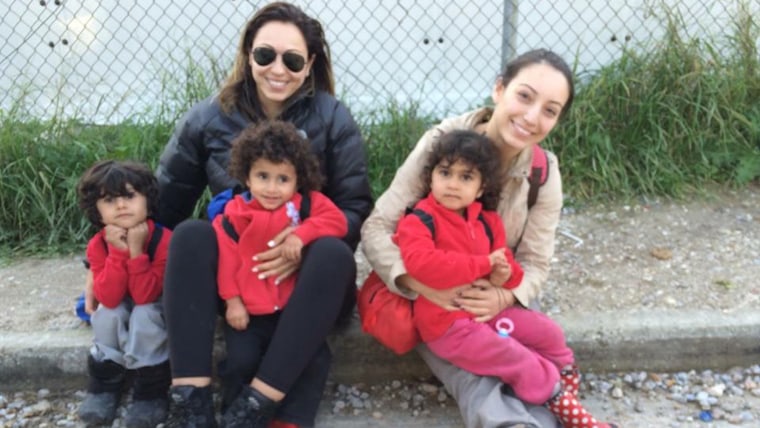 You can help families and children through these aid groups:
Operation Refugee Child: If you'd like to volunteer your time or skills, contact the group via email: info@operationrefugeechild.org. You can help assemble and distribute the backpacks, take photographs, translate (Arabic and Farsi speakers are especially needed), assist with logistics and support.
Companies who wish to donate items or money are also encouraged to get in touch.
You can sponsor a backpack at the group's Indiegogo page or buy supplies that will go into a backpack at ORC's Amazon wishlist.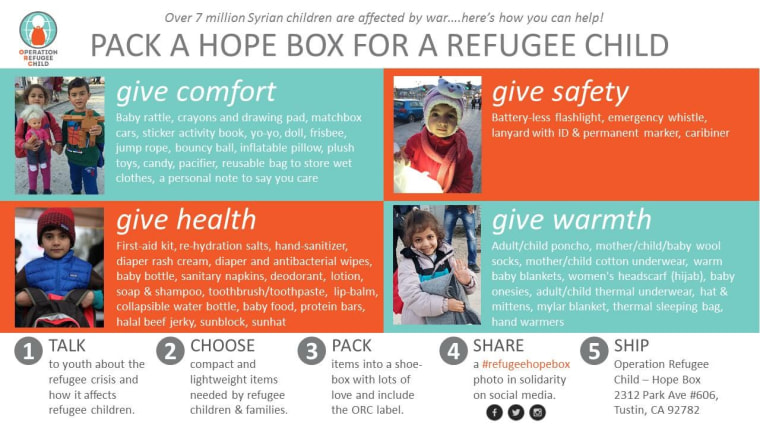 UN refugee agency: Provides basic humanitarian aid for Syrian refugees, including cash for medicine and food, stoves and fuel for heating, insulation for tents, thermal blankets and winter clothing.
Médecins Sans Frontières/Doctors Without Borders: MSF is running medical clinics in refugee camps, including a huge transit camp in Idomeni on the Greek/Macedonian border, where thousands of people have been stuck for months. Doctors have treated women and children for respiratory tract infections and gastrointestinal issues; carried out more than 38,000 medical consultations; and provided shelter, water and sanitation. MSF is also providing free primary health care and mental health care at the Akcakale transit camp in Turkey.
Sea-Watch: Volunteers sail the Mediterranean Sea to rescue refugees who are in danger of drowning. "We feel a responsibility towards our fellow humans and do not want to stand idly by and watch the suffering and death continue," the German founders say.
Save the Children: The group is working in countries including Greece, Serbia and Italy to help kids arriving by sea from the Middle East. Assistance includes food, water, blankets, shelters, and the construction of child-friendly spaces.
UNICEF: Provides immunizations, clothing, psychological support, education and access to safe drinking water.
International Rescue Committee: Helps the thousands of new arrivals in Greece navigate the transit process. Provides essential services in camps, including clean water and sanitation.
Follow A. Pawlowski on Instagram and Twitter.
What's inside the Operation Refugee Child backpacks?
Here are a few of the items Operation Refugee Child distributed to refugee families in Greece. Click on the orange pulsing dot to learn more.