Reese Witherspoon takes all her acting roles seriously, so it's no surprise she went all out when she participated in a "Mystery Reader" day at her 6-year-old son Tennessee's school. The Oscar winner showed up to the event wearing an adorable pig costume!
Luckily for fans, the fun mom of three shared a gallery of delightful pics from the special day on Instagram.
In the photos, Witherspoon, 42, is dressed as Piggie, and her hubby, Jim Toth, is dressed as Gerald the elephant, both lovable characters from author Mo Willems' popular "Elephant and Piggie" kids' book series.
Witherspoon's gallery begins with a short video of herself explaining what all the dress-up was about.
"It's a big day, today we've got something very exciting that we're headed to do," she says while driving in the car to Tennessee's school. "In order to disguise my identity, I will be wearing this hat ... or head."
Click or swipe right to see a cute pic of little Tennessee wedged between his costumed parents as he holds another Willems' books, "I Really Like Slop."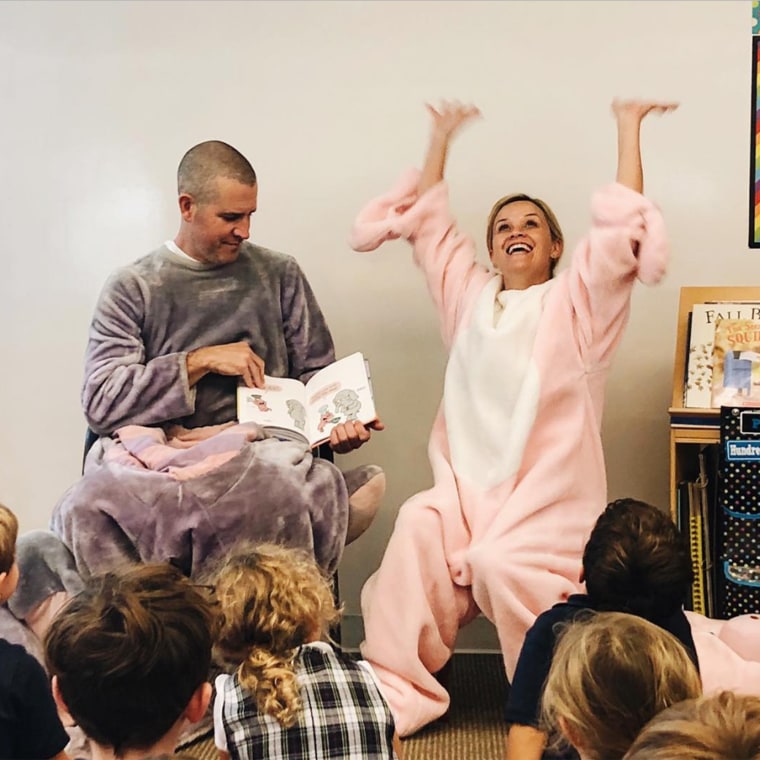 The final pic finds Witherspoon and Toth grinning after revealing their identities to the rapt school kids.
"You gotta commit," the actress explained in her caption. "Hubby & I took Mystery Reader to new levels!"
This literary outing is another in a long list of fun memories for Witherspoon and Toth, who celebrated their seventh wedding anniversary earlier this year. The actress marked the milestone with a sweet photo on Instagram in which she wished for "many more adventures together."
We don't know if getting dressed up as a pig was one of the "adventures" she had in mind, but we say it sure counts!