What does it mean to be a good dad?

Once it might have meant providing for and protecting your family. For a new generation of American fathers, however, the definition of what it means to be a good dad increasingly also includes washing the dishes, making dinner or taking the kids to school.
"Now, the expectation for good or bad, is both parents are breadwinners and caregivers," said Matt Schneider, co-founder of City Dads, a Meetup group for fathers. 
An exclusive TODAY survey of 2,000 moms and dads shows that fathers are more involved than ever before with their children, both emotionally and practically. While moms increasingly share the responsibility for the family's income, dads are assisting with more of the childcare and household chores. 

About 75 percent of fathers say being a dad is their most important job, according to the survey, and 61 percent of dads say they are more involved with their children than their father was with them.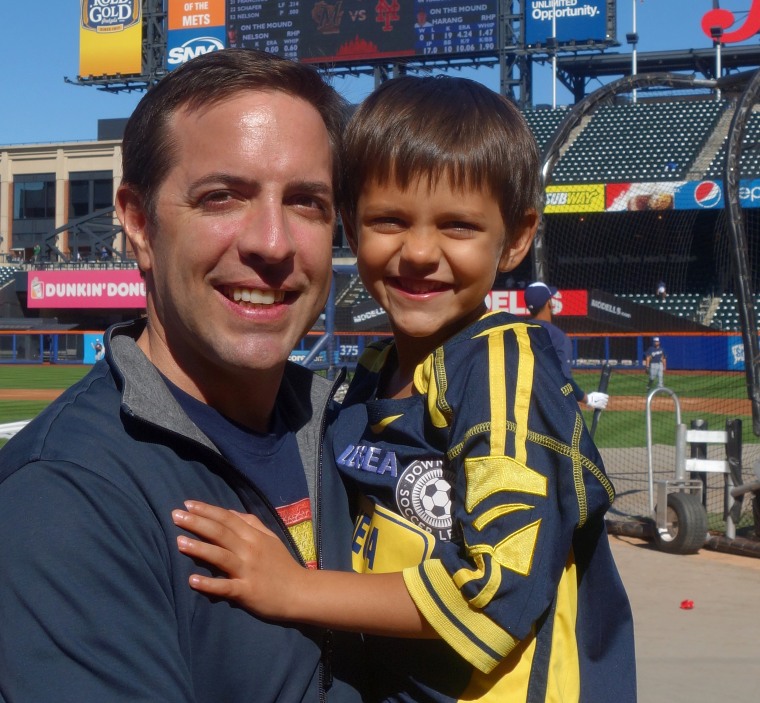 When Schneider was growing up, he said his dad was active in his life but didn't feel responsible for attending PTA meetings or field trips. He now sees more parents involved in the every day life of their kids. 
"What is great, to me, about the role of dads now is we have a new definition of what it means to be a good dad," said Schneider, 39, a former teacher and primary caregiver for his two boys, ages 5 and 8.
Recent research supports the idea that dads are more "hands on." The amount of time fathers spend on childcare and housework has increased significantly over the last half century, from 6.5 hours a week in 1965 to 17 hours 2011, according to Pew Research Center. 
Economic reasons, especially in the aftermath of the Great Recession, might be partly responsible for the shift. The share of married couples who both work and have children at home is now 59.1 percent, according to Bureau of Labor Statistics. About 40 percent of mothers are now primary breadwinners, while the number of dads staying at home full time, although still somewhat of a rarity, has nearly doubled compared to a quarter century ago, to about 2 million dads as of 2012.
"We're ripe for a national conversation," said Jennifer Siebel Newsom, who explores American masculinity in her forthcoming film, "The Mask You Live In."
"The three most destructive words that every man receives when he's a boy is when he's told to 'be a man," said Joe Ehrmann, a coach and former NFL pro football player, in the film's trailer, which has been viewed more than 3.7 million times on YouTube since December.
Boys are three times more likely to commit suicide than girls, said Newsom, or commit violence against others. "Even if there's a mental health issue, you're not seeing women commit the same crimes and mass murders in the same way that you are seeing boys and men do."
"With boys, there's such shame in not conforming to the dominant norm," said 39-year-old Newsom, a mother of three, including one young son. She argues that a culture of hypermasculinity — power, dominance, control, aggression, suppressing feelings — can be damaging to society.
"So many more boys end up feeling alone and isolated and feeling like they have no one to go to," she said.
The current generation of fathers may play a huge role in dismantling those gender norms that leave some boys and men feeling trapped. 
"The 'traditional' definition of masculinity can be incredibly restrictive for young men who are growing up in a world that has moved on from when those definitions were first established," said Tom Burns, dads and families editor for The Good Men Project. "So, if you have generations of older male mentor figures who promote those outdated roles to boys — 'Be a man like we were back in the 50s, 60s, 70s' — it can be incredibly confusing and painful for those young men." 

While some may struggle with the changing definitions of marriage and family, Burns sees it as a sign the world is becoming more inclusive. "I see just as many men who are seeing so many doors opened and they are thriving."
According to the TODAY survey, 73 percent of parents say "a real man knows how to express emotional support to his children."
And that's exactly what children need the most, said Dr. William Pollack, an associate clinical professor of psychology at Harvard Medical School and senior clinical consultant on the mental health of men, adolescent males and boys at Cambridge Health Alliance.
"Fathers are capable of being nurturant, they want to be nurturant, and when they nurture, not only are boys and girls and partners better off... (men) become better people, less depressed people and more of a whole person."
Although many children grow up without a father at home — the number of families led by a single mother has more than tripled, from 7 percent in 1960 to 25 percent in 2011 — men are biologically hard-wired to be nurturing, Pollack suggests, although they may show it in a different way than women do. 
And divorce doesn't mean father has to stop being a parent.

"Positive and caring fathering is important," Pollack said. "It is equally as important as going out and earning a living."
While some may feel threatened by a shift in gender roles, Burns said it doesn't mean that what used to be masculine is no longer masculine. "All it means is the definition is expanding to include things that it didn't used to."
Those things could include taking paternity leave, attending a child's school play or reading to your 7-year-old daughter. 
"Reading to my daughter is something I take as a very masculine act," said Burns, 37. "I am her Sherpa. I am guiding her through her adolescence and into her adulthood. Part of what makes me a man is being able to impart knowledge."
Follow Joy Jernigan on Twitter @JoyJernigan or on Google+.