Want to see kids' imaginations shine? Ask them to write a letter to Santa. Inspired by some awesome wish lists we've seen this season, we asked you, TODAY Moms readers, to share your kids' letters to Santa or holiday wish lists. Let's just say Santa has his work cut out for him this year. Here are a few of our favorites:
"My son wanted a real lightsaber — not a fake one, along with a true Jedi to personally train him. Even if there was such a thing as a real lightsaber, not sure it would be wise to give to an 8-year-old," Jeff Kump of McKinney, Texas, posted on the TODAY Moms Facebook page. Take a look: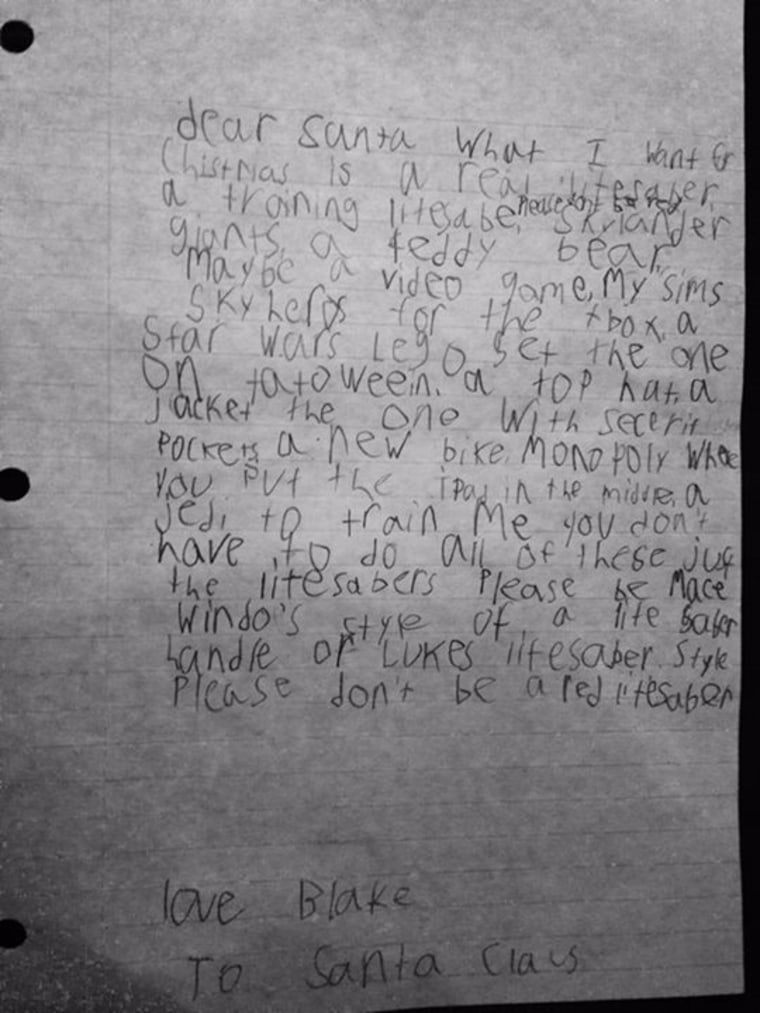 "You don't want to crush their hopes that there's no such thing as a lightsaber," said Kump, who tells his sons Blake, 8, and Landon, 11, that Santa won't come unless they write him a letter. 
Although Kump and his wife love that Blake used his imagination to think outside of the box, he'll have to settle for a toy lightsaber this year. "He's very much into 'Star Wars.'" Kump said. "He loves anything 'Star Wars.'"
Dilush Goonetilleke posted her daughter's letter to Santa, which contained a little constructive criticism this year: "Dear Santa: What I want for Christmas this year is listed below. The past few years I didn't recive (sic) what I wanted. For your convienience (sic), please read through the list carefully and pick at least 2 of the items. And if I did rescive what I wanted, you didn't get it exactly right."
Ouch!
Among items on this year's list: an "Orbeez" soothing spa, a sparkly gold purse and a pink miniature car that she can drive around in. Really! Take note, Santa: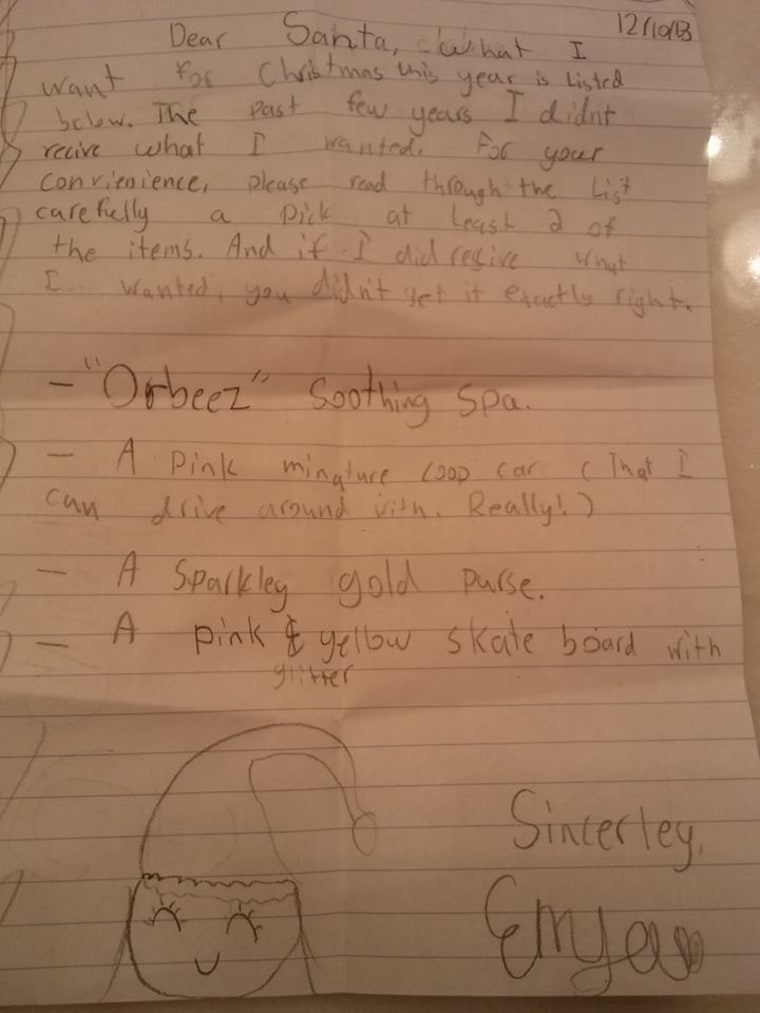 This illustrated letter to Santa, from 6-year-old Elvis of Seattle with help from big sister Ava, 9, was submitted by mom Stella Hopkins. Among a few of the items on his wish list: a live evergreen tree with worms, a zipline and a remote-controlled bird for the pet cat, Lucky.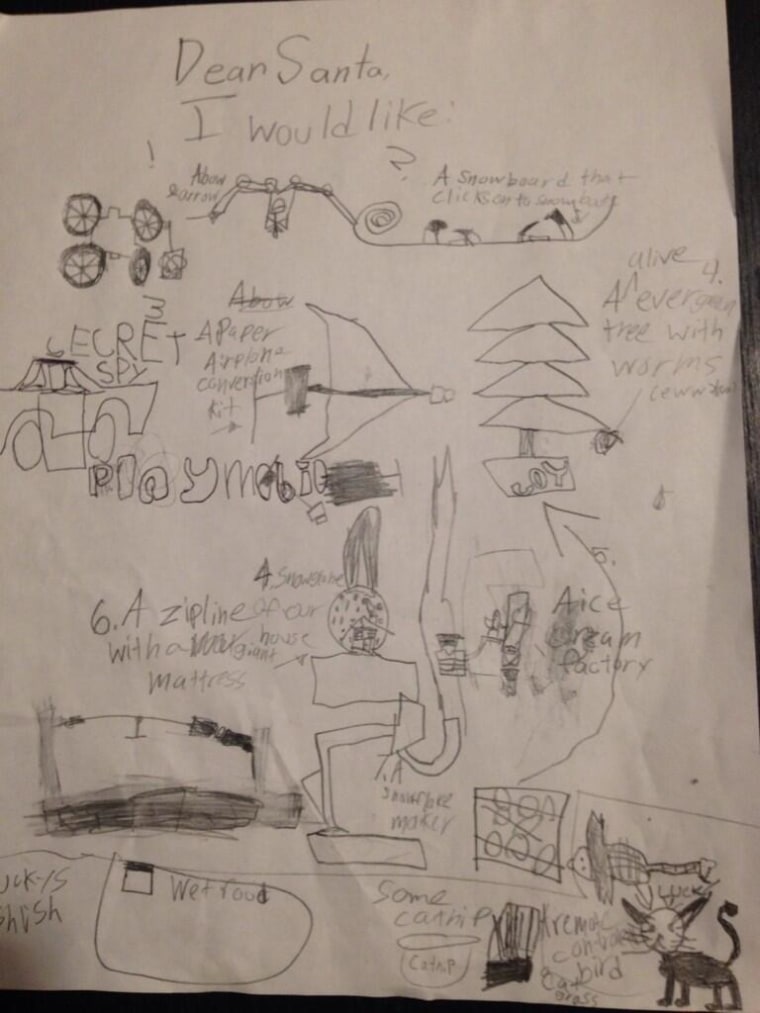 "He asked for some pretty interesting things here — an ice cream factory, snowflake maker, and a snowglobe of our house," said Hopkins. She previously nixed the zipline, she said, so Elvis included a "zipline with a giant mattress" in his letter to the big guy. Still, along with the request for a bow and arrow, it's probably a no-go. She did, however, buy him a potted evergreen (worms sold separately) and is trying to figure out a way to turn their house into a snowglobe.
Kathryn Rosas posted her 3-year-old daughter Lillian's Christmas wish list from school and noted that it shouldn't be too hard for daddy to get her that purple cake she so desires.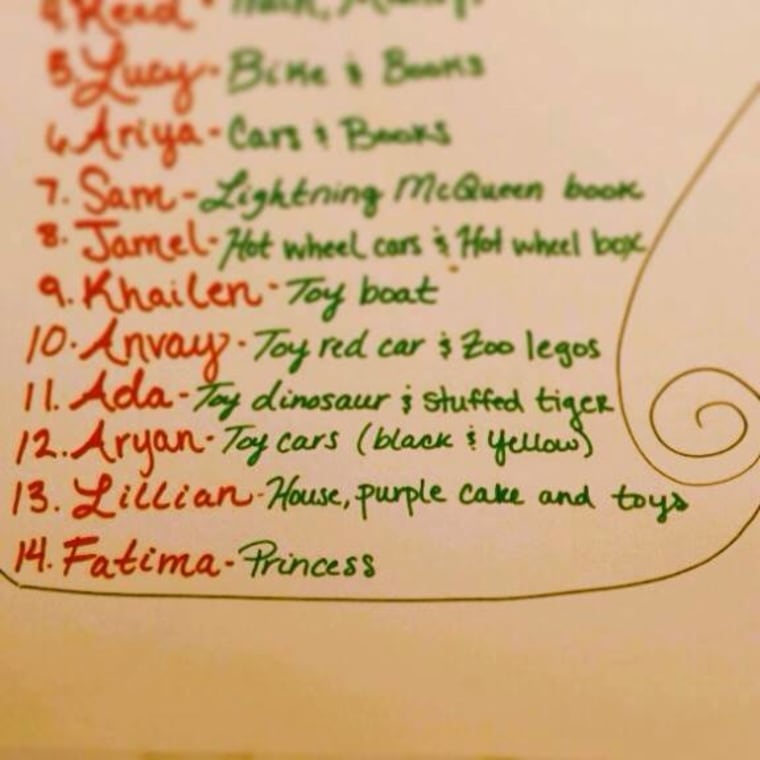 And you've got to admire the determination of Emily Durrett's 3-year-old, who for months has been asking only for the wedding dress that Rapunzel wore in the movie "Tangled."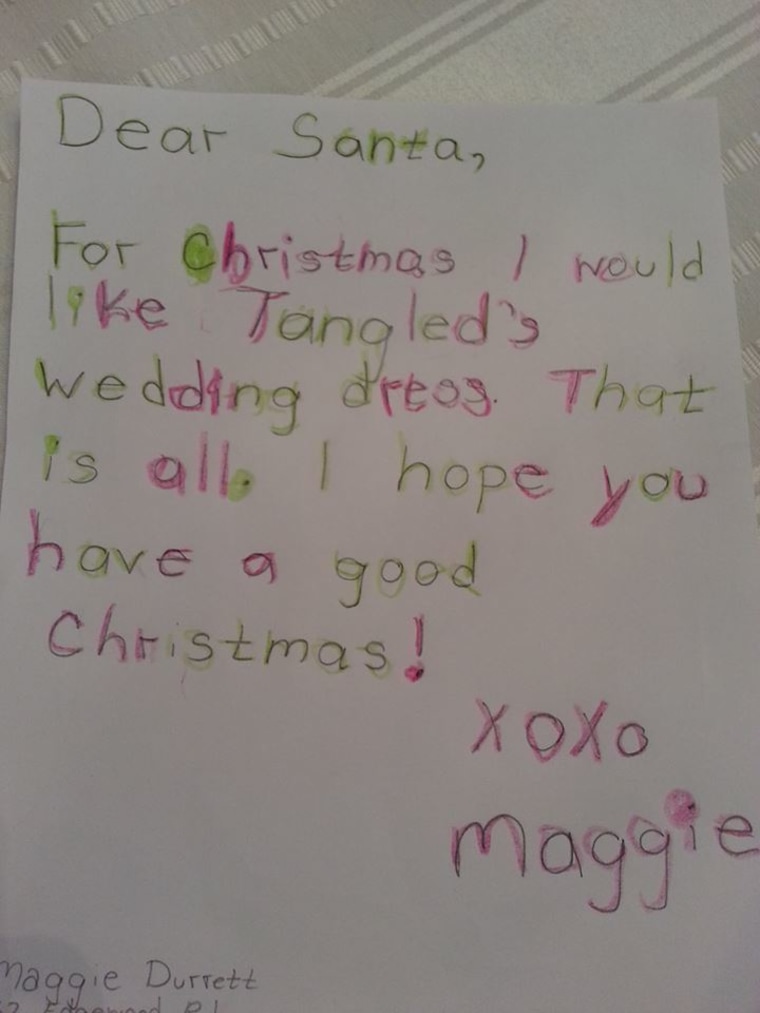 We love how it was written in red and green crayon. And at least she had the manners to wish Santa a good Christmas.
Follow Joy Jernigan on Twitter @JoyJernigan