A powerful photo of six moms and their "rainbow babies" — children born after a miscarriage, stillbirth, neonatal death or infant loss — is spreading hope to women who have suffered the loss of a loved one they never got to know.
The photo depicts the women, wearing rainbow-colored gowns, standing in a field as color-coordinated smoke bombs go off behind them. Four of the moms are holding their babies and two are well into their pregnancies.
Never miss a parenting story with TODAY newsletters: Sign up here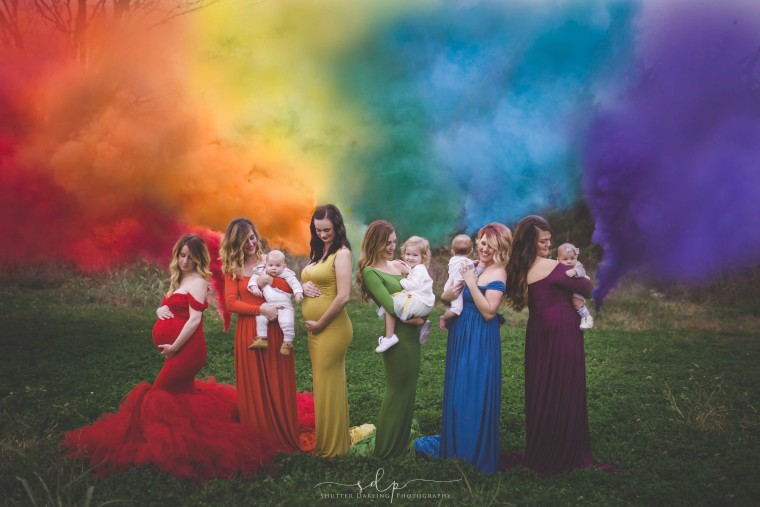 St. Louis photographer Alex Bolen, owner of Shutter Darling Photography, posted the shot on her Facebook page on Nov. 10 to encourage women to share their feelings and celebrate not only their rainbow babies, but the children they lost, too. In less than a week, the photo has gotten 24,000 likes.
"This picture has really gotten people talking globally, and that's what I wanted it to do," Bolen said. "It's been really amazing."
Read more: White balloon photo has a special message for moms going through miscarriage
She said one of the women hadn't told anyone about her loss until the photo came out. Another woman in the photo, Kaila Carter, who has a daughter and four stepchildren, said appearing in it has helped her cope.
"I was very depressed when I had a miscarriage and didn't want to leave the house or go to work," said Carter, 27, a pharmacy tech from Wentzville, Missouri. "But I had to be strong because I have five kids to raise."
Read more: 1 in 4 campaign shows just how common miscarriage is
Meeting the other women "has helped me to realize I'm not the only one this has happened to," said Carter, whose rainbow baby, a boy, is due in March.
Bolen, who has an 8-month-old daughter, said she learned about rainbow babies in her expectant moms' group.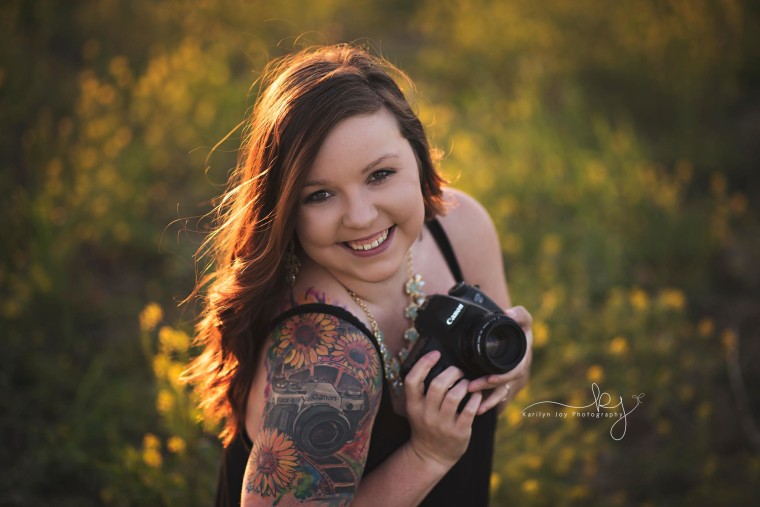 "I heard about losing babies from a miscarriage or losing them a few hours after birth," the 23-year-old photographer said. "Since I was having my first baby, I was so scared."
To harness her fear and do something creative with it, she reached out on Facebook for mothers of rainbow babies. "I was looking for all types of stories — miscarriage, stillbirth, infertility, someone who had gone full-term, then lost the baby … I wanted to reach different groups," she said.
Read more: Stunning 'rainbow babies' photo inspires stories of loss and hope
She chose six women from a large pool of volunteers, ordered dresses in the colors of the rainbow and got to work.
"I was excited to do the shoot," said Heather Terranova, 30, a labor and delivery nurse from O'Fallon, Missouri. "But I was sad, too, because I hated that we all had been through something so tragic."
But Terranova said she felt humbled to be part of the group.
"It's about giving a voice to these precious babies and their parents," said the mom of two who has suffered two miscarriages and is now expecting her rainbow baby at the end of November.
"If sharing our stories could give even one person that glimmer of hope that there's something amazing that will come of their tragedy, it makes everything we've ever been through all worth it and more."
Read more: 'Rainbow baby' shirt goes viral due to chance meeting
A few dads stopped by during the 45-minute photo shoot to cheer on their partners, tend to the older children running around and even fix a hemline. Bolen's friends set off the smoke bombs two at a time, and she Photoshopped them to create a single image.
"I was so nervous to post the photo," said Bolen. But a friend encouraged her to take the leap, and now she's glad she did.
"One of my biggest goals was to help people recognize that, whether the babies were only a few weeks in the womb or a few months on earth, they were here," she said.
"I also wanted the photo to be about hope, to let women know not to give up. Even after years of trying, there's still that ray of hope."