The classic shape of Delicate Arch in Utah is beautiful, and so is a dad's mission to make sure his son gets to experience all the wonder of national parks.
The U.S. Department of Interior recently posted this inspiring photo of James Geier, a retired police officer from Logan, Utah, completing the 3-mile hike to the landmark in Arches National Park with his 18-year-old son Jonah, who has cerebral palsy and is a quadriplegic.
Geier, who pulled Jonah in a special carrier modeled after a Native American travois, said his son loves the outdoors so the family has hiked with him since he was born, regularly visiting Arches, Zion and other parks.
"We just have a special relationship with Jonah, my wife and I. He's really kind of a best friend as well as our son. He's probably the best company that you can have," Geier, 60, told TODAY Parents.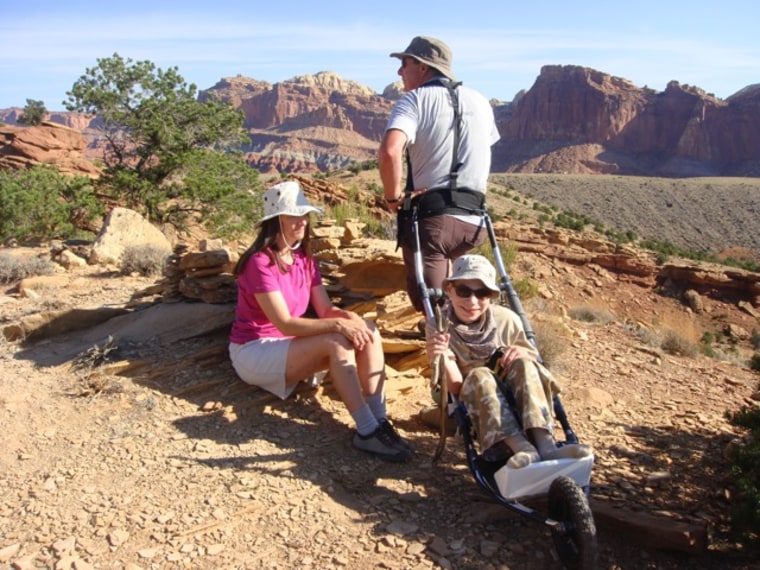 "He has a contagious smile and is himself an inspiration given all his challenges."

Unveiled on the agency's Instagram page this past weekend on Father's Day, the image has received more than 10,000 "likes" and a flurry of comments calling it "pure love" and "the best story ever you posted."
The photo was actually taken in the summer of 2012 by Geier's daughter, Laura. She submitted it to the annual "Share the Experience" photo contest, where it was one of the most viewed photos on the site, said Tim Fullerton, director of digital strategy for the U.S. Department of the Interior.

"We thought this is such a great photo for Father's Day—it just kind of shows what Father's Day is all about," Fullerton said.

"It was wonderful that this father and son could have this experience in a national park like this and his father was able to bring him to experience this amazing place."
Geier said he used to carry Jonah in a child carrier on the family's hikes, but began to look for alternatives when the boy started to weigh more than 70 pounds. He found the Dixon Roller pack, which the manufacturer modified with a webbed sling seat for Jonah.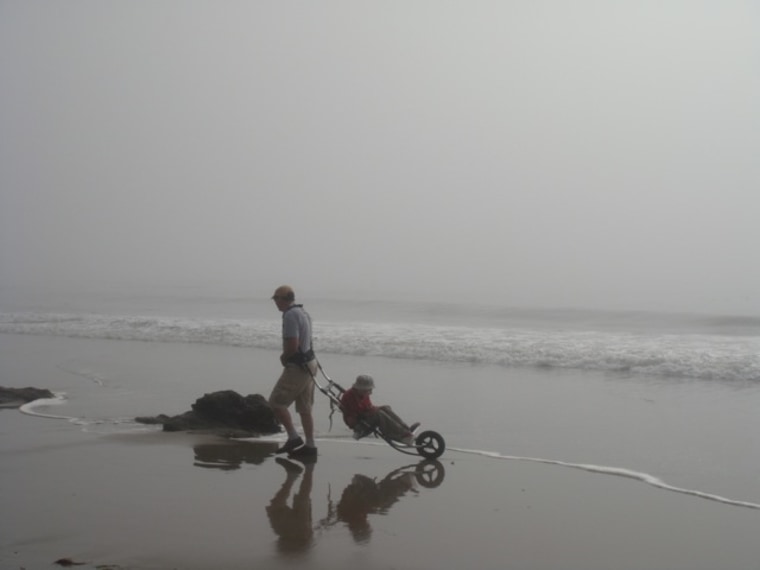 The hike to Delicate Arch was the first time the family tried out the system and it worked very well. Geier, who jogs every week to stay in shape, said he didn't have any problems completing the journey while pulling his son.

The family continues to hike and camp with Jonah with the help of the special stroller, using it about 8-10 times a year, Geier estimated. Since the photo was taken, they've returned for more hikes in Arches National Park and explored Capitol Reef National Park, also in Utah. Jonah still loves being outdoors.
"He enjoys it completely. He's always been a good hiker, a good traveler," Geier said. "He's a good kid."
And he has a good dad.