It has been a distracting week for students at a Connecticut high school, trying to focus while a "prom gown panel" meets nearby, judging whether dresses are appropriate for the social event of the season.
The panel of seven female staff members, dubbed the "taste police" by one student, was appointed to preside over the school's dress code. They have met over the past several days to determine whether gowns students had purchased weeks or even months ago were "appropriate and tasteful" enough for the dance scheduled just three days away.
Of the 109 gowns the panel evaluated Wednesday, 17 were "deemed inappropriate." That raised to the total number of rejected gowns to 32.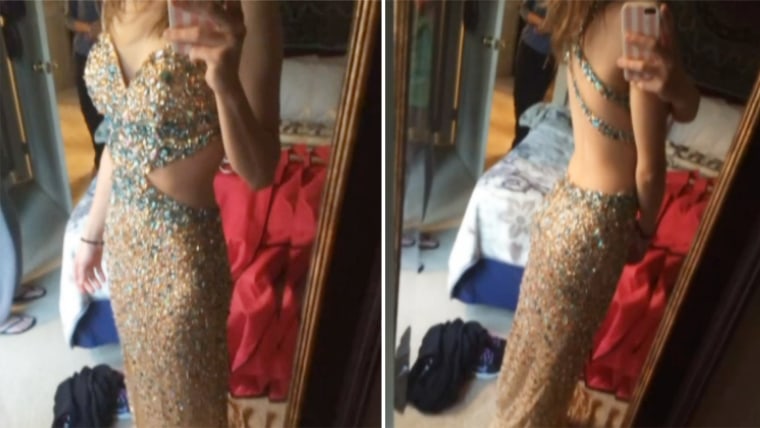 In the never-ending debate over dress codes, Shelton High School has found itself the latest to draw national attention on the topic. Last Friday, eight days before the May 16 prom, school headmaster Beth Smith reminded students of a dress code in an announcement over the school PA system. She made it clear that backless dresses, gowns with side cutouts or exposed midriffs were not appropriate.
Students — and the parents who paid hundreds of dollars for their dresses, alterations and matching shoes and accessories — quickly panicked.
"I feel like maybe if they did this in January, we would be understanding, and be like, okay, that's fine. But eight days before wasn't okay, because every girl has bought her dress," said 17-year-old junior Alexis Gerics.
Alexis and others claim they were surprised by the dress code announcement. While school and district administrators insist the dress rules are in the student handbook, parents and students say they cannot find such specifics.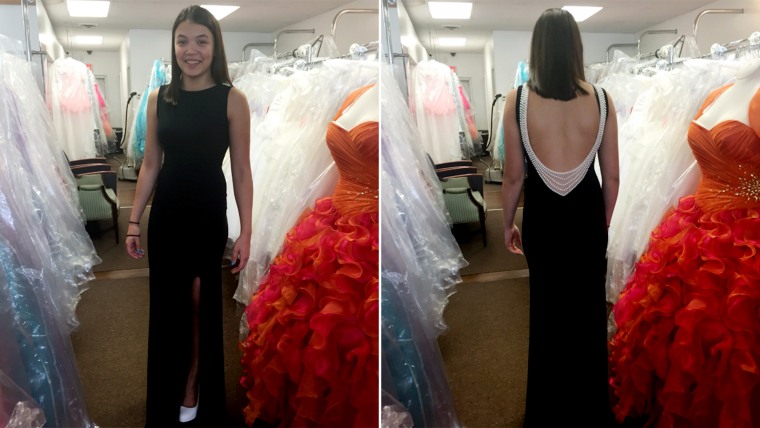 Last week, Alexis watched classmates grow distraught after Smith rejected prom dresses they had purchased.
"So I thought, all right, let me go down there just in case, so I don't get turned away at the door," she recalled.
As soon as Alexis showed Smith a photo of her long backless gown, she was told she would also have to wear a camisole if she wanted to wear it to prom. Shortly later, Smith made her announcement over the PA.
"I encourage any student who may have any doubt that your dress is not appropriate to show a picture to one of the housemasters or me before next Friday," Smith said. "Be proactive and allow yourself time to rectify any issues, prior to 6:00 next Saturday night."
Students were warned that inappropriate dress would prevent them from entering the dance and "there will be no refund."
The announcement has created a flurry of activity among worried students who have since proactively submitted pictures of their dresses to the panel of judges determining whether each gown is "appropriate and tasteful," said Ann Baldwin, a public relations consultant representing the school.
The panel had reviewed 209 dresses as of Wednesday night. It was scheduled to review at least 16 more gowns on Thursday, Baldwin said. To date, 313 female students had purchased prom tickets.
On Tuesday, Alexis learned with "huge relief" that her gown, originally deemed inappropriate by her school headmaster, was found suitable for prom.
"My mom was really happy and so was I," she said, although she feels bad for at least one friend who was not so lucky.
Even though Tricia Marini ended up buying a second gown for her daughter, spending several hundred dollars each time, she feels fortunate: She learned Tuesday that her daughter's second dress would be allowed.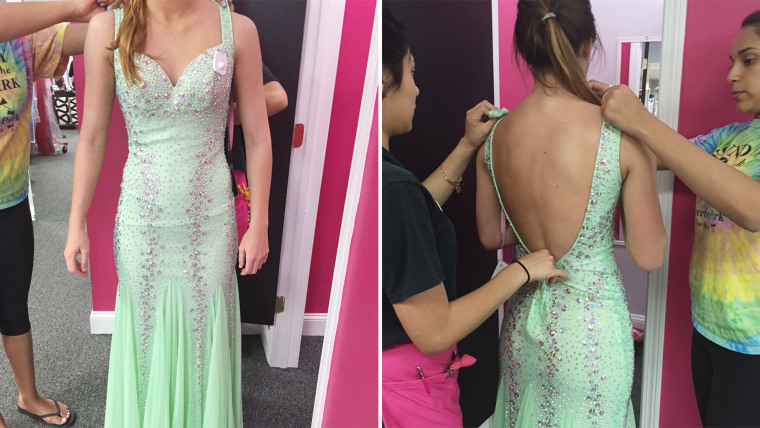 Marini said she originally reached out to the school headmaster several weeks ago after hearing about a Michigan student who was denied prom access because of her dress, which was similar to the one Marini's daughter originally had. Both had cut-out designs that exposed the waist. She showed the dress to Smith, and the headmaster said the dress wouldn't be allowed at the dance. Marini asked if she could make some alterations to it, like covering the cutouts with mesh.
"And she said, 'If all you're going to do is throw netting over it, then no, she cannot wear it.' So my daughter went to her, hysterical, crying, asking for further verification, and she didn't have the time to speak to her, so we started scrambling," Marini said.
They found another dress last Tuesday, four days before Smith made her PA announcement, and then held their breath: "We still didn't know what we were working with because there were no specific standards set."
According to the high school's student handbook: "Halter tops, tube tops, strapless tops, see-through lace tops, spaghetti strap tank tops, mesh tank tops, work-out wear, spandex, cut offs (for either sex) and short mini skirts are not appropriate school attire and will not be allowed." It does not provide further explanation.

But Shelton Schools Superintendent Freeman Burr said none are needed.
"What we're talking about here is what is good judgment," he said during a news conference Monday on the topic.
In a statement he read earlier, Burr said the school raised concern over appropriate attire after "some faculty, staff and even some male students" raised "some serious concerns" about what they had seen.
"We just want all of those attending to have a safe and memorable evening. I really don't see what's wrong with that, or why this has turned into what some are calling a controversy," Burr said.
Many students said that's because the dress code reflects a sexist double standard. In a petition sent to school administrators, they noted the high school hosts a "Mr. Student Body" talent competition and questioned why boys are allowed to take the stage "in nothing but their boxers but a girl can't wear a backless dress to prom."
"This selective enforcement of school dress code is unacceptable," the students said in the petition.
Marini still believes that advance notice beyond eight days could have prevented "all of this absolute panic." She pointed out her daughter's best friend purchased her dress over Christmas break.
Marini said her daughter, a 15-year-old sophomore, feels lucky because she still has additional years to look forward to prom.
"But for the seniors, this is their last big thing. It's a milestone. It's a rite of passage, and she fears this milestone has been ruined for them. This fun time has caused such stress," she said. "There are some girls who have said now they can't go, and it's devastating."
Follow TODAY.com writer Eun Kyung Kim on Twitter.