During a surprise visit to a London school to talk about cyberbullying and its impact on mental health, Prince William expressed concern over unrealistic beauty images portrayed on social media.
"I worry for you girls," he told a pair of students Thursday at Ark Burlington Danes Academy. "The touched-up pictures are not real. Don't try to recreate them or think that's what you've got to aim for. There's a lot of fakeness online so don't worry about that."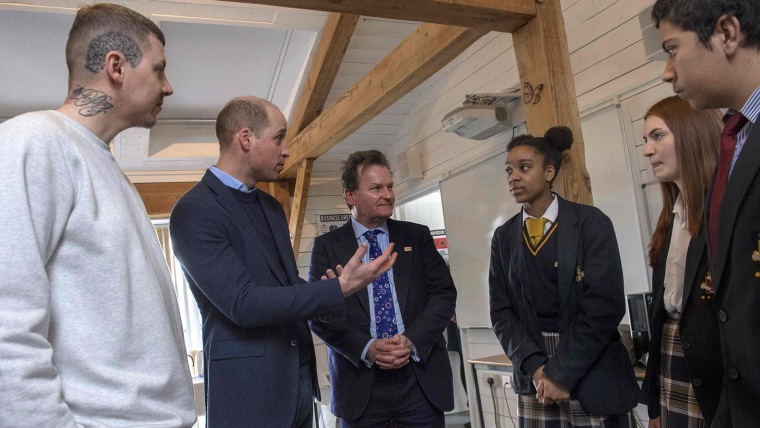 The advice came after the prince addressed an assembly of 250 students he surprised when he walked on stage. He acknowledged that teens today face a lot of pressure, from maintaining friendships and their grades to combatting challenges thrown at them on the internet.
"That's a lot," he said. "You must be aware of that, it's a lot of pressure. There's so many things going on. You're going to be bamboozled."
The visit, hosted by YouTube influencer Dan Howell, reflected the prince's longstanding work on mental health with the Heads Together campaign he created with his brother, Prince Harry, and William's wife, Catherine, the Duchess of Cambridge.
Prince William warned students at the school that limiting their time on the internet could provide a big boost to their mental well-being.
"For your mental health, get outside, come away from the screen," he said. "It's important that you balance the time."
The prince also encouraged boys to be talk about their feelings whenever possible.
"We're not very good at talking about our emotions and how we feel," he said. "We've really got to work hard on being able to talk to friends, family, and trusted people about how we feel."
William, the Duke of Cambridge, has been open about how he and his brother failed to talk to each other enough when they were younger about their feelings while coping with the devastating loss of their mother, Princess Diana.
The duke is the father to both a son, 4-year-old Prince George, and 2-year-old daughter, Princess Charlotte. He is expecting another child in April.