Screens are everywhere, and measuring just how many hours anyone spends staring at them — computers, laptops, tablets, cellphones ... well, that's nearly impossible.
But one thing that's clear: No matter how much time children under 18 spend staring at their screens, parents need to ensure they're looking up and at the rest of the world more often.
That's what President Barack Obama believes, too. As he mentioned during a press conference for his "Connect Home" initiative — which will provide Internet access to low-income communities — he and first lady Michelle keep a keen eye out for screen usage, especially at the dinner table.
"There's nothing wrong with every once in a while putting the technology down and actually having a conversation," he noted.
MORE: Cut back on your kids' screen time by first cutting back your own
But it can be tough: Common Sense Media recently reported that 72 percent of children under age 8 use a mobile device, and 38 percent of kids under 2. Most kids play games and using apps.
Parents need to be involved, and look to their own behaviors, said child psychologist Jennifer Hartstein on TODAY Monday. Many parents use their devices in front of their children, then tell the kids not to do the same thing. She advised a "tech time out" for a few hours.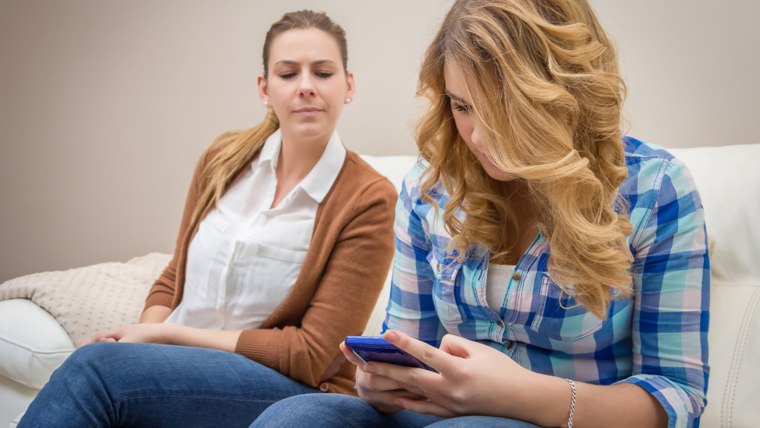 "Create boredom," she suggested. "Boredom begets creativity. Chances are there's enough toys in your house, there's enough activities they can figure out, they'll find something and jump in and do it with them."
It's not just about parents taking control, though. The president said young people also have to pull away on their own, if for no other reason than to be mannerly.
"I always tell young people when I meet them, sometimes they just have the phone up, I'm standing right in front of them — and I got to tell them, young man, put down that phone. Shake the hand of your president. Then you can maybe go back to taking pictures."