The force was definitely with Katie Stricker Curtis, 32, on January 3rd when she gave birth to her first child, a girl named Jayden Lee. The medical assistant from Windsor, Ontario, decided to don a Star Wars Chewbacca mask during labor, leaving the staff at Windsor Regional Hospital in stitches.
A ten-second clip of her going through labor while wearing the Chewy mask was posted to her Facebook page on January 2nd and has since gotten over 216,000 views.
This isn't the first time that a Chewbacca mask made the news in a hilarious way. Earlier this year, another video of a woman in a Chewbacca mask got the Internet buzzing. Candace Payne, aka "Chewbacca Mom" filmed herself sitting in her car and gleefully laughing as she tried on the new Chewbacca mask she had just purchased at Kohl's.
"I had seen the original Chewbacca video over the summer and thought it was so funny!" said Curtis. "I watched it over and over and laughed and laughed!"
RELATED: Woman laughing in Chewbacca mask sets Internet on fire
When she was nearing the end of her pregnancy, Curtis was desperately trying to induce labor. "My brother got me the mask for Christmas as a joke, hoping I would laugh my way into labor. So I thought it would be funny if I wore the mask during part of my labor."
When she was in labor, Curtis followed through with her plan. In her third hour of labor, she remembered the funny mask and put it on. Her husband, Scott Curtis, 40, shot the short video and then texted it to his wife's brother, which featured Curtis's real moans turning into "Chewbacca noises." The siblings thought it was funny, and the staff in labor and delivery agreed. "My doctor and all the nurses thought it was absolutely hilarious!" she said.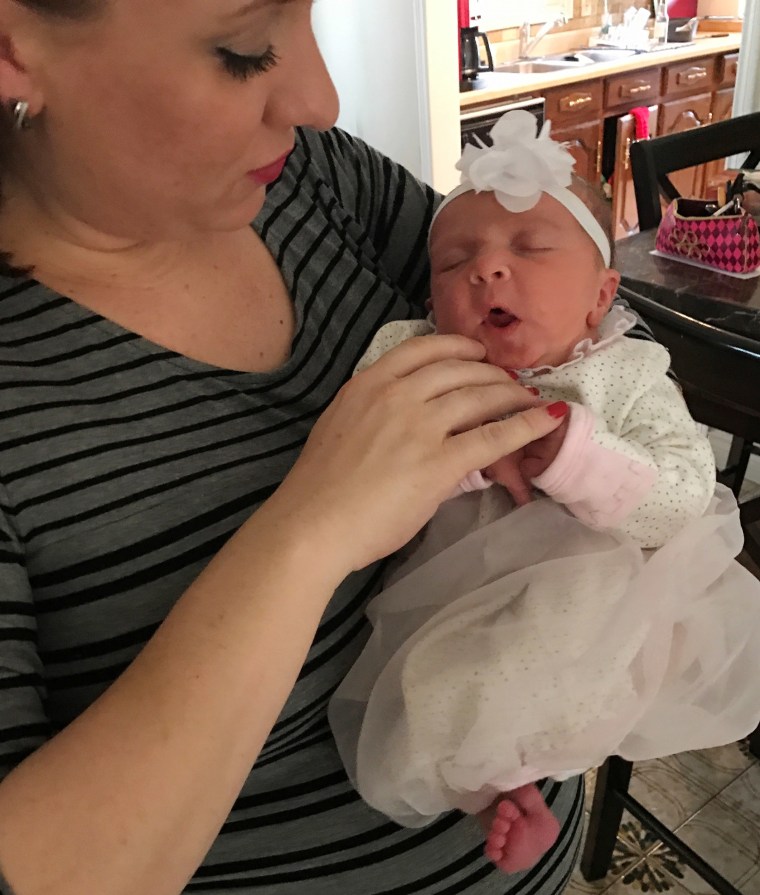 Curtis said that initially the video was just meant for her brother, and that she didn't really give it much thought when they decided to put it on Facebook. "One of my friends asked if she could make it public so she could share it and that's when it took off!" she said. She said her friends and family were not surprised that she would do something like this, since she's "always a goofball" and "the class clown."
Never miss a parenting story with TODAY's newsletters! Sign up here
"I hope I never lose my sense of humor," she said. "It's one of my best qualities."
As for any detractors, she thinks they are just taking her joke too seriously.
RELATED: From dead squirrels to baby overalls: 7 families who made us laugh in 2016
"I try not to read the comments because there are always people out there with a lack of personality and sense of humor that have nothing but negative things to say," she said. Curtis insists she was not trying to copy the original "Chewbacca Mom" video in a bid for online fame.
"If I was trying to copy someone don't you think I would have done more than a 10 second phone video? Seriously. Also I'm pretty sure no one can top the original Chewbacca Mom! Seriously that video was amazing! Her laugh was so contagious!"
One thing is for sure — with this funny mom around, baby Jayden will never know the dark side.