Like all high school seniors, Maddi Runkles was looking forward to walking in her high school graduation — but now that she is pregnant, her school is no longer allowing it.
While anti-abortion organizations are praising the 18-year-old senior for keeping her baby, her private Christian school in Maryland says "immoral" behavior will prevent her from walking at graduation next week.
"That is everything I worked for and that's the night to acknowledge it," she said. "Graduation is a very big deal and I'll be the only one not there to celebrate it with my friends."
Runkles admits she made a mistake when she broke a school code by choosing to have sex. But the straight-A student points out she already has been disciplined by her school, which suspended her for two days and stripped the student council president of her leadership role.
In a letter sent to parents about Runkles earlier this week, and posted online on her school's home page, Heritage Academy principal David Hobbs declared that the "best way to love her right now is to hold her accountable for her morality."
"Let me clarify some facts. Maddi is being disciplined, not because she's pregnant, but because she was immoral," Hobbs wrote.
He pointed out that all fifth- through 12th-graders at the school must sign a pledge to protect their bodies "by abstaining from sexual immorality and from the use of alcohol, tobacco, and illegal drugs."
Hobbs also said that Runkles will still get her diploma — but not with her 14 classmates on June 2.
But Runkles, her parents and pro-abortion groups are pointing out numerous contradictions in the statement Hobbs issued.
They note that he said he kept silent until recently because "in disciplinary situations, each Heritage family deserves confidentiality. The conduct of your children is not everyone's business." Hobbs had additionally planned to announce her pregnancy to the school's students and parents until Runkles stepped in and offered to tell everyone herself.
"My principal told me he wanted to hold an assembly to tell people what had happened, and I told him I'd prefer if I could speak to them and have it come from me rather than him," she said.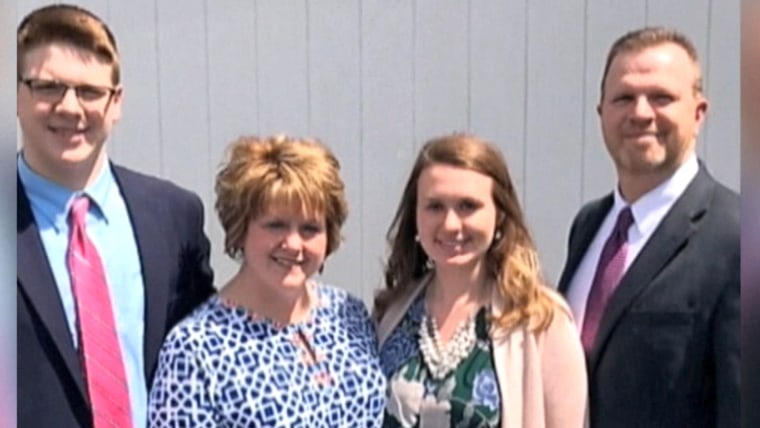 Runkles also points out she is being treated more harshly than other students who violated the school code by doing thinks like drinking or defacing property.
"All the kids who have broken the pledge, those are immoral things that they've done and they're allowed to walk at graduation, too," she said.
But Heritage stands firm by its decision. In a statement to NBC News, Hobbs said the school is now being bullied because of numerous media stories about the situation.
"Please tell America that we are not disciplining Maddi because she chose to keep her baby boy. For that we commend her," he said.
In an interview with a local NBC affiliate, Hobbs said banning Runkles from graduation was in her best interest.
"For her to be exposed to that kind of public scenario would be uncomfortable for her," he said.
Runkles, who is a little over halfway through her pregnancy, is expecting a boy. She said the baby's father is not in high school, nor attended Heritage.
Anti-abortion groups, meanwhile, have praised Runkles for deciding to keep her baby and have urged Heritage to reverse its decision.
"The school is afraid of what this looks like, that they have a pregnant student," said Kristan Hawkins, president of Students for Life of America.
The group and Runkles argue that by singling out a pregnant student, the school is making abortion a more appealing option than suffering embarrassing and excessive punishment.
"It's hard not to think of them as hypocrites because they promote life so much," Runkles said. "But then when you make the right choice and choose life, they don't want anything to do with you."
RELATED:
Jamie Lynn Spears talks teen pregnancy and the biggest surprises of motherhood