/ Source: TODAY Contributor
Nailed it! Sophie, a rescue potbelly pig who resides at the Happy Trails Farm Animal Sanctuary in Ravenna, Ohio, recently channelled her inner cover girl for an unforgettable series of maternity pics, celebrating the arrival of her adorable litter of piglets.
Decked out in a multi-colored tutu and bow, this model mama has officially proven to the world that pigs can be glamorous too — especially the expectant ones. "Sophie was a great model," says photographer Jessica Cvelbar of Enjoy The Ride Photography.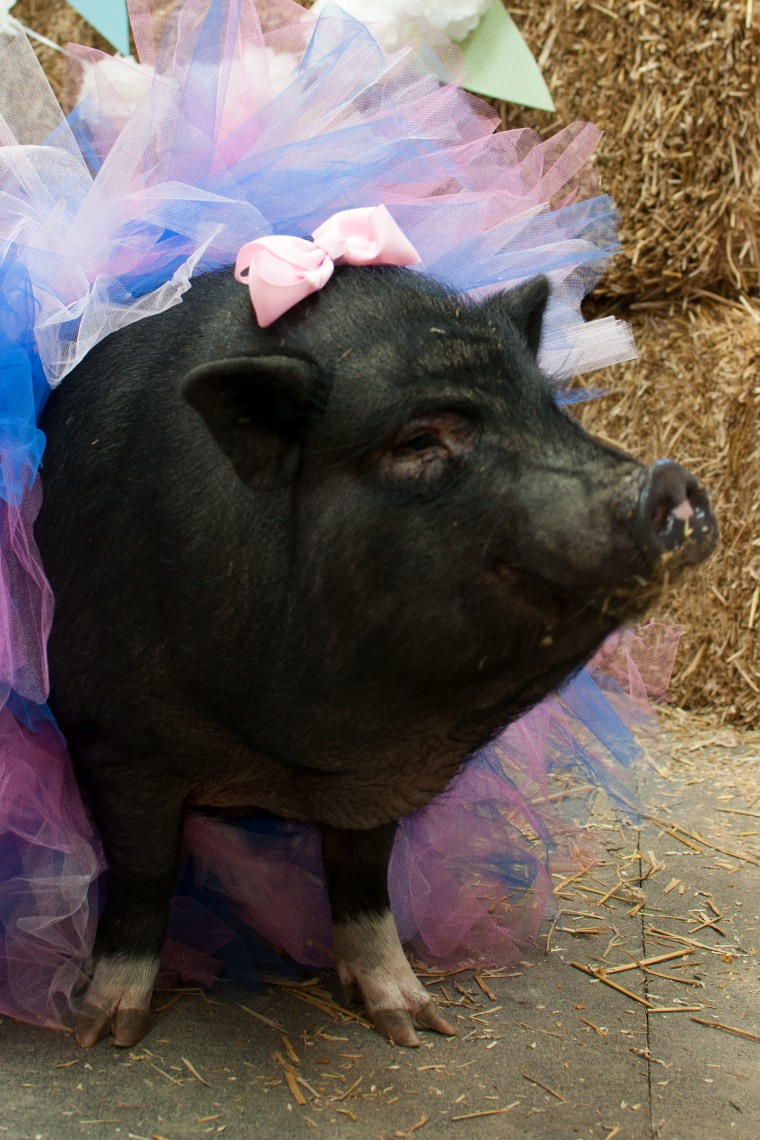 According to Cvelbar, Sophie didn't seem to mind the costuming, and was very curious about the decorations: "I loved how curious she was about everything in the room," the photographer says. To hold Sophie's attention, the photographer fed her snacks, including ginger snaps, and gave her belly rubs. "I never knew a pig to be so calm," says Cvelbar.
And while the photo shoot involving the approximately two-year-old pig has gone viral, it's her personal story of survival that has also gained attention.
Abandoned on an Indiana farm without food or water, Sophie endured brutal neglect before rescuers from the Humane Society of Elkhart County transported her to Happy Trails — a non-profit organization that comes to the aid of abused, abandoned, and neglected farm animals (including cattle, horses, and sheep) from all over the country.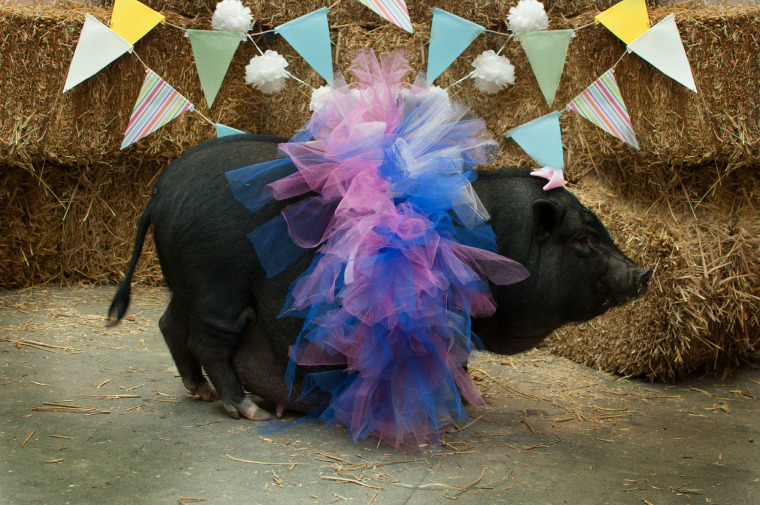 Sophie "was found with some other animals, but we really don't know what the conditions were, or who the other animals were," Ilona Urban, director of education and outreach at Happy Trails, tells TODAY Parents. In addition, "we were told that there was a male pig that was dead, which we assume was her mate." However, "when we got her we were amazed, because she was a pretty resilient little piggie that was not in really bad shape, and was pregnant."
The folks at Happy Trails named the resilient mom-to-be after a courageous young friend to the organization — a 9-year-old girl named Sophie who is also the founder of the Hearts 4 Hooves rehabilitation program. After a long car ride from Indiana to Ohio, the abandoned piggie arrived to the animal sanctuary appearing to be extremely shy.
"But she never showed one bit of aggression towards us," Urban says, adding "she's a sweet pig." And within a month of arriving to Happy Trails — just a few days after her enchanting photoshoot — Sophie gave birth to seven piglets on Nov. 7. "(The delivery) took about two-and-a-half hours with no human assistance," Urban reports, "and she delivered every piggie beautifully."
The education director goes on to describe Sophie as an amazing, protective new mom, occasionally grunting or nipping at a boot when a human gets too close to her young. Other than weekly weighings of her litter, the folks at Happy Trails are "trying to keep her as quiet and unbothered" as they possibly can. "We don't have to do anything at this point," Urban says. "She's doing a great job."
Sadly, the runt of the litter died due to a birth defect, leaving Sophie to tend to her remaining four girls and two boys. So far, only three babies have been named: "There's Eva, Jazzy, and Simon," Urban reveals. "We are in the process of naming them all right now." And this week, 9-year-old Sophie (the human) and her younger brother Miles will each help to name two more.
Breathe easy: Mama Sophie and her six piglets won't end up as someone's Christmas ham. "Once an animal is legally turned over to Happy Trails, we then re-home those animals in homes as pets," says Urban.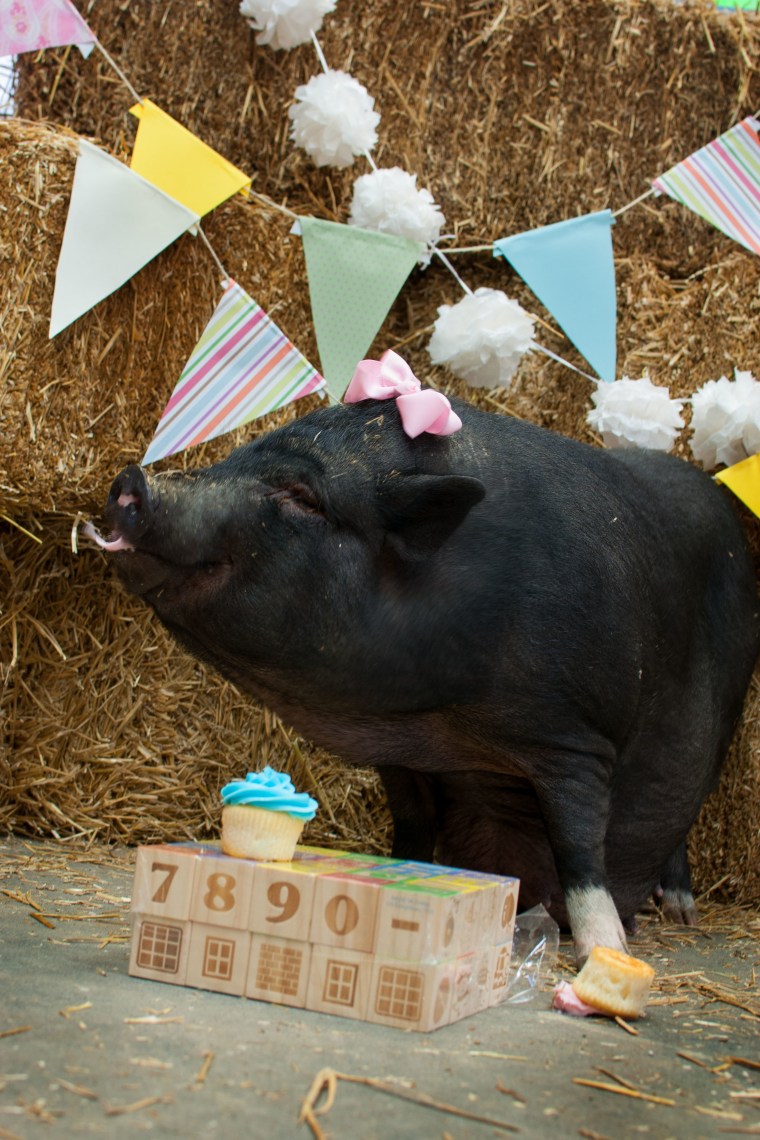 Sophie and her piglets will eventually be adopted after the organization conducts a thorough vetting process of each applicant, which includes background checks and home inspections. Urban tells us that Happy Trails places animals in situations where they are going to spend "the rest of their lives as a much loved family pet, where they will not be bred, worked, or used for food no matter what kind of animal they are." Successfully, Happy Trails has found good homes in about 19 different states around the country — thanks in massive part to donations.
Happy Trails' commitment to finding suitable homes for their farm rescues is one small part of the organization's overall philosophy of respecting all human and animal life. "We need to show kindness and compassion for all life," Urban says. "Every living being on this planet deserves to live a happy and healthy life."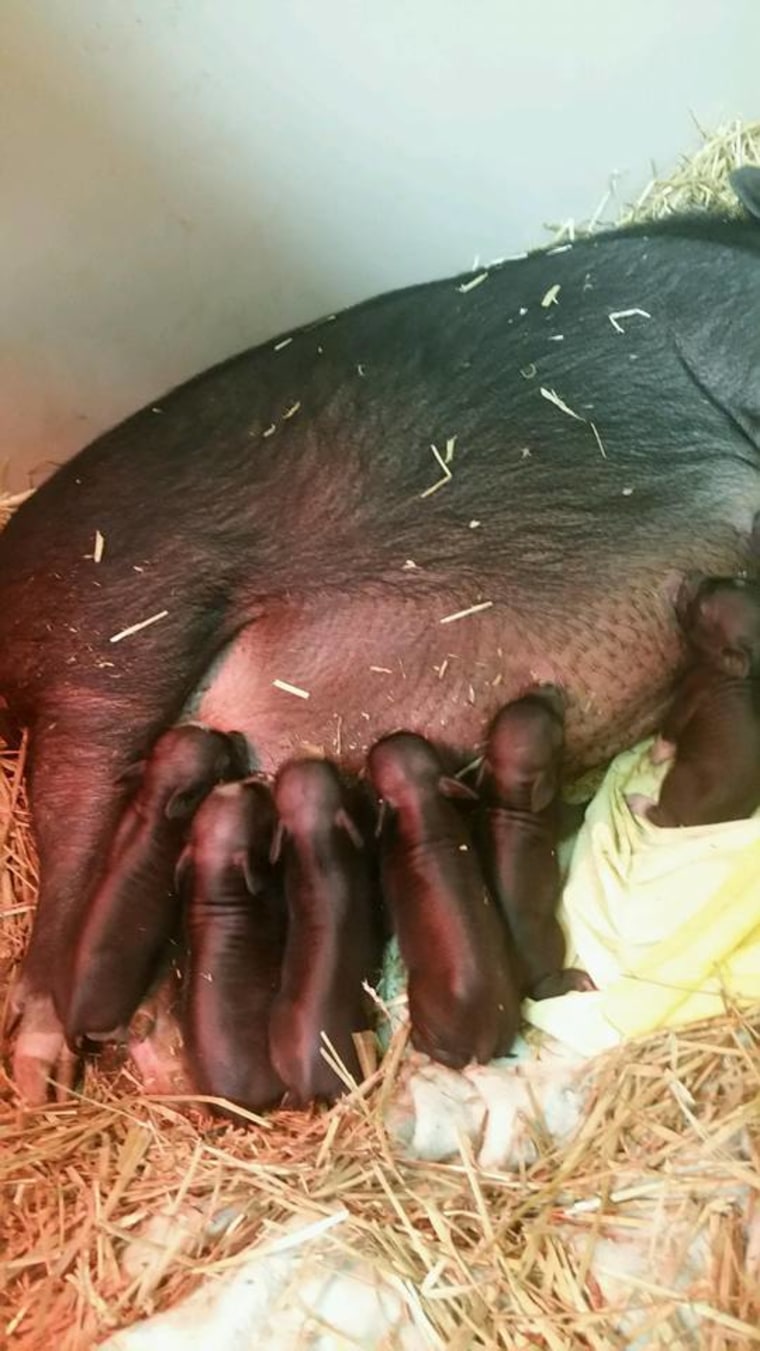 To donate to Happy Trails Farm Animal Sanctuary, visit their website, or click here to create a membership account.
Follow Jacqueline Colette Prosper on Twitter.