Photographer Lauren Chenault had planned to take pictures of herself giving birth to her first child, but reality got in the way.
"I didn't know I was going to have to hold my legs so there was no way to do it," the New York photographer said.
She got a second chance a year later when she pregnant again. This time, she was better prepared.
Chenault gave birth Tuesday afternoon to an 8-pound, 3-ounce boy, Kai Arthur, whose joyous arrival she successfully captured in photographs.
It helped that weeks earlier, she had tasked her friends with roles as, well, photo assistants.
RELATED: Eva Amurri Martino shares amazing story, photos of home birth
"I was like, 'You'll hold my leg, and you're holding the other one, and I'm taking the pictures,'" Chenault recalled Thursday to TODAY.
And that's exactly what happened.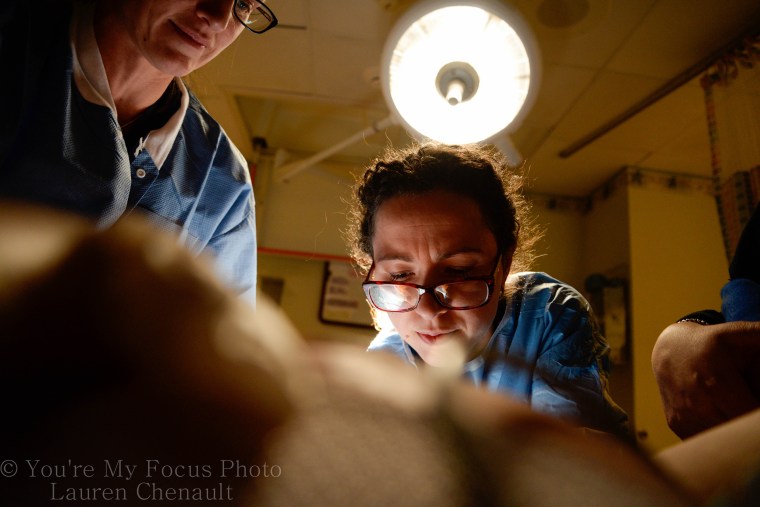 With her husband providing moral support in the background, Chenault, 24, set about to documenting the birth of their second child.
"I just think it's so cool that women can grow a human inside and then push it out," she said. "So I figured, why not have the first picture of them coming out."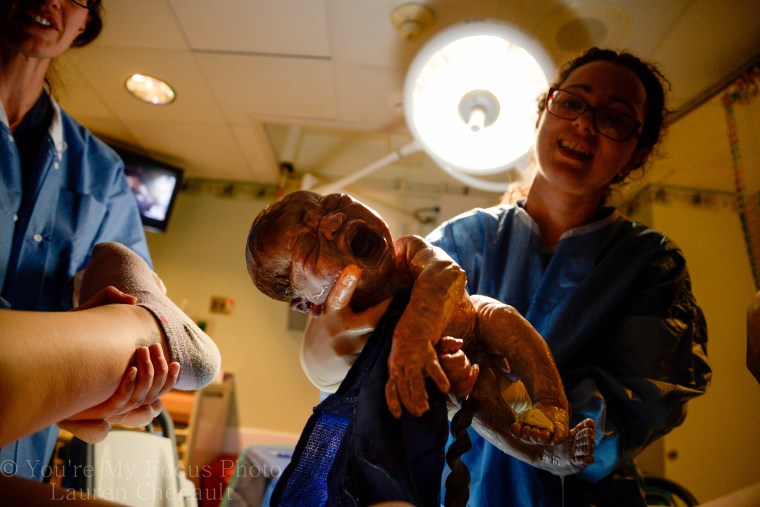 Chenault had plenty of time to get ready since her birth was a scheduled induction. She asked the nurse to set up the lights that she and the doctor would need for their work and then took some test shots. She then waited until it was time for the big moment.
"I had the camera on my chest and I just kept clicking and hoped that I got it," she said.
RELATED: Photographer mom documents her own delivery in stunning series of photos
Chenault, who had five friends with her that day in addition to her husband, said she doesn't feel like taking photographs took away from the delivery.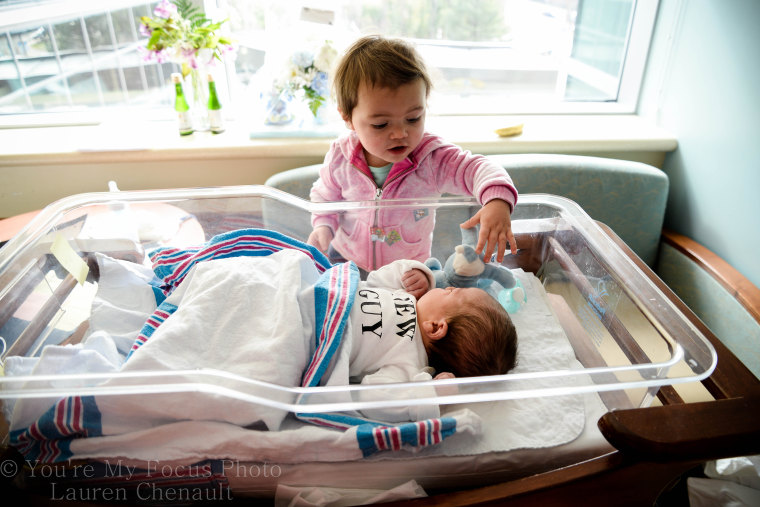 "I wasn't really looking at the camera, so I kind of got it from both (perspectives)," she said. "When I was pushing, my eyes were closed anyway, but I don't feel like I missed anything I would have if I didn't have the camera there."
Chenault said she hopes her photos and her story will help educate people who aren't familiar with what childbirth is really like. She noted that two of her friends had little idea of what to expect.
RELATED: What does childbirth really look like? Take a look at these powerful images
"They had only seen it in movies, so I tried to explain that is not what it's like," she said. "It's nothing like that like. I feel like a lot of people perceive it as women screaming and bleeding all over the place."
Chenault said the biggest surprise from the experience was that she got the exact shots she wanted.
"I wasn't even looking at the camera. It was just sitting there and I kept clicking," she said.
"I think it's so amazing that women can do this and to be able to document it like that. It is so cool. I really hope that's what women take away from this."