Jessica Alba has gone from Hollywood starlet to the founder of a billion-dollar company, all while raising two children. Now pregnant with her third, Alba revealed the honest truth that balancing it all is impossible.
"You always feel compromised and like you're pulled in too many directions," the 36-year-old told TODAY. "It's a balance that I have yet to see perfectly achieved."
In fact, more than the pressures of running a successful business, it's the little things that are the hardest for Alba.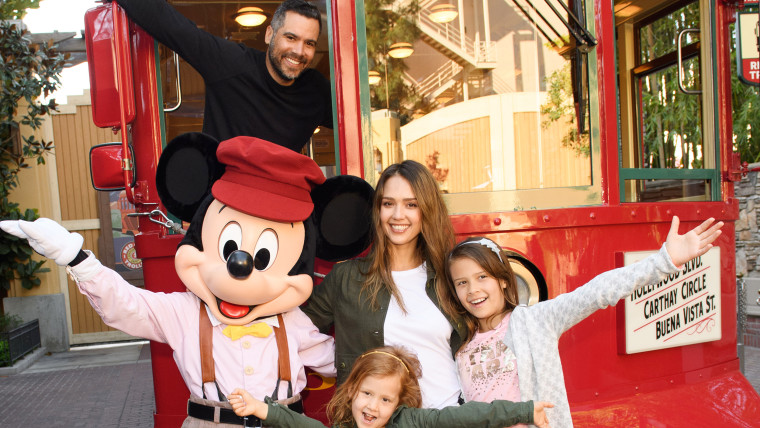 "What really stresses me out the most is thinking about bedtime," the actress and Honest Company co-founder said. "My kids like me to sing four songs each to them at night and after a long day of work, all I want to do is eat and decompress."
The mom of Honor, 9, and Haven, 6, added, "I love the cuddle time, but at the same time, I feel so drained. It's like there is no me time. So, I am like OK, which kid do I choose first? Is there going to be a fight? But it is the only quiet time we get with them to talk about their day and they open up in a different way when they are laying down. It's hard."
After announcing she was expecting her third child with husband Cash Warren in July, Alba faced a new round of criticism about everything from her pregnancy workouts to her maternity style. "I have been living in a fishbowl literally since I was 18 years old and it can be exhausting," said Alba. "You never get used to it, but you learn how to kind of compartmentalize and not give it too much energy. I am living my life, doing my thing and if someone wants to write about it, they write about it."
But Alba admitted she too feels the pressure to be the perfect businesswoman and mom. "I think it's really easy to compare your business to other people's businesses and your life to other people's lives. I am guilty of doing it," she said at a recent event promoting her partnership with American Express OPEN Success Makers, where she shared business insights and tips with Business Platinum Card members. "I see moms at school who are always volunteering to have baked goods. Do I want to be that person? Yeah, I sort of fantasize about it sometimes, but it's just not my reality."
And though the beauty seemingly "has it all," often praised for her flawless skin and impeccable wardrobe, Alba revealed she's not perfect and doesn't want to be. "It's being OK with that and letting go of perfection and investing more in the quality of time that you spend, either at home with your family or at work or with your friends," Alba noted. "It's making sure that is quality versus quantity because you don't have quantity."
Her biggest piece of advice? Practice self-care. "Any mom who all of the sudden has little people that rely heavily on them for survival needs to maintain her own sense of self," said Alba. "You need to cut yourself some slack and bite off what you can chew. Things will be compromised and you just have to be okay with that."
She added, "It's also important to maintain a sense of self and try to do a little bit for yourself. I don't think it's selfish. I think when you're happy, everyone else is happy. So, if you need to get a manicure, if you need a girl's night out, if you need to take a bath and not make dinner that night, it's okay, everyone will survive."
Even though it seems the mom has everything down pat, she revealed this pregnancy is not what she expected. "It feels like everything is happening sooner even though it's not," she said. "I'm having a lot more physical pressure in my belly and my stomach feels like it's way bigger than it was with the other two. That kind of feels a little funny, because I am like how am I already starting to walk funny and waddle?"