Rumer Willis is one proud mom-to-be.
The 34-year-old just shared a look at her growing baby bump in her latest Instagram story.
On Jan. 30, the actor snapped a mirror selfie during a shopping trip with her younger sister Scout Willis, 31. In the photo, the siblings stand side by side and are wearing matching burnt orange pants.
Scout Willis rocked a bralette and the expectant mother opted for a top in the same hue. As Rumer Willis smiled for the camera, the mother-to-be held her hand on her baby bump.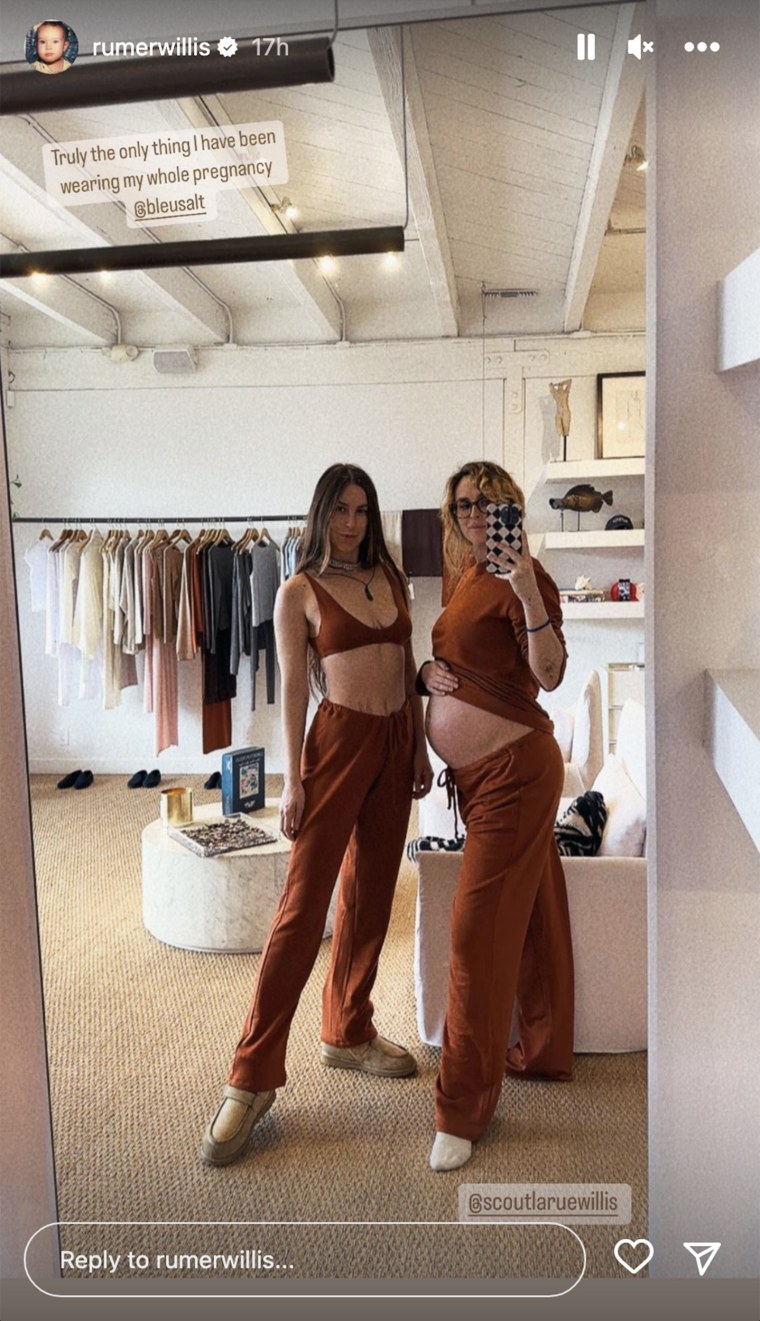 Rumer Willis captioned the post, "Truly the only thing I have been wearing my whole pregnancy" and tagged the clothing brand Bleusalt.
Scout Willis also shared a short video on Instagram of the two sisters trying on their burnt orange fits.
News of Rumer Willis' pregnancy first broke in December 2022 when she shared photos of her baby bump and boyfriend Derek Richard Thomas looking ecstatic.
The actor's mother, Demi Moore, showed her own excitement over being a grandmother soon by sharing the same photos on her Instagram page.
"Entering my hot kooky unhinged grandma era," she captioned her post.
Moore recently tagged along to one of her daughter's doctor appointments and shared a photo of herself posing with Rumer Willis, Scout Willis and her other daughter, Tallulah Willis, 28.
"Saying hello to the little nibblet!! Overjoyed for you, my sweet Rumer. It's an honor to witness your journey into motherhood, and can't wait to welcome this baby into the world!" she captioned the post.
Rumer Willis responded to her mother's post in the comments section, writing, "So grateful for my incredible lineage of women in my family. I love you all so much. This baby is so lucky to have you guys."