It's famously one of the messiest, most dreaded aspects of parenthood. Yet all around the country, fathers are fighting for their right to change diapers.
Here's the problem: When the critical moment arrives, women who are out and about with a baby can usually find a changing table in a women's restroom, but fathers taking care of infants are frequently out of luck in the men's room.
What's a dad-on-the-go to do?
The California legislature is currently considering two "potty parity" bills that would require equal access to diaper changing tables for men and women.
Doyin Richards, who lives in Los Angeles with his wife and two small daughters, said he comes across the situation quite often – probably two-thirds of the time he's out with his kids.
"That is basically straight up saying only women change diapers -- men don't change diapers. That's just not acceptable in 2014 and beyond. It's just not," said Richards, 39, a TODAY Parents contributor who writes the Daddy Doin' Work blog and who went viral earlier year when he posted a photo of himself tenderly combing his 2-year old daughter's hair while also wearing his baby girl in a carrier.
"Dads like me who are really involved with their children and want to actively be with them and help their kids are very frustrated by this."

About 90 percent of dads who live with their kids report that they bathe, diaper, or dress their children every day or several times a week, according to a recent government study, which noted that fathers are more involved in their kids' lives than in previous generations. A TODAY survey of about 1,000 dads found that 54 percent of modern dads change diapers, while only 37 percent say their fathers did.
In California, two bills that would mandate equal access to changing stations in new public restrooms have been passed by the state Senate, and are awaiting hearings in the state Assembly. As of now, there are no state or federal laws that protect a man's right to diaper duty. However, many companies provide family rest rooms with changing stations for their customers' convenience, and some communities have local laws that address the issue.
Miami Dade County, for example, requires certain new and remodeled businesses – including movie theaters, sports arenas and large restaurants -- to have baby changing stations accessible to men and women. Miami's city-owned buildings also provide the perk. Pittsburgh has a similar law.
In San Francisco, the city's planning code requires new or renovated "public-serving" businesses to install diaper-changing stations that are accessible to women and men.

Laws or not, some dads say things are getting better, one stinky diaper at a time.

Greg Allen began compiling a list of men's rooms with changing tables in New York City when his first child was born 10 years ago, and said it has definitely gotten easier for fathers to find the amenity in the Big Apple.
"Changing tables generally, and in men's rooms specifically, are now seen as normal; they're not just for toy stores anymore," said Allen, who writes the Daddy Types blog. "Dads will be just as likely as anyone to expect a changing table in the restroom."

Allen has found newer stores and restaurants are more likely to put a changing table in men's rooms than existing businesses.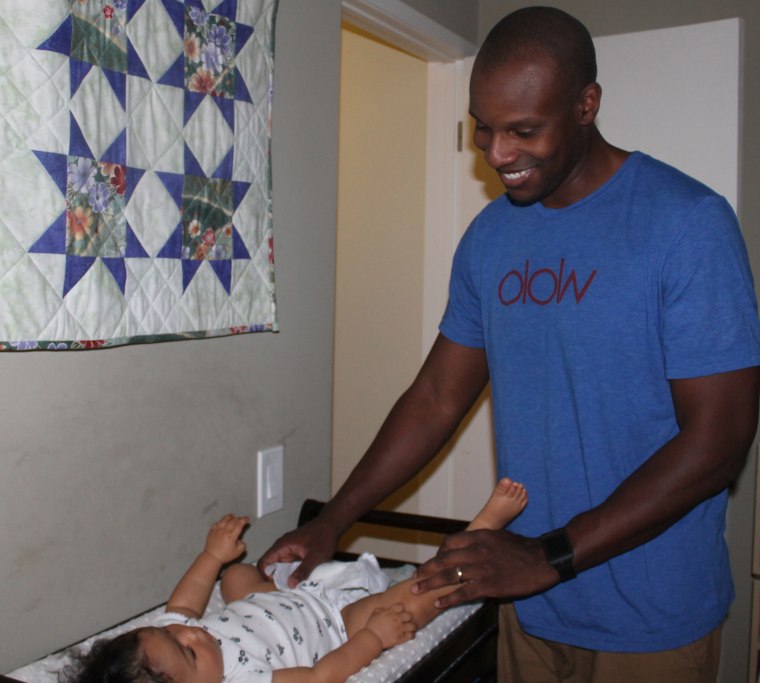 Richards wants to make clear he doesn't have a problem with establishments that don't have baby changing stations at all, because he knows some businesses just cater to adults, he said. His complaint is about places that give mothers access to changing tables while ignoring fathers.
The first time it happened to him, Richards walked into the ladies' room to change his daughter. Despite getting support from the women inside, he hasn't done that since. These days, he either checks out nearby businesses or changes his daughter in his SUV, but it shouldn't come down to that, he said.
"If it's cold outside or it's rainy outside or whatever is happening, it's really tough. Do we want to change our children on a grimy public bathroom floor? That's an option that I see dads do," Richards noted.
He hopes that as people speak out, companies realize they may be alienating customers and losing money. Richards avoids establishments that don't give him equal access to baby changing tables and gives kudos to daddy-friendly companies on social media so that others can spread the word. He's been particularly impressed by Wegmans, a food store chain in the Northeast that happens to offer well-stocked stations for dads on diaper duty. 
Allen credits public facilities like airports for leading the way on the issue. He says Ikea is "the gold standard." Richards is also a fan of any business that provides a family restroom, which either parent can enter with their child.

And when dads want to know whether they'll have equal access to changing tables before heading out with the family, websites such ChangingTableLocator.com can provide more guidance.

For Richards, the issue remains a problem that he hopes a little social media pressure can solve.

"My youngest daughter is 11 months old so I have maybe a year or so left of diapers and then my time is done. But I want to fight for the new dads, the dads who are coming up," Richards said.