Every night, Margaret's two boys fly into the house after sports practice and flip on the TV, while she races to the kitchen to get dinner cooking. "It's that tedious witching hour when I feel incredibly frazzled," says the Tennessee singer/songwriter mom. But instead of pouring herself a glass or two of merlot, she heads to the standalone garage next to their house for a few puffs of Humboldt Kush, one of the four strains of pot she smokes seven days a week.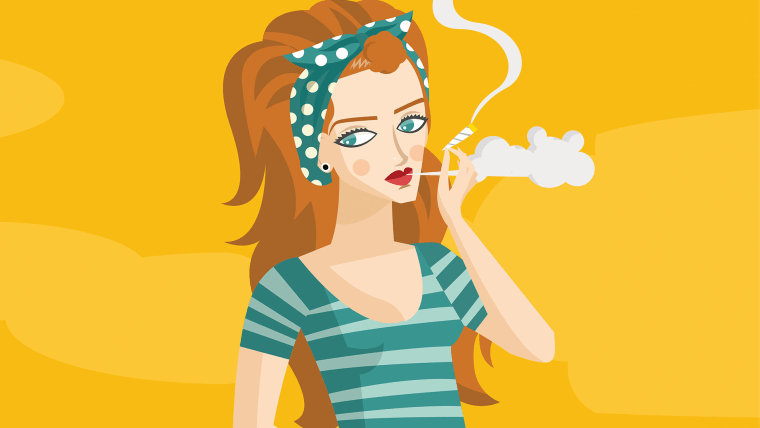 The drug helps her focus on the giant statue of popsicle sticks she's building with her kids and relaxes her so she can get through the rest of the night without stressing. "It can make folding a pile of laundry fun," says Margaret, 45, who asked that we not use her last name for fear of getting in trouble with the law. "If I didn't smoke, that'd be three piles later in the week."
Still, she doesn't flaunt her marijuana use. Her sons aren't allowed to go into the room where she keeps the drugs locked up, and she hides it from other moms who would keep their kids away if they knew she smoked pot.
RELATED: Moms who drink: How much is too much?
"Being judged for doing something nontoxic and totally organic, enjoying a god-given plant, by moms who suck back two bottles of Chardonnay like sports drinks feels like s---," complains Margaret. "Any hypocrisy is hard to swallow. A drunk mother is pathetic and I often leave parties when I experience other mothers tying one on."
Margaret isn't the only pot-smoking mom tired of being judged by moms who religiously drink glasses of wine or "mommy juice." Recently, one mom stirred up some controversy when she admitted to parenting while stoned in an essay on Jezebel.com. Today, the group Moms for Marijuana International has more than 500,000 likes on Facebook. (When this article was first published in 2012, the group had just 18,000 likes.)
"No matter what you use, you shouldn't be judged if it works for you, you're productive, and you do no harm," says Diane Fornbacher, co-vice chair of the Women's Alliance at NORML, the non-profit lobbying organization working to legalize marijuana. "Marijuana parents aren't perfect, but they're far less imperfect than parents who use alcohol irresponsibly. Cannabis can influence people to be nicer to one another. You rarely find a story that says two stoners beat each other up outside of a bar."
RELATED: Math and chardonnay? Parents pair homework and wines in funny video
Sharon Letts, a California mom who brewed Cannabis tea for her 16-year-old daughter when she was stricken with pain from fibromyalgia, agrees. "Cannabis takes the edge off your day, in the same way wine does. But it's not addictive, it is habitual. It doesn't ruin your body like alcohol. I would much rather see parents using cannabis than alcohol — hands down."
Of course, pot is illegal in most states and alcohol is legal in all. Letts and her daughter worried that the tea's smell would alert their neighbors. The price for getting caught is high. In some states, moms risk getting arrested and incarcerated, as well as having their kids taken away from them.
"If I wanted to, I could sit with a glass of wine in one hand, a cup of coffee in the other, with a cigarette pressed between my lips, under the influence of prescription narcotics — all the while holding my child in my lap," says Serra Frank, founding director of Moms for Marijuana and mother of two.
"Everywhere we look our families are bombarded with advertisements for these drugs. Our societies benefit from taxes placed on the manufacture and sale of these drugs. Yet, we can't make the decision to choose one of the most commonly used drugs, one that has proven to be much safer than all the rest? That's just not logical."
Whether a mom chooses wine or pot to take the edge off her day, how she uses the drug is important to consider, experts say.
RELATED: 'I'm the woman the CDC was worried about': I drank before I knew I was pregnant
"Is she smoking while taking care of an infant, in front of teenage children, or sharing it with her children?" asks Nancy Day, an epidemiologist and professor of psychiatry and epidemiology at the University of Pittsburgh's School of Medicine. "It is also critical to know whether she is pregnant or not, as we know that marijuana use during pregnancy affects the central nervous system development of the fetus. Additionally, since marijuana is still an illicit substance, has she considered the message she is giving to her children?"
Mothers should know that there are some health concerns for children specific to marijuana use, says Day, beyond the effects of prenatal exposure on the fetus. The children of moms who smoke are more likely to use marijuana and to start use earlier. And kids who start using marijuana before age 16 have a higher rate of psychiatric disorders, as well as other behavioral problems.
Never miss a parenting story on TODAY.com! Sign up for our newsletter here.
A mom should be concerned and look for help if she finds herself using marijuana more often than she used to, needs marijuana to function on a daily basis, chooses to smoke rather than doing other things, spends money on marijuana that might better be used for something else, or if she can't quit, says Day. The same goes for parents who use alcohol.
Corey Binns writes about parenting, health and science. You can follow her on Twitter @coreybinns.
This article was originally published on Jul. 16, 2012 on TODAY.