You've heard the proverb: It takes a village to raise a child?
How about a "throuple" to raise multiple kids under the same roof?
The name, of course, is a play on the word couple and means a trio of people who are in a relationship together.
That concept works just fine for British expat Adam Lyons, who has a son, Dante, with girlfriend Brooke Shedd. He has another son, Orion, with his other girlfriend, Jane Shalakhova. And another baby on the way with Shedd, while they're also raising a son from her previous relationship. The children call both Brooke and Jane mom.
The unusual family unit is based in Austin, Texas, where they jointly own a business, Psychology Hacker, aimed at helping people make life choices that work for them. Lyons said he is happy. He says his two partners are happy. And the situation is working out for everyone, said Lyons. .
"For me this relationship is really unique because I get both aspects of two completely different women. Brooke fulfills my nerdy side. We geek out over geek culture. On the other hand, Jane drives the business and helps push me with my work stuff," Lyons told Megyn Kelly TODAY.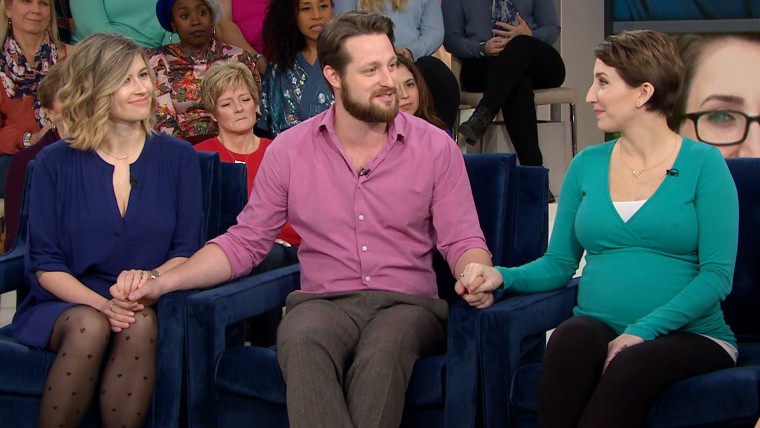 Lyons met Shedd, who identifies as bisexual, in a nightclub. The two of them then met Shalakhova and "the three of us became enough" for each other, Lyons said.
Their union has a lot of different layers and dynamics, said Shedd.
"I have a relationship with Adam, I have a relationship with Jane. And the three of us have a relationship together," she said. "They each provide things for me in the relationship that the other one can't and I think that's why it is so fulfilling."
Lyons is the emotional support, said Shedd. "But when I need someone to kick my butt into gear and motivate me and make me feel as though I can do anything, that's Jane," she said.
And yes, agreed Shalakhova, the setup may not be traditional, but it's absolutely workable.
"That's why we're in this relationship, because we always have someone around and we never feel lonely and we never feel as though we're misunderstood by our partner. Because some of us always get the other part of each other. So it falls into place nicely," she said.
is there jealousy? Yes, said the trio, but they keep things in perspective. What bugs them today won't matter down the line.
"Most of the jealousy isn't what people think about, which is like they're having sex without me, or the sex isn't good enough," said Lyons. "Jealousy tends to be more around that 'they are going to that restaurant I really want to go to.'"
As to parenting the kids, who are home-schooled, having more adults around just means move love, said Lyons.
"Our kids are also more well-rounded, I think, because there are three different styles of parenting that they deal with every day. All of our kids have strict parents and loving parents and cuddly parents and wrestling parents at different times," said Shedd.
Their household is no free-for-all in terms of discipline. "We have parenting rules. If a child does something wrong we'll have time-out and if another parent makes a rule we will all support that decision. We always have each other's back," said Lyons.