Why wait for Halloween when there's a special kid in need of cheering up? Menacing zombies attacked a bit early and dancing deputies performed "Thriller" — all to the delight of a boy who is battling a terminal illness.
Spencer Holt's usual routine of doctors and hospitals seemed far away on Tuesday as the 7-year-old became a deputized crime fighter during a special outing to the Pasco Sheriff's Office just north of Tampa, Florida.
The boy thought he would be meeting the sheriff and members of the SWAT team, but was surprised when he was suddenly recruited to fight some unsavory characters.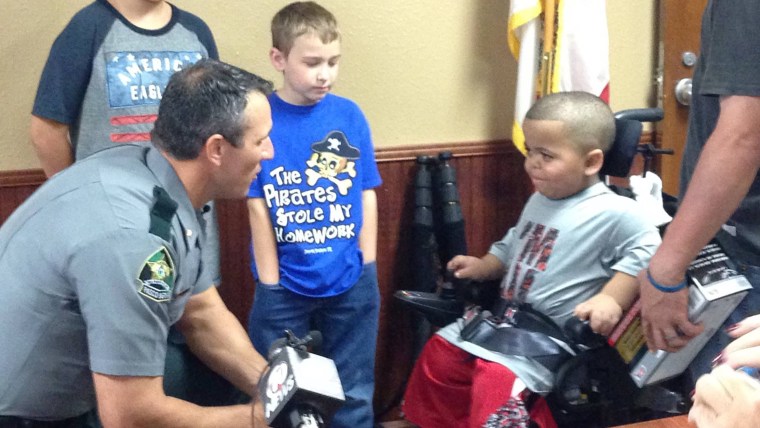 Spencer loves "The Walking Dead" and often watches the show when he's at the hospital or has a bad day and can't go outside, his mom, Cher Holt, told TODAY Parents. Being a kid of many interests, he's also a fan of law enforcement.
Deputies learned about Spencer's story through the community.
"Because Spencer had such an interesting love of police officers and zombies, it just seemed right to try to combine the two," said Melanie Snow, a spokeswoman for the Pasco Sheriff's Office.
"It was just great to see his face the whole time. He was having a really good time."
The boy is battling mitochondrial disease, which affects his digestive system, his mom said. There is no cure and Spencer has been in and out of hospitals, she added. He also suffers from seizures and low blood sugar, so there was some concern about whether he would even be able to make it to the event.
"We have good days and we have bad days," Holt said. "Our bad days are when all he can do is sleep." She doesn't know how much time she has left with her son.
As the event approached, 50 members of the drama club at two local high schools volunteered to take part, putting on scary zombie makeup and filling an old unused jail connected to the sheriff's office.
"In the middle of him meeting the sheriff… we had one of our SWAT guys bust into the room and say, 'We have a special mission for you, our jail is overrun by zombies,'" Snow said.
Spencer's face was priceless, his mom added.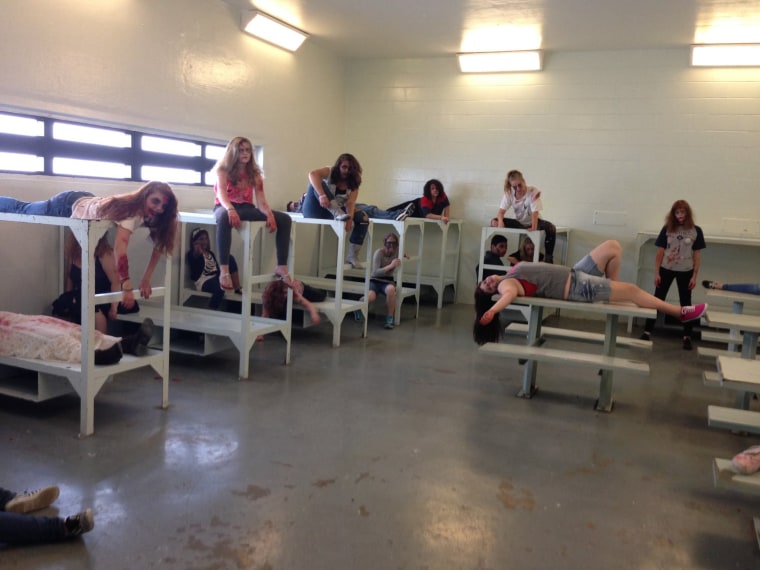 Armed with a NERF gun and surrounded by officers and his family, Spencer took charge and roamed the jail to restore order.
"He loved it. Those memories will last a lifetime," his mom said, noting she was grateful for the high school kids and their kindness in taking part in the event.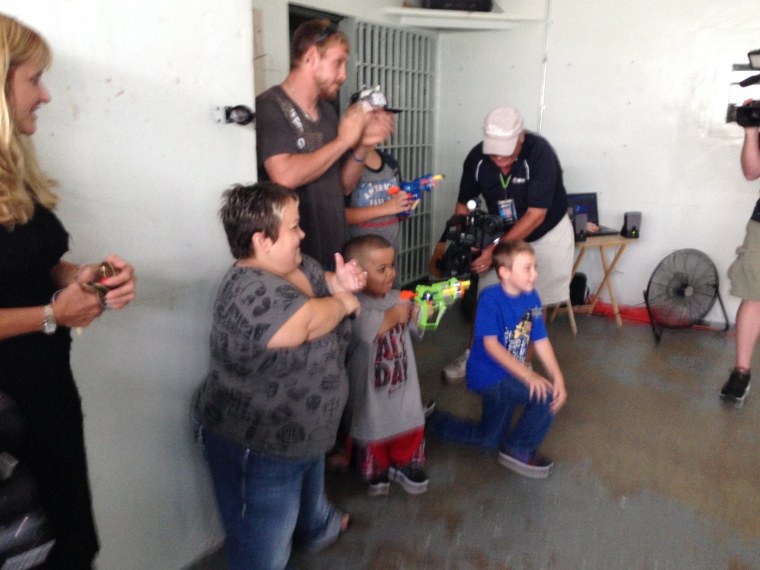 Afterwards, when all the zombies were disposed of, the grand finale featured a group of deputies dancing to Michael Jackson's "Thriller." The officers practiced for two weeks, Snow said.
"His face lit up. He was so excited," she noted. "This was a great opportunity to do something for this little boy who has touched a lot of people's hearts."
Cher Holt was moved, too.
"We don't know what tomorrow holds for us," she said. "I'm so honored to be his mom. He's just my hero."