/ Source: TODAY Contributor
When Officer Tim Purdy arrived at the parking lot, he could tell things might escalate. The two officers already on scene looked tense and exasperated. They stood on either side of an 18-year-old man, who stood 6'2 and weighed over 300 pounds. Sweat poured from his brow even though it wasn't hot. The teenager definitely felt stressed.
Purdy knew the young man had autism and a history of violent behavior, had experienced suicidal thoughts, and wandered away from his school just that morning. One of his colleagues from the Charlotte Mecklenburg Police Department in North Carolina asked Purdy to talk to the teen.
By the time Purdy arrived, the teen was sitting on the ground, so Purdy crouched down to be at eye level. Purdy asked him how he was doing, how school was, and about the bracelet made of duct tape he was wearing.
"I just took a deep breath and just sat there for a couple of seconds and kind of felt him out," Purdy tells TODAY Parents. "We definitely needed to get out there and talk with him."
When the teen pulled out a pack of gum, unwrapped a piece, and put the pack back in his pocket, Purdy made a joke.
"I said 'Oh that's OK, I didn't want one,'" Purdy says.
The teen began laughing. For 20 to 30 minutes, Purdy talked to the teenager until his mom and a school administrator arrived. (The Charlotte Mecklenburg Police Department reached out to the family to request an interview for the story. They did not respond.) Someone snapped a picture of the two, which the police department posted on Facebook.
"Officer Purdy established trust and a relationship that allowed officers to get this young man the help that he so desperately needed. There's more to policing than making arrests and enforcing the law. Sometimes taking those extra little steps makes the biggest difference in someone's life," the post reads. It has been shared almost 250,000 times and reacted to more than 700,000 times.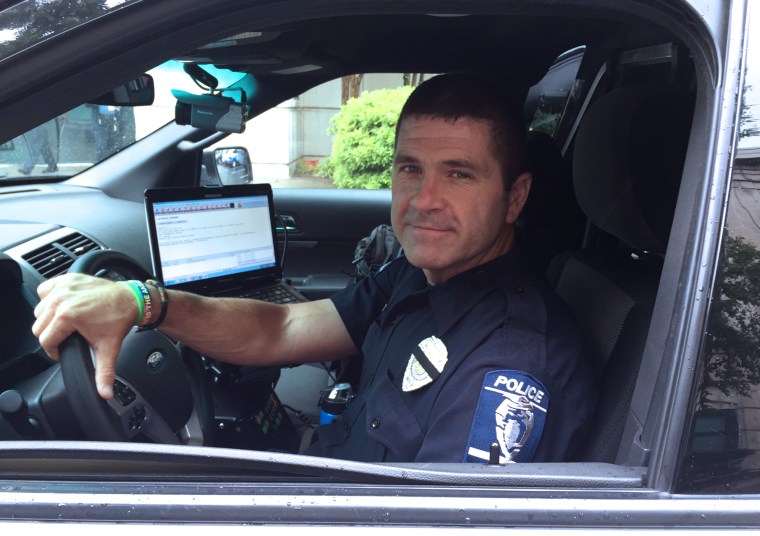 Over his 22-year career, Purdy worked with people with autism before, but he hasn't had any specific training. He says he just acted from instinct and experience.
"You want to get down on people's level … to make them feel more comfortable," Purdy says.
Lindsay Naeder, autism response team director at Autism Speaks, says that Purdy did the exact right thing.
"There was a lot of empathy and trying to meet him where he was at," she says.
Naeder trains first responders to understand how to work with people with autism. Parents often worry about the safety of their autistic children when they interact with police because some of their behaviors can be misinterpreted. Some people with autism struggle with eye contact, which can be perceived as disrespectful. Others with autism might flap their hands, which can seem threatening, especially in a tense situation. Loud noises might increase an autistic person's anxiety, and sirens and shouting, which often come with emergency situations, add stress for the person with autism.
"Misunderstandings can occur," Naeder says. "A challenge for our community can be communicating and dealing with social interactions. Oftentimes, for a person to feel comfortable there needs to be patience."
When first responders understand how people with autism act, they can better defuse situations. She says that the picture of Purdy shows that patience works.
"We really commend that officer's dedication to the safety of our community," she says. "Personally, it was really moving for me to see that on my Facebook feed."
For his part, Purdy says he was simply doing his job.
"This is a story about police officers. It is not a story about me. It is something that we do on a daily basis," he says. "It brings to light we are out doing the right thing for the right reasons."