For many moms, social media is both a blessing and a curse. We go to sites like Pinterest and Facebook for connection and inspiration – but all too often, the beautiful images of domestic harmony make us feel inadequate.
In our exclusive TODAY Moms survey of 7,000 U.S. mothers, 42 percent said that they sometimes suffer from Pinterest stress – the worry that they're not crafty or creative enough. Symptoms include staying up until 3 a.m. clicking through photos of exquisite hand-made birthday party favors even though you'll end up buying yours at the dollar store, or sobbing quietly into a burnt mess of expensive ingredients that were supposed to be adorable bunny cookies for the school bake sale.
"It tricks you into thinking that everyone is baking their own bread," said Jenna Andersen, 28, a Palo Alto, Calif., mom of two, photographer and blogger behind the hilarious site Pinterest Fail, which chronicles Pinterest-inspired crafts and recipes gone oh-so-wrong. She's still a fan of the site, but she's learned not to let herself think that the artfully curated photos represent anyone's reality. "Pinterest is largely a site of unrealized dreams."
Andersen said she's heard other moms say self-deprecating things like, "It was just a little party, nothing I'd put on Pinterest" -- as if simply throwing an enjoyable kids' party isn't enough anymore.

"We have a hard time enjoying our own experiences because we feel it's not worthy of this invisible judge," Andersen said. "It's so easy to get depressed. You start to feel like your entire life has to be like a magazine all the time."
Aiming for magazine- or Pinterest-worthy perfection all the time is an impossible goal for anyone, especially when you've got kids. And striving for perfection is a major source of stress for moms: One in four mothers told our TODAY Moms survey that the pressure they put on themselves to be perfect is a top cause of stress, and 75 percent report that the pressure they put on themselves is worse than any pressure or judgment they get from other moms. The result? Our average stress level is 8.5 out of 10, the survey says.

Stop the Pinsanity, says Glennon Doyle Melton, a blogger, author and mother of three in Naples, Fla. "We have to lower our expectations," said Melton, 37, author of "Carry On, Warrior: Thoughts on Life Unarmed." "Being a parent is so physically and emotionally and mentally exhausting. To add 17 layers of perfection and cutesiness? I don't know of any study that ever said kids turn out better if they have rainbow colored birthday cakes. Why are we doing this to ourselves?"
It's not only Pinterest that ups the mom stress. Melton thinks Facebook can be a real double-edged sword for moms. Sure, it's a great way to connect, but there's a danger in seeing the carefully chosen highlights of someone else's life and comparing it to the messy reality of your own. Melton said she always thinks of one photo of her family sitting on a quilt in a park, the sun streaming artfully through the trees as the late-afternoon light illuminates their smiling faces.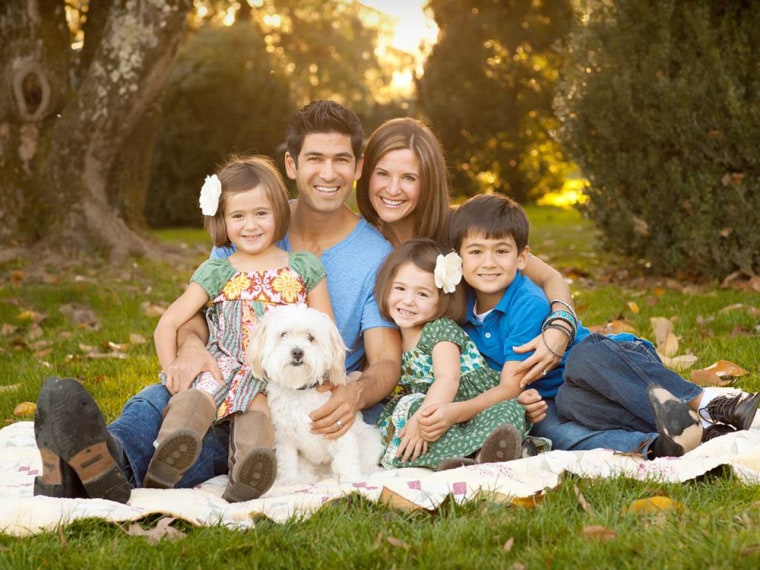 It's the kind of photo that prompts people to say, "Your life is so perfect," Melton said. But in reality? The photo shoot was a nightmare. She felt really sick that day, cried in the car on the way to the park, had to bribe the kids to sit and smile for the picture – in short, "it was not a good day," Melton said.
To her, the nice family photo is a reminder that no one's perfect, no matter how pretty their pictures are on Facebook.
For some moms, the solution to Pinterest stress is cutting back. That's what Dena Fleno had to do after realizing the site was driving her a little crazy.
"As I poured over oodles of pins one night, feeling slightly inadequate, I started to realize that, while I may think of myself as Martha Stewart on occasion, my kids don't want or need her. They just want me to be their mom," Fleno, 33, a working mom of two in New Britain, Conn., wrote in a post called "Making Peace with Pinterest" on the website CT Working Moms.
"I decided to let myself off the hook - to allow myself to not succumb to one more pressure to be perfect," Fleno wrote.
Fleno told TODAY Moms the final straw came when one Pinterest-inspired craft project with her kids ended in tears of frustration for all of them. She looks at other moms pinning crafts and recipes and wonders, "How do you have all this time to do all this stuff?!"
So she stopped pinning, and while she occasionally looks at the site for special-occasion inspiration, for the most part she and Pinterest have broken up, with no regrets. Said Fleno: "I feel so much better."
Want more stress in your life? Sure you do. Head to TODAY's Pinterest page for pinspiration.