When rock star Pink and former motocross racer Carey Hart were supposed to go "big" with a night of romance, he stumbled into an incredibly sweet reason not to follow through.
Still, the moment — involving a kind gesture for their daughter Willow, who's about to turn 5 — sparked an argument for the couple that recently celebrated its 10th wedding anniversary, Pink said in a segment airing Wednesday on Ellen DeGeneres' talk show.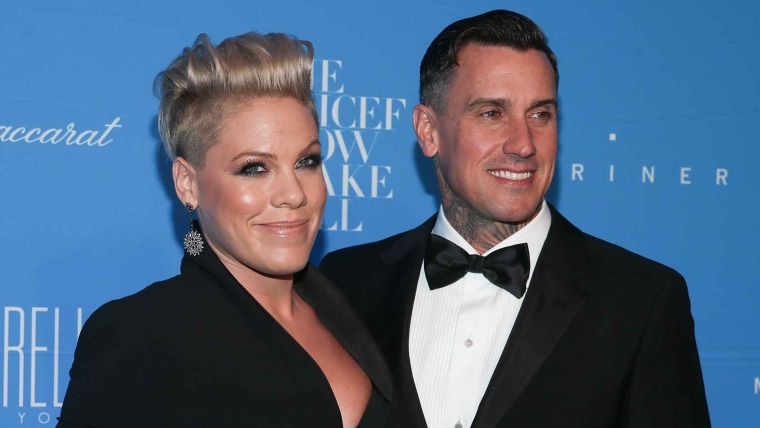 "He always falls to sleep putting Willow to bed," Pink told DeGeneres. "The other night I said, 'Are you going to stay up tonight?' And he said, 'I would like to.' I said, 'I don't really know what that means. Should I light candles and open wine and put on a show? Are we goin' big here? Or are you going to fall asleep again?'"
Replied DeGeneres, "Wait, you call being romantic 'Are we goin' big here?'"
Pink shared the studio audience's laughter. "Pretty much."
Pink added that after setting the mood by lighting candles and uncorking a wine bottle of wine, she realized Hart had fallen asleep while helping their daughter doze off into dreamland.
"He sucks," Pink said with a laugh.
"No, he doesn't," DeGeneres contended.
Pink relented. "No, he's good," she added. "He doesn't. He's very, very handsome."
DeGeneres echoed that sentiment, adding that Hart is a "great father."
Pink concurred. "He's an incredible dad. That's why he falls asleep, 'cause [Willow] wants him to stay. He's a cuddle monkey."
Hart's not the only one who's vying for bonus hangout time with their daughter: Willow makes a cameo in a music video for Pink's single "Just Like Fire," part of the "Alice Through the Looking Glass" soundtrack. DeGeneres offered her audience a tease of that version of the video, which had not been released as of Wednesday morning.
Earlier in the interview, the host not only congratulated her guest for winning a Daytime Emmy for a recent musical promo Pink made for DeGeneres' talk show, but also gifted the singer with the award in question. Pink appeared to be shocked, asking, "What do you mean?" as DeGeneres handed her the gilded trophy. "Willow's going to think it's hers!"
DeGeneres also cited another cause for celebration: Pink and Hart's 10-year anniversary, celebrated in early January.
RELATED: Carey Hart shares 10th anniversary message to Pink with adorable family photo
"Thank you," Pink told the applauding audience, while reaching for her new Emmy. "That, I'll take the award for."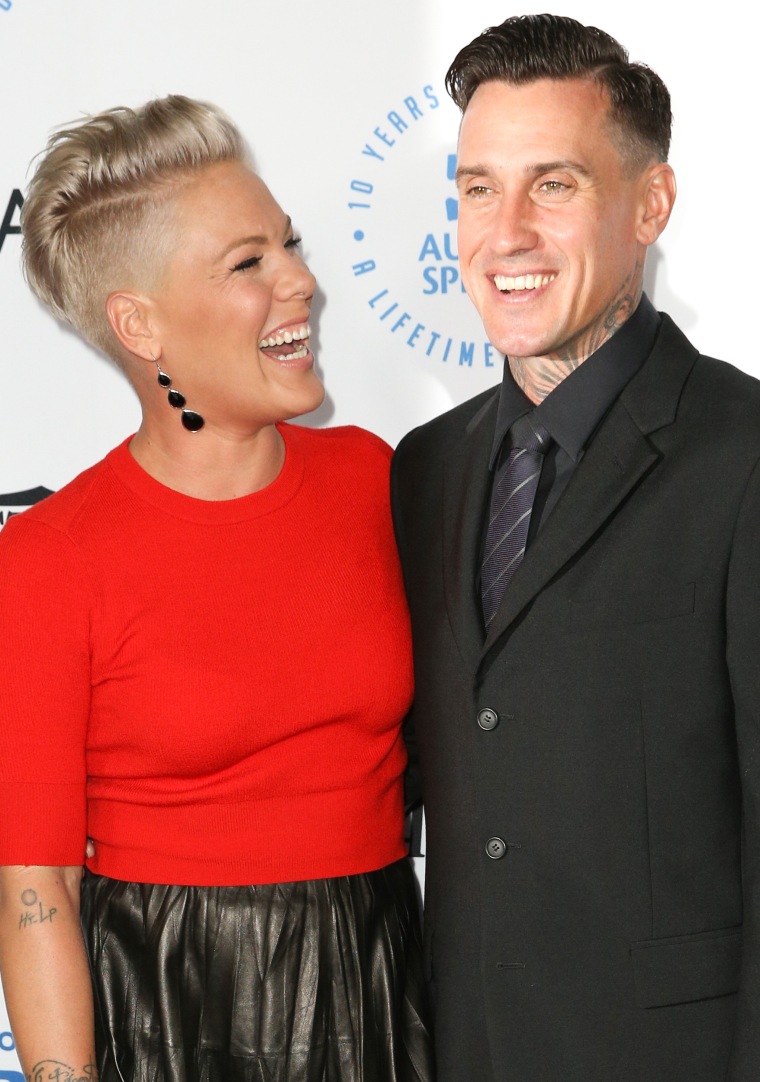 Pink added that her relationship with Hart endured two "breaks" lasting a combined two years, but has remained intact since Willow was born in June 2011.
Said DeGeneres of these breaks, "OK, you can't do that anymore."
Replied Pink with a laugh, "We're due."
Follow TODAY.com writer Chris Serico on Twitter.