Pink has always been open about her parenting fails with her two children while also trying to empower her son and daughter to be themselves.
Her warts-and-all approach to parenting led to an emotional encounter with another grateful mom recently that Pink wrote about on Twitter.
A woman approached her in a grocery store to say thanks, and it left both of them in tears.
"A really sweet Mama came up 2me tonight at the grocery store and told me some nice words about how she gets strength from my parenting cause I'm not afraid to f--- up in public,'' she wrote. "We cried together. It's so hard. Y'all. I wish us mamas could give ourselves and each other a break."
It's the latest parenting moment for the pop star, who shared an adorable letter her concerned daughter, Willow Sage, 6, wrote to Santa about the family's Elf on a Shelf earlier this month that Pink dubbed a "mom fail."
For every fail, she has also had special moments with Willow Sage and her 1-year-old son, Jameson Moon. Over the summer, she made a tear-jerking acceptance speech during the MTV Video Music Awards during which she recalled how Willow expressed feelings about being ugly "because I look like a boy."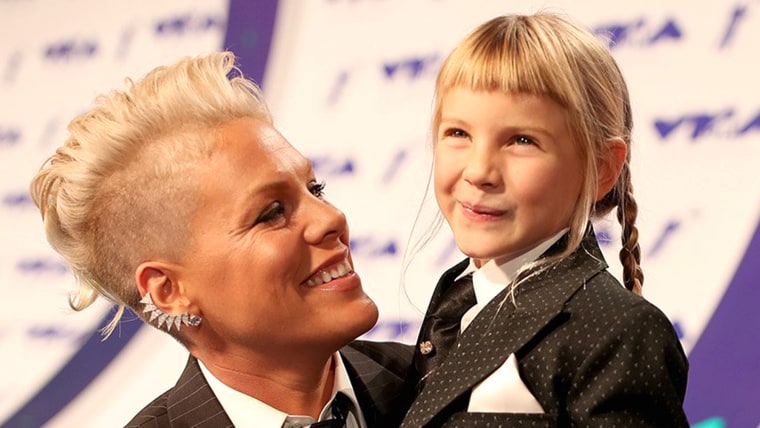 "I went home and I made a PowerPoint presentation for her," Pink told the audience. "And in that presentation were androgynous rock stars, artists that lived their truth, are probably made fun of every day of their life, and carry on and wave their flag and inspire the rest of us."
She also threw a "Big Sister Party" for Willow after Jameson was born last December so that his big sister didn't feel left out.
The singer has said that her biggest goal for her kids is giving them self-esteem, and clearly other moms have taken notice.
Follow TODAY.com writer Scott Stump on Twitter.