Pink knows what it's like to have struggled with confidence as a young person and she doesn't want her own kids, Willow, 6, and Jameson, 9 months, to suffer the same anguish.
In fact, the "Perfect" singer revealed this week that her No. 1 concern as a mom is that her children grow up with healthy self-esteem.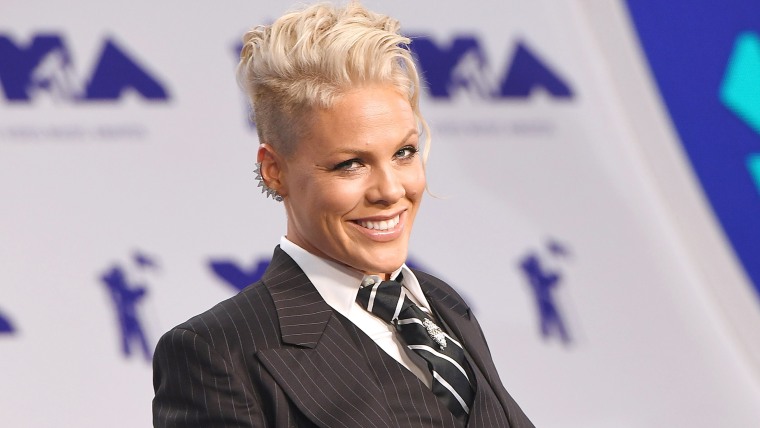 "Because of what I went through being a girl and being a kid and being a little bit different from everyone else, my biggest fear is self-esteem for my kids," the "Perfect" singer, 38, said Wednesday at Apple's premiere of the short film "On the Record: Pink: Beautiful Trauma," according to Us Weekly.
Her lack of self-esteem as a young person made her treat herself "really badly," the singer admits.
"I didn't expect other people to treat me with respect and I didn't demand it and I didn't have boundaries and I gave my power away over and over and over," said the candid star.
Although Pink often encourages fans to love themselves no matter how gloriously offbeat they are — and gave a show-stopping speech at this year's MTV VMAs advising little Willow to do the same — she admits it took a long time to learn to cultivate self-respect, and to demand respect from others.
"That was something I had to learn in my life, was how to have boundaries and how to love myself, and what to love myself for and how to demand respect," said the Grammy winner. "Just all these life lessons."
Now, she looks at her young daughter and wishes she could share what she's learned over the years about the life-saving power of loving yourself.
"I see my 6-year-old and I'm like, 'I just want to give you the sh-t that I already know,'" she said. "But you can't borrow somebody else's knowledge, you have to buy your own. I know that too."
"It sucks when you're a mom," added the star. "I don't want my kids to buy their own knowledge, I just want them to swallow mine."