For a pop superstar who relies on penning lyrics for a living, Pink found herself struggling for the right words when her daughter told her she felt ugly.
The "Try" singer moved the crowd and TV audience at the MTV Video Music Awards on Aug. 27 with a moving message aimed at her daughter, 6-year-old Willow Sage, during her acceptance speech for the Michael Jackson Video Vanguard Award.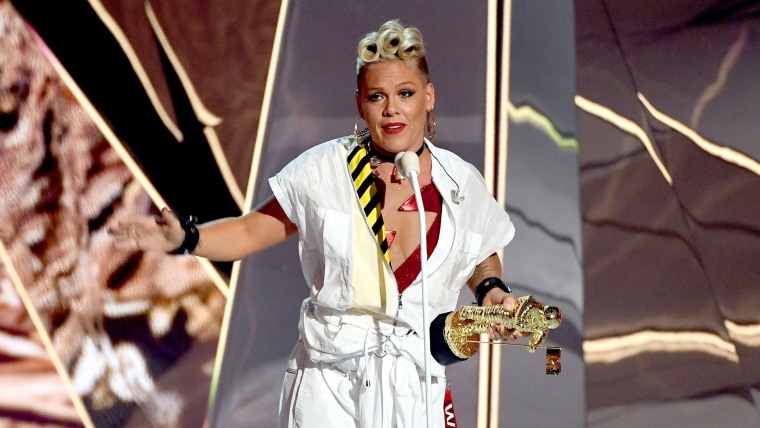 In the now-well-known speech, Pink recounted the moment when her child lamented that she was the ugliest girl she knows "because I look like a boy." Pink then shared with Willow the importance of living her true self, reassuring her daughter that she is beautiful and is loved.
On Wednesday's "The Ellen DeGeneres Show," the singer revealed more about the heartrending mother-daughter exchange that inspired the speech.
"I was so speechless (at first) and I didn't want to mom her and start preaching to her and not be effective at all, so I just stayed quiet," Pink told DeGeneres, who presented her with the Video Vanguard Award during the VMAs.
"And I said, 'Why do you think that? Did someone say that to you? What's happening?' And she's like, 'I just look like a boy with long hair.' I just didn't say anything. I didn't know what to say. And I went home, I cried, and I made this Word document."
That document showed photos of famous people who inspired others — including Michael Jackson, David Bowie, Freddie Mercury, Prince and George Michael. And, of course, Willow Sage's own mom.
"I get my feelings hurt. I get my feelings hurt all the time. It hurts," Pink told DeGeneres. "It doesn't feel good to hear mean things about yourself, but if you're human you're going to hear it. If you're past the age of 12 you will at some point be heartbroken by someone else. So, I'm just trying to make her more resilient."
Though Pink's speech was one of the highlights of the VMAs, her daughter wasn't caught up in all the hoopla surrounding the show.
"My daughter was incredibly unimpressed by me," Pink told DeGeneres. "I was like, 'Babe, are you excited about today? I'm going to win an award and I'm going to do a show.' And she goes, 'Exactly how many minutes after you sing does my sleepover start?' I was like, 'Dude, can you pretend to be excited for me?'"