/ Source: TODAY Contributor
Jess Wolfe was prepared to hate the impromptu photo that a kind stranger insisted on snapping of her and her four kids at the end of another chaotic trip to the grocery store, one filled — as they always are — with wrestling and laughter and touching things and asking so many questions.
But the image, perfect for all its imperfections, and the encouraging words about the hard job of motherhood that came with it, turned out to be a gift sweeter than any candy kids beg for.
During a routine grocery run last week, an older woman offered sympathetic smiles to Wolfe, 31, when they passed each other several times. As Wolfe bagged her groceries at the checkout, the woman told her kids to gather around their mom and pose for the photo. She wished, the woman said, that she had more pictures of herself doing everyday things with her own children.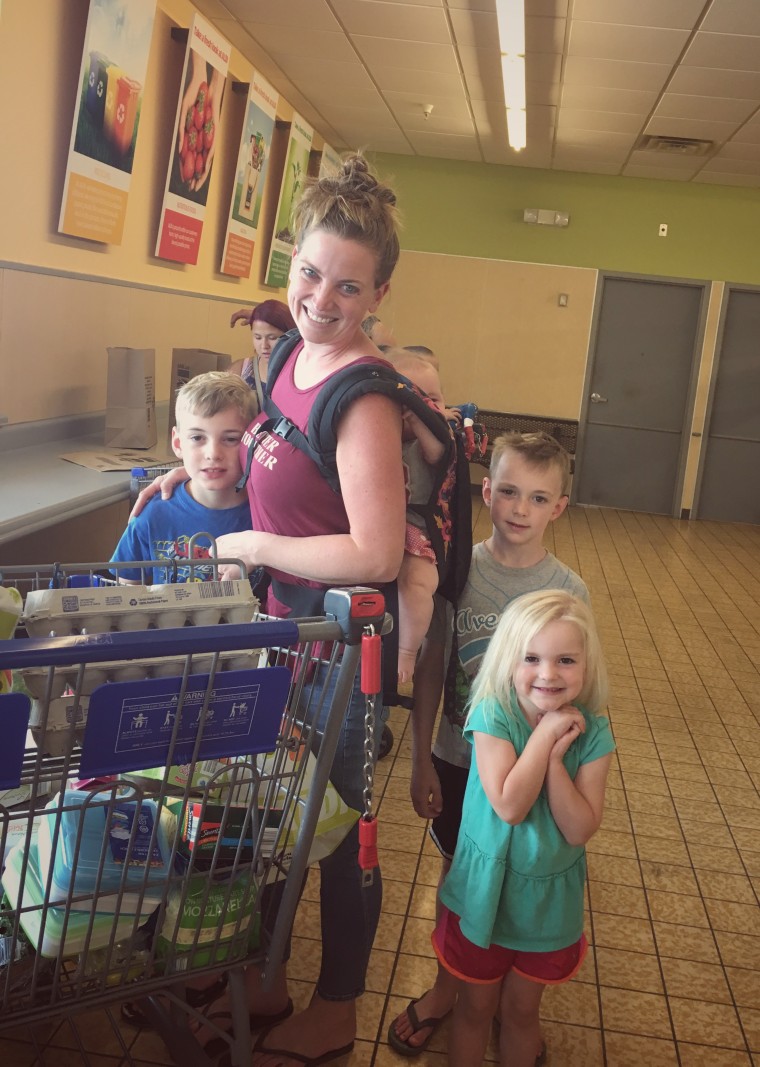 "She said, 'I remember how hard it was to go to the grocery with all the kids,'" Wolfe, of Brownsburg, Indiana, recalled to TODAY. "She said, 'I don't miss what makes it hard, but I miss what makes it sweet."
Wolfe was overwhelmed by the gesture and support from the woman, who recognized that a simple trip to the store is hard, that the days of motherhood are long and difficult, but that "there are definitely sweet moments to them."
"I love the reminder that I'm not alone and that everyday things matter," said Wolfe, whose sons are 7 and 6 and daughters are 3 years old and 6 months old. 'She encouraged me by letting me know she had been there and it was hard and she said, 'You're doing great.'"
Back in her car, Wolfe appreciated the photo so much that she posted it on Facebook, with a note that has gone viral as it resonated with tens of thousands of people.
"Sweaty, baby strapped to my back, three year old insisting that her belly hurts and NEEDS her donut that she forgot to eat after lunch, 6 year old using everything in sight as a weapon, 7 year old wanting to spend the only dollar he has," her post begins. "This. This was my trip to the grocery today."
Wolfe described her encounter with the woman, including being annoyed when she asked if Wolfe had a phone that took photos, but concluded: "She validated the fact that a simple grocery trip is hard. She told me that what I do matters."
"I will always cherish this picture and the message that came with it." the post ends.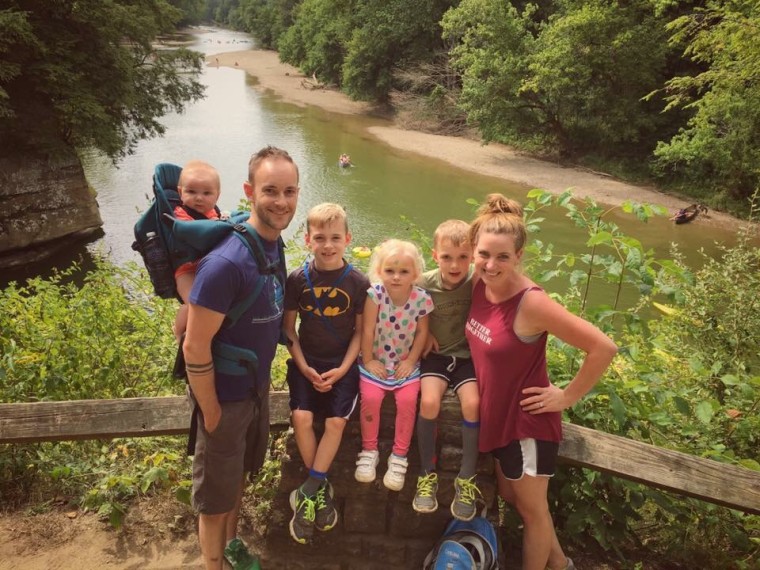 Before she looked at the image though, this stay-at-home mom with a side photography business wasn't so sure she would like it. She hadn't showered that day and her kids dressed themselves and were, as she put it, disheveled. Would the image be technically correct?
"As a professional photographer, I was thinking, Oh my gosh, I'm going to hate this picture of myself because I look like a crazy person today and my kids look like hobos," Wolfe told TODAY. "But I pulled it out and was overwhelmed by how sweet it was that she was willing to take a picture of me just doing what I do with my kids."
The encounter, Wolfe said, "made appreciate the small moments that I have with my kids that seem totally routine."
It's also a reminder for moms to be in pictures with their kids.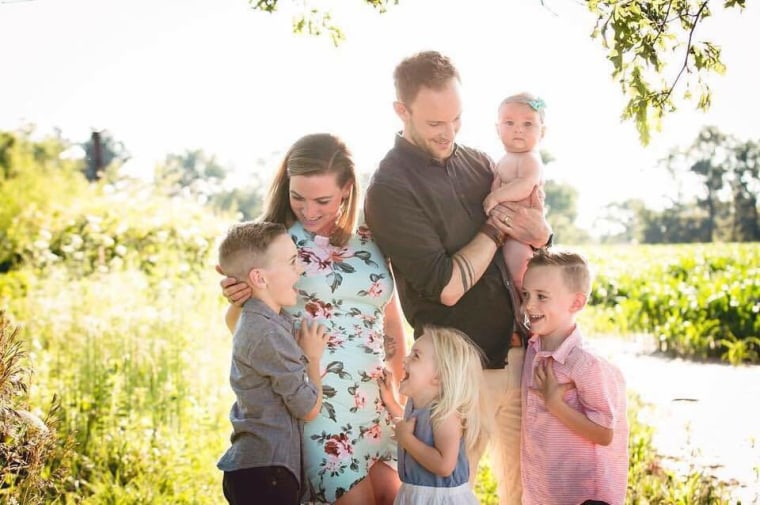 As a photographer, Wolfe takes all of the family photos, but after the birth of her fourth child, she had to ask her husband to snap some photos of her with the baby. But the woman at the store, Wolfe said, just seemed to get it that it that even an outing to the store was a moment worth documenting.
"Even though it was inconvenient at the time, it is totally a gift to me," Wolfe said. "Not only does the picture mean a lot to me, but the message she gave with it was also really meaningful."
It can be hard to find the joy of parenthood when you're in the thick of it, but it's often there to be found.
"I think that finding sweetness in the everyday things comes from changing our mindset," Wolfe said, "and not being so worried about getting in and out of a store, but being glad we can just be together."
TODAY.com contributor Lisa A. Flam is a news and lifestyle reporter in New York. Follow her on Twitter and Facebook.