A tender photo of active duty military moms breastfeeding their babies while in uniform at Fort Bliss in El Paso is getting a Texas-sized reaction across the country.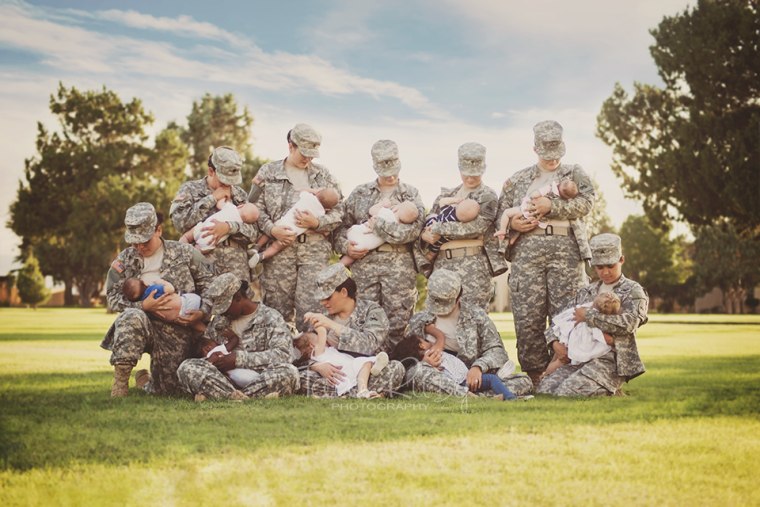 "The response is just overwhelming," Tara Ruby, a local photographer and military veteran who took the picture, told TODAY Parents. "We kind of had a feeling that this would take off… but we never dreamed it would be at this level."
The idea for the photo, shared and liked thousands of times since Ruby posted it on her Facebook page last week, emerged out of a simple need. When Fort Bliss announced a brand new room dedicated for nursing mothers to pump milk, Ruby and members of the U.S. Army post's Pregnancy Postpartum Physical Training (P3T) program began looking for a way to make it more warm and personal.
"It's kind of plain so we were talking about decorating it with some of my newborn pictures," Ruby said. "We started talking about how it would be really nice to have a picture of a mom in uniform nursing."
The call went out on social media to find an active duty mom or two who would be willing to pose for the photo. To Ruby's surprise, 10 women volunteered so instead of individual portraits, she prepared for a striking group photo.
Fort Bliss has been very supportive of the project, giving all the necessary permissions, she noted. The photo was taken on one of the main parade fields at the post after the women's duty hours.
"Since they had been working all day long, they went and picked up the babies and brought them straight to the shoot. So everybody was very hungry, very cooperative," Ruby recalled. "It was a great time to do it because they hadn't seen mommy all day."
Ruby knew the unusual photo would get positive and negative feedback, but none of the moms felt hesitant about taking part, she said. All are aware of the picture going viral and have given her permission to share it.
"They just think it's amazing. They're very supportive of it going as far and wide as we can get it," Ruby said.
Read more: Military mom 'proud' of breast-feeding in uniform, despite criticism
The photographer had a very different experience when she was a military mom. Ruby gave birth to her first son when was on active duty in the U.S. Air Force from 1997 to 2001. Back then, she never had a dedicated room for pumping breast milk and she believes she'd never have support or approval to take a picture of moms breastfeeding in their uniforms.
"We've definitely come a very long way," Ruby noted.
She has now posted the photo on Facebook twice. It abruptly disappeared from her feed after the first time, which she can't explain. The photo doesn't show anything that would go against Facebook guidelines, Ruby said, and she received no notifications that it was reported.
She's had no problems after posting it again. Some comments have been negative, but Ruby chooses to focus on the overwhelmingly supportive reaction.
"(We want) to promote the message that you can do whatever you want and work wherever you want and be whatever you want and still be able to take care of your baby," she said.
Ruby is getting so many requests for a copy of the photo that she is now trying to figure out if anyone can help with the printing costs.