To all the husbands out there: take note of this elderly gentleman.
A photo that's attracted big attention on social media purports to show a husband generously helping his wife pick out the perfect shade of makeup.
The Facebook group Love What Matters shared the photo last week, along with a caption describing the touching scene between the two senior lovebirds.
"This husband was helping his wife choose a make-up that matched her skin tone. She was so concerned about finding the right one and he was so unbelievably helpful. She was having a 'girl' moment, in a panic struggling to find the right one."
RELATED: Reunited! Elderly couple share sweet embrace at airport in viral video
According to the post, "He calmed her down, helped her find her color and kissed her on the forehead."
RELATED: Elderly couple teaches young man to tie a tie in heartwarming photo
Since it was shared on social media, the heartwarming pic has received over 485,000 shares and at least 1.3 million likes on Facebook. It blew up on Instagram as well, with over 400 likes.
The sweet couple, Al and Eula, reside in Joplin, Missouri and married in 2010 after Eula's husband passed away.
The family told TODAY.com that Eula, 92, suffers from glaucoma and relies on Al, 94, to help her pick out everything from makeup to clothing.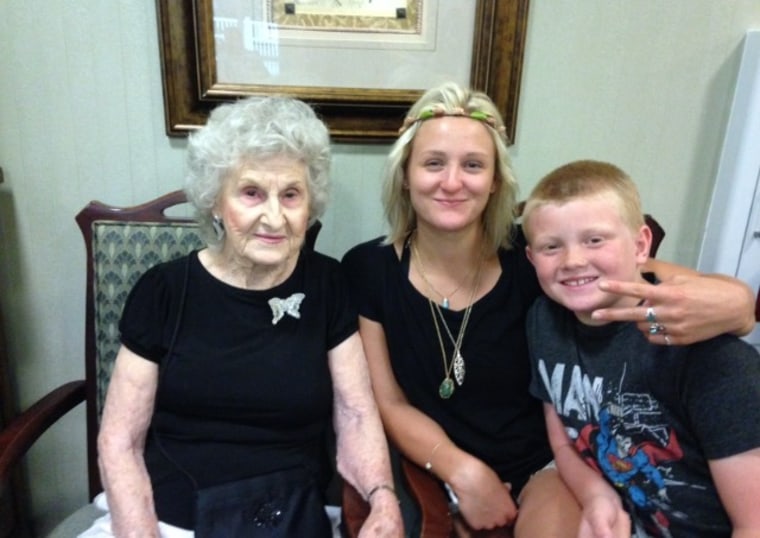 "She's always been kind of a diva," great-granddaughter Alexus Barnes explained. "Her outfits have to match, so that's why her struggle with glaucoma has been hard."
The family said they were surprised when they saw the post on social media, but weren't at all shocked by the image itself.
"Al's the nicest man you'll ever meet," Eula's oldest son, Richard Spencer, said. "He helps her with anything and everything."
Many social media users were left swooning.
"OMG! I do not know this man but I love him. His wife is one lucky lady," one Facebook commenter wrote.
"So sweet! Praying our husbands will be this sweet and patient," another said.
RELATED: TODAY investigates the movement natural makeup and skincare products
This shows that it truly is the little things in life that can go a long way.
With Jordan Jackson