/ Source: TODAY Contributor
For Lyndsay Stradtner, organizing the International Association of Professional Birth Photographers' (IAPBP) annual birth photo competition is among the highlights of her year.
"My favorite part of running the competition this year was sitting down and looking at all the entries together in one place," said Stradtner, who is a birth photographer herself, and founder of the IAPBP. "I see a photo shared here and there all year long, but when presented together, they have even more power in showing how strong women are."
Photographers share stunning labor, delivery and postpartum images.
This is the sixth year for the competition, which chooses winners in five categories: overall, labor, delivery, postpartum and birth details.
Stradtner says the birth details category is new to the competition in 2017.
RELATED: What does childbirth really look like? Take a look at these powerful images
"Birth photographers are storytellers and so much of that story is in the details," Stradtner told TODAY Parents. "We added this category this year because we wanted more of the small, simple, beautiful, moments to be seen by the world."
Jaydene Freund, a photographer from Vancouver, British Columbia, was the overall first place winner in the competition. Freund says she has photographed more than 100 births in the last seven years, and enjoys documenting women on their journey to motherhood.
Freund entered the contest with an image of a woman in labor, being driven to the hospital by her husband.
"I'm so honored that I won...with an image that so many women can relate to," said Freund. "You labor at home as long as you can, and then you realize it's time to go to the hospital. That car ride can be intense for both mom and dad."
RELATED: Photographer captures mom's surprise when she delivers boy
The winner of the newly introduced birth details category was Kourtnie Scholz, who told TODAY that her powerful image — which shows a mother holding her baby after delivery, as her placenta and umbilical cord rest on her body — was powerful for her because of the mother's story.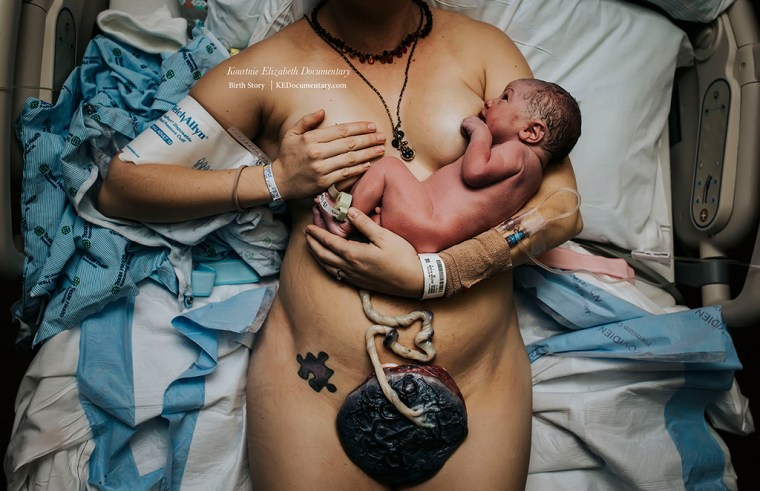 "This momma went through a lot," said Scholz, explaining that the mother in the image had lost several pregnancies and had a complicated birth with her son. "That placenta meant more to her than anyone will ever know — seeing her son alert on her body, looking at her broke her to her very core reminding her how beautiful birth is."
Scholz, who lives in Texas, says it's building trust with her clients and helping to tell their story that has drawn her into the world of birth photography.
"It's a calling, and not always easy," said Scholz. "But I wouldn't change it for the world. I love capturing forever moments."
A full listing of winners and honorable mentions in the IAPBP contest can be viewed on the contest website.