/ Source: TODAY Contributor
During her second bout with cancer, Kylie Jacobs spent days stuck in a hospital bed. The 7-year-old had Wilms' tumor, cancerous tumors in her kidneys, and she required surgery, chemotherapy, and radiation.
Even a slight fever meant a stay in Ohio's Akron Children's Hospital; when she did go home, her immune system was so compromised that she couldn't play or go to school. While Kylie often felt lousy, a visit from a special guest helped her forget, just for a moment.
"Seeing Petie helps distract her from the disappointment of what's she's been missing. And, Petie is extra special because there's only one Petie. That's like running into LeBron James at the grocery store," said Eric Jacobs, Kylie's dad.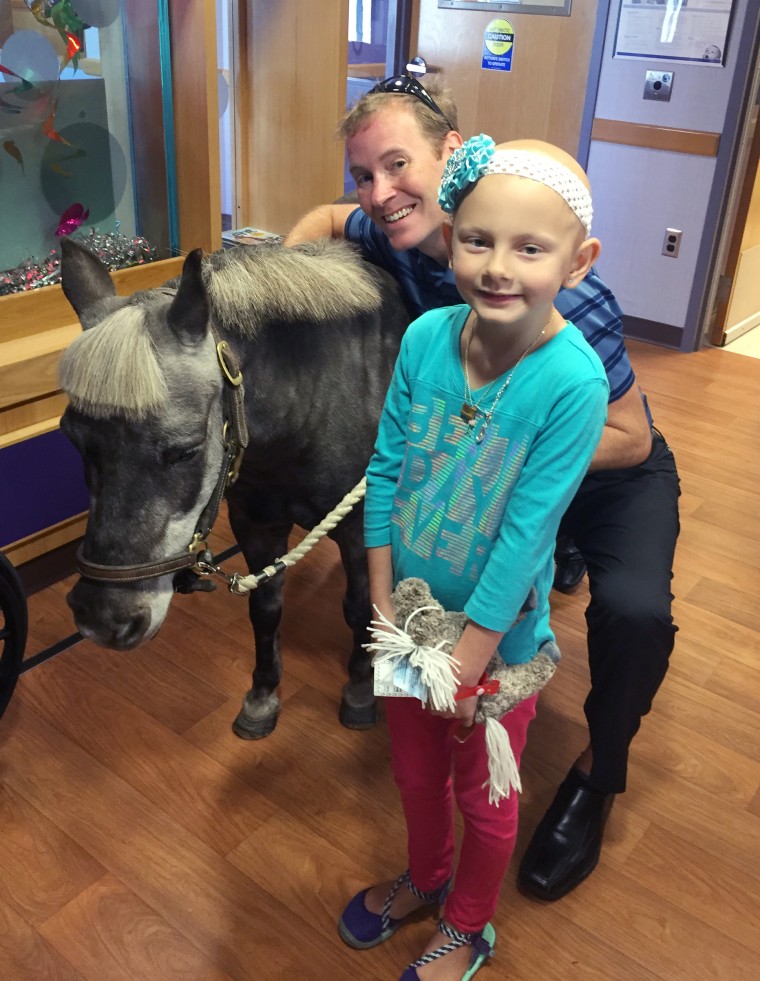 Related: 'An inspiration': Dogs with special needs help kids heal in physical therapy
Petie is a therapy pony, a cross between a miniature horse and a Shetland pony. He stands about 3 feet tall and weighs 380 pounds. He's way bigger than a therapy dog, but much smaller than a horse. Petie, who turned 25 in October, visits children in Akron Children's Hospital and Rainbow Babies & Children Hospital in Cleveland. He's been volunteering for 18 years and has no plans of stopping.
Never miss a parenting story with TODAY's newsletters! Sign up here
"A visit from Petie is kind of fun and something they weren't expecting," owner Sue Miller told TODAY. "It just takes away why they are there."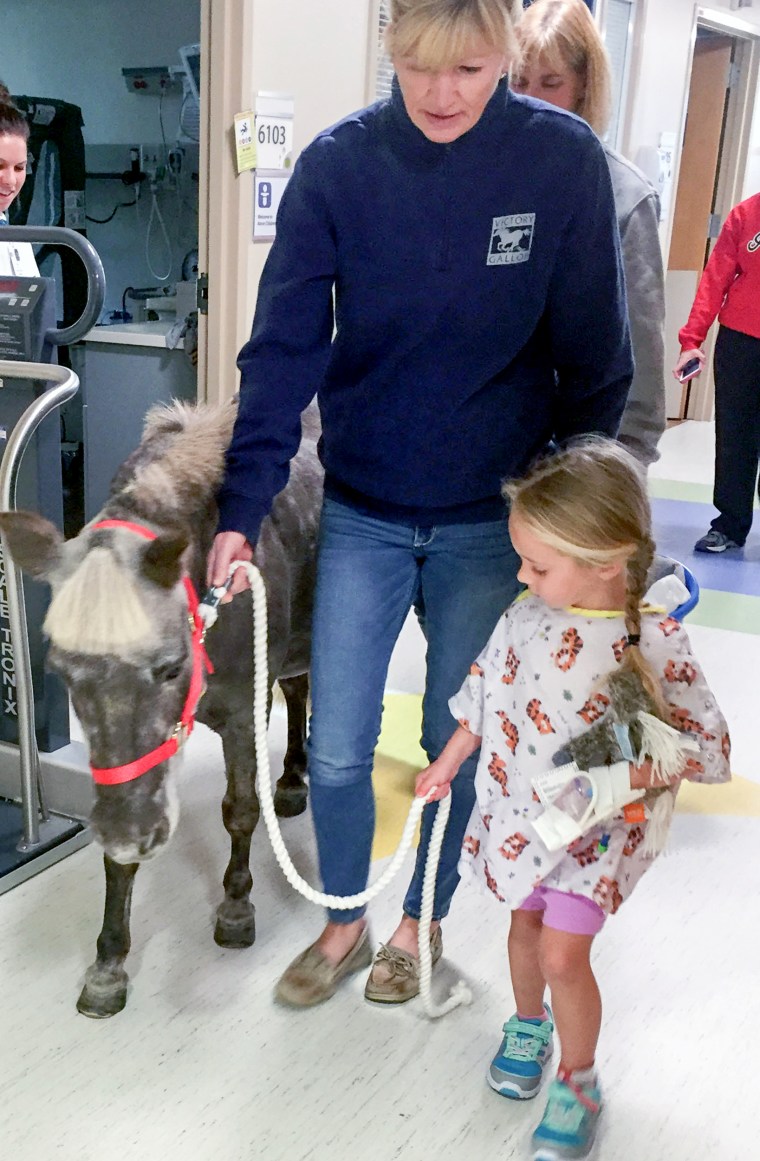 Related: Funeral home therapy dog brings comfort and unexpected smiles to grieving families
More than 18 years ago, Miller and her husband, Dave, adopted Petie from a family who used the pony to help foster children. The Millers — who own Victory Gallop, a horse therapy barn — noticed Petie displayed unique traits.
"He was calm and patient and everything we challenged him with, he kind of accepted," Miller said.
After visiting schools and nursing homes, Miller wondered if Petie could help at children's hospitals and she approached the hospital in Akron. At first the staff felt wary, but they allowed Petie to visit in an adjacent building. As trust grew, he moved to the main hospital, walking through the revolving doors and riding the elevator as if it is absolutely normal for a pony.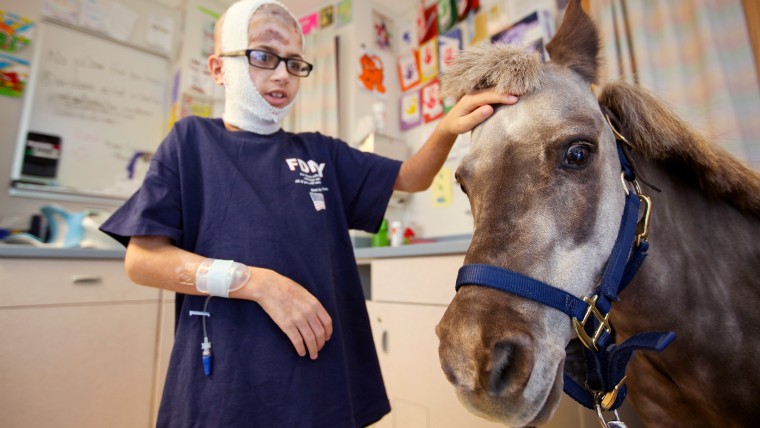 Related: Therapy dogs bring smiles to children's hospital patients
While seeing Petie causes children to shriek with joy and forget their problems, he also helps with recovery. Miller recalls a moment when Petie sauntered up to the bedside of an unconscious boy, then dropped his head to nuzzle the boy's hand. Without waking, the boy started stroking Petie's muzzle. As everyone watched in silence, a doctor noticed that Petie slowed his breathing to match the boy's.
"It was just a beautiful moment," said Miller. "I am just so lucky that I get a chance to be part of this pony's life and what he gets to do for others."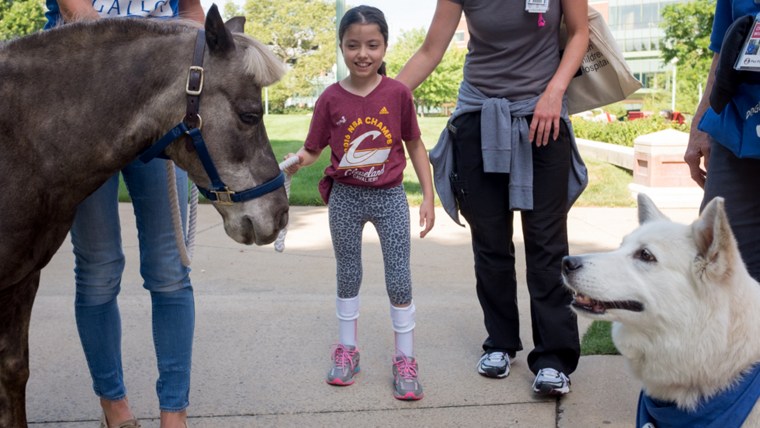 Related: Service dog sticks by boy with autism's side, even in hospital bed
Petie also supplements physical therapy. For six months, he's worked with Jerry, who suffered burns on 85 percent of his body from a campfire accident. The 11-year-old practices his fine motor skills by brushing Petie, and Miller leaves halters and brushes with Jerry so he can improve strength in his hands when Petie isn't around.
"This situation with Jerry has been heart-healing and gut-wrenching. But Jerry has made such progress," Miller said.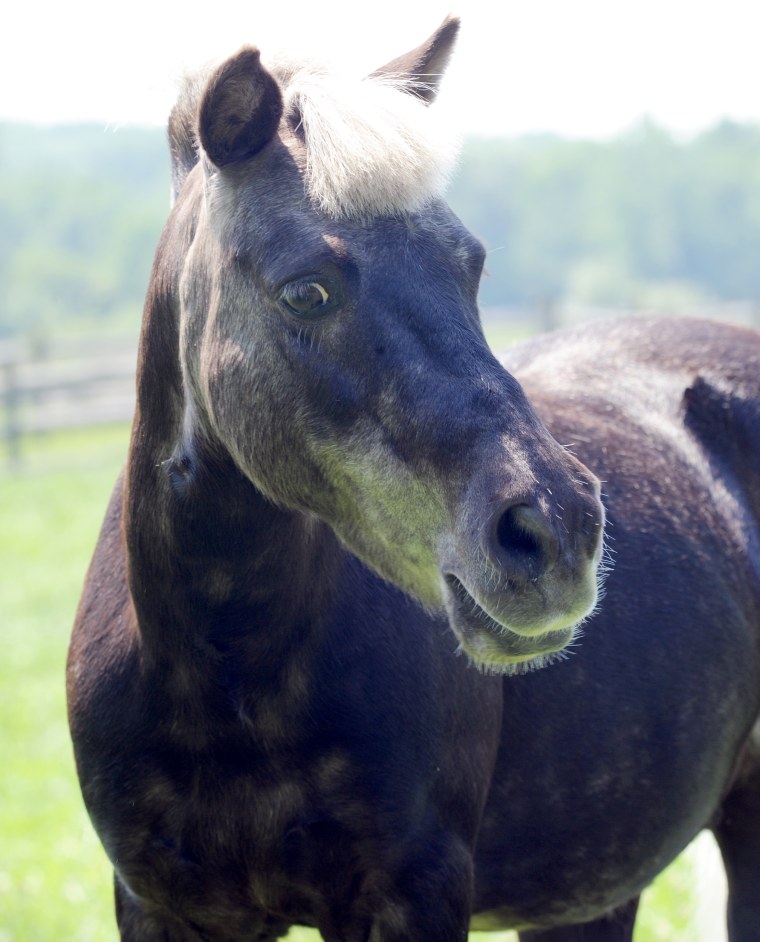 Related: 'More good in the world than bad': Sandy Hook family to honor comfort dog Ruthie
When Jerry learned that it was Petie's birthday, he threw him a party in his room, buying the pony popcorn and a blanket and singing Petie happy birthday.
As for Kylie, she's been in remission since September, and visited Victory Gallop for equine therapy.
"She had a blast and she loves those horses," said Jacobs.
For Miller's part, she feels happy that Petie plays such an important role in so many lives.
"It is always amazing when you go in there and they smile — to me, it is a little miracle."