Call him the baby whisperer or a pediatric YouTube star. A doctor's simple tutorial for calming down a crying baby in seconds has become a blockbuster on YouTube, garnering millions of views in just days.
Dr. Robert Hamilton, who practices atPacific Ocean Pediatrics in Santa Monica, California, said his patients urged him "a million times" to share his advice online. When he finally uploaded the video on Sunday, it was the first one he had ever posted, and it's had nearly 6 million views as of Thursday morning.
"I'm a little bit humbled," Hamilton told TODAY Parents. "I never in my wildest dreams thought this would happen."
The technique, which Hamilton calls "The Hold," consists of four steps:
Pick up the baby and fold his arms snuggly across his chest.
Secure the baby's arms with your hand after they're folded. That hand also supports the baby's chin.
Gently hold the baby's bottom with your dominant hand. Use the fleshy part of your hand, not your fingers, to ensure a secure hold.
Position the baby at a 45-degree angle and gently rock him. The motion can be up and down, or you can try shaking the baby's bottom. The key is to make the sequence smooth and avoid jerky movements. The angle is important because it helps you keep control of your baby.
That's it. The results are quick and wonderful in the video, as demonstrated on babies who are fussy after receiving a shot. They calm down in moments.
Use the technique on babies up to 2 or 3 months old. After that, they become too heavy to be held in this position, Hamilton said.
"The Hold" works because it's essentially swaddling the child, he explained.
"That's a comforting position for a baby because you have to remember where they're coming from — a very tight womb — and they've been in that position for a long time," Hamilton said.
"By doing that, you're really kind of recreating the womb, if you will, and that kind of comforts them, plus the gentle movement."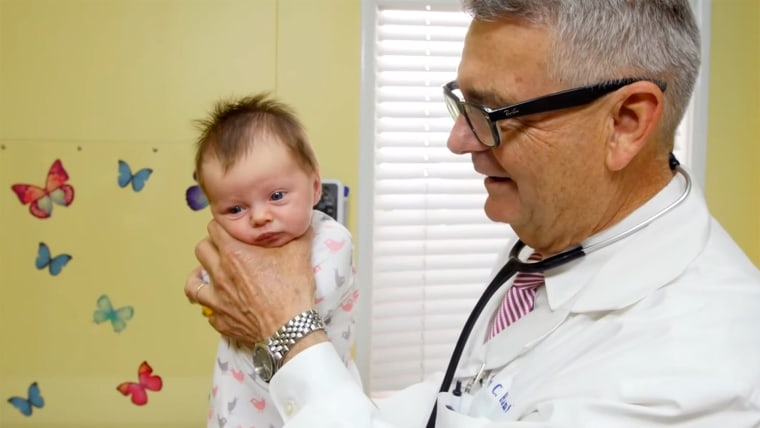 Hamilton, who has been practicing for 31 years, has been using the technique for decades, he said. He's sure other pediatricians employ similar methods, but believes the unique part of "The Hold" is how he wraps the babies' arms across their chests.
Hamilton has found this method will quiet 90 percent of babies. It doesn't work on infants who are ill or hungry.
Other pediatricians praised the video. Babies cry most when they're 4-8 weeks old and all that fussiness could lead exhausted, frustrated parents to shake and harm a child, said Dr. Wendy Sue Swanson, a Seattle pediatrician who writes the Seattle Mama Doc blog.
This technique provides another tool parents can try when their baby is upset and give them hope, she noted.
"I love that this is going viral. I hope it goes even more viral," Swanson said.
"What I like about this technique is there are just enough things that are going on — it might be that it was the touch, the angle, the hold, the motion — that a baby is distracted, attended to and comfortable."
"The Hold" reminded Swanson of Dr. Harvey Karp's "5 S's" method: swaddle, side-stomach position, shush, swing and suck.
She believes it's safe to do and would recommend it to her patients.
As for Hamilton, he hopes it helps families across the country.
"This is my Christmas gift," he said.